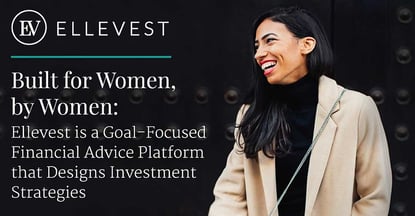 credit card news
Our experts and industry insiders blog the latest news, studies and current events from inside the credit card industry. Our articles follow strict editorial guidelines.
In a Nutshell: Investment firm CEO Sallie Krawcheck recognized that many of the market's gender-neutral strategies fail to account for variables including the salaries, careers, lifespans, and goals of women. That's why she co-founded Ellevest in 2014 as a digital investment platform built with algorithms and principles optimized for their savings potential. Ellevest offers both men and women personalized short- and long-term, goals-based asset management tools with options for hands-on financial and career coaching. Designed for women by women, Ellevest earns our Editor's Choice™ Award as a Top Goal-Based Robo-Advisor.
Wall Street often exudes the aura of a man's world with its predominant symbol of a charging bull and media coverage of the stock market that often resembles ESPN. And, historically, this image has carried over into investment statistics. A 2018 study from Fidelity found that only 44% of women — compared to 59% of men — actively invest outside of their retirement accounts.
It isn't that women are disinterested in investing, but rather that they find a shortage of investment strategies on the market that fit their reality. Many firms claim to offer gender-neutral profiling, but even these profiles typically reflect the average man's salary growth, lifespan, and other risk factors — which differ drastically from those of the average woman.
Realizing just how starkly women were underrepresented and underinvested in the stock market, Sallie Krawcheck — who has served as a CEO for top investment companies like Merrill Lynch, Smith Barney, and Citi Private Bank — decided to solve this problem in an innovative way: by designing an investment platform with women in mind. Partnering with tech entrepreneur Charlie Kroll and a small team of experts, Krawcheck launched Ellevest in 2014.
"At Ellevest, we've been talking to women to understand what their pain points are with investing and the market, and building products for them," said Alexandria Stried, who has served as Chief Product Officer for Ellevest since its inception. "We've conducted hundreds — if not thousands — of hours of interviews."
Through these conversations, the team has learned more than a few things about how women approach investing and what motivates them, and these insights inform the Ellevest methodology. "It's not about excluding men; it's about including women. This is the way we get women investing more — by actually building something with them, for them," Stried said.
For its unique digital investment products designed to meet the needs of women, Ellevest has earned our Editor's Choice™ Award as a Top Goal-Based Robo-Advisor.
Risk Management Algorithms Catered to Women's Longevity and Career Outlook
Like other robo-advisors, Ellevest uses advanced algorithms to recommend portfolios for its clients. But what makes Ellevest algorithms unique is that they're designed to account for gender-based differences in salary, wage growth, and longevity. And they're developed by Ellevest's Chief Investment Officer, Sylvia Kwan, who oversees all of the company's portfolios, algorithms, and recommendations.
"We take the gender salary curve into account. In general, women's salaries peak earlier than men's, so if they're not saving more money now, it's very likely they could run out of money later in life," Stried said. "Women also live longer than men, on average. If that's the case, and they're not saving and investing, they're not going to have that money later on."
Using the Wealth Forecasting Engine (WFE) from Morningstar Investment Management alongside the Monte Carlo Simulation method, Ellevest forecasts each plan against 500 economic scenarios. It also takes into account the impact of taxes and has a 70% or better success rate — as compared to the 50% success rate of many other digital advisors — to provide a realistic picture of asset performance over time.
Ellevest built its platform to account for a woman's lifespan and career outlook, yet it stays grounded in a proven approach that relies on cutting-edge technology and solid industry principles. The company helps its clients adopt a personalized investment strategy that maximizes their saving power while avoiding unnecessary risks.
Investment Goals for Every Age and Stage of Life
In its interviews with women, Ellevest discovered a crucial difference in their understanding of the purpose of investing — which is why its entire platform is goals-based.
"When you talk to men, they have a specific dollar amount in mind. We didn't really see that in our research. Women are more goal-oriented," Stried said. "It's not about outperforming the market, but rather reaching goals — including buying a second home, retiring well, starting a business, or maybe building an emergency fund. They realize that money is a means to an end."
So, instead of employing only mean-variance optimization (MVO), which is used to determine the maximum end-return for a client, Ellevest combines this approach with other optimization models to make it easier to reach both short- and long-term goals. Ellevest then designs an investment strategy for clients based on their personal goals.
The platform offers seven types of goals, with retirement being one of the most popular. With the retirement goal, Ellevest informs clients how much they'll need annually through their retirement years — a number that includes inflation, taxes, and even Social Security.
"We then help you determine what your deposit amount should be, and what types of accounts you should open. We first recommend putting your money into a 401K, since that can potentially mean free money if your employer matches it," Stried said. "You can set up a Roth IRA or a traditional IRA with us, but for some people that might not be enough, so they'll need to open up an investment account. All of those things are recommended to you."
Wealth building is another long-term goal that tends to be popular among younger adults who want to ensure financial freedom in the future but don't have specific goals in mind yet. Homebuying is one of the most popular short-term goals for families.
"If you want to buy a house in five years, your portfolio is going to look very different than one for building wealth. It's going to be more bonds and alternatives than stocks, whereas wealth building typically includes more equities. We factor in your timeline, and the goal type, so all of that gets included," said Stried.
Ellevest also offers clients free advice on how to build strategies for starting a business, saving money for a significant life event, setting aside funds for a child's inheritance, or creating an emergency fund.
Digital, Premium, and Private Wealth Management Offer Various Levels of Hands-On Help
Investing with Ellevest is easy and accessible to anyone. No minimum balance is required for a digital portfolio, and annual fees start at 0.25% of assets under management. A digital portfolio also includes a free emergency fund, automatic deposits, rebalancing, and no withdrawal penalties.
While digital investors have unlimited support from the Ellevest Concierge Team of financial professionals, Ellevest's premium offering — which requires a minimum balance of $50,000 — comes with one-on-one coaching.
"You get the opportunity to work with a Certified Financial Planner (CFP) and/or an Executive Coach. And you can book as many sessions with them as you want," Stried said.
CFPs offer individualized guidance on investments and general financial strategies that go beyond the capabilities of a digital product, while career coaches help women with big employment decisions that directly affect their income — and their ability to reach their financial goals.
"We decided to offer career coaching because the amount of money you make is your biggest asset. When women are making $0.80 on the dollar compared to men, we thought it was necessary to have career coaches on staff to help our clients with conversations (on topics) like getting a raise, how to take a promotion, or how to switch jobs to earn more," Stried said.
In 2018, Ellevest launched a mobile app for its clients and plans to introduce an in-app onboarding experience that will make it even easier for women to get started working toward their goals. "It's iOS-only right now, but we'll be working on an Android app later this year. We're excited about how many more women we'll reach," Stried said.
For those with $1 million or more in investable assets, Ellevest offers private wealth management with a broader range of investment options.
"There you get a financial advisor who comes up with a personalized investment strategy for you. It's hand-picked by our investment teams. They do some creative things with alternatives and impact investing," Stried said. "It's a good option for women who may be working with one of the bigger banks and are looking for something a little more personalized."
Ellevest Gives Women the Right Tools to Invest in The Future
Ellevest was founded to give women investment options that take into account their fundamental needs and values, and it goes a step further through Impact Investment Portfolios. With Impact Investing, clients can work toward their personal goals while investing up to half of their portfolio into community-oriented businesses owned by women, as well as companies with outstanding track records for sustainability, ethics, and supporting women in leadership roles.
A new referral program, known as Elle Raisers, is another way Ellevest helps motivate women to get started with investing — and invite others, as well.
"We wanted 2019 to be the year women helped women get their finances in order by investing. For every friend you get to invest, you earn $50, and they earn $50. In our newsletters, we've been featuring some of the Raisers who have recruited as many as 12 people to sign up, and it's because they're passionate about our mission," Stried said.
As a digital platform that acknowledges women's differing financial outlook and goal-oriented approach to savings, Ellevest equalizes their opportunities to participate in investing and maximize their returns. That is why we recognize Ellevest with our Editor's Choice™ Award as a Top Goal-Based Robo-Advisor.