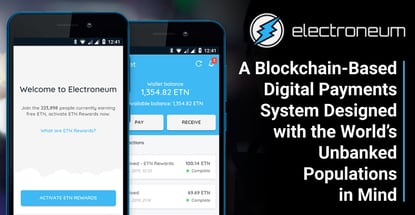 credit card news
Our experts and industry insiders blog the latest news, studies and current events from inside the credit card industry. Our articles follow strict editorial guidelines.
In a Nutshell: While some cryptocurrencies claim to democratize the world of payments, many are not truly accessible to a large portion of the world's population. But the Electroneum ecosystem was founded with the unbanked in mind. The cryptocurrency and payments system allows many people to access for the first time the world of digital transactions via smartphone. Its AnyTask.com platform helps local entrepreneurs gain access to a global digital marketplace without having to have a bank account. The company also benefits businesses by unlocking a whole new audience and providing rewards via its ETN coin.
Back in 2016, as Bitcoin, Ethereum, and other cryptocurrencies were edging their way into the mainstream consciousness, tech veteran Richard Ells was melting phones.
No, the blockchain revolution didn't cause Ells to have a meltdown of his own. He was working on his own cryptocurrency ecosystem — Electroneum — that would reach beyond the visions of other digital currencies.
"It was quite fun, actually," Ells said. "But we did melt quite a few phones."

The cellphone-melting problem arose because Ells and his team at
Electroneum
were essentially trying to cram complex proof-of-work blockchain tech — akin to what would be used in large-scale crypto mining — into a tiny smartphone.
Ells personally entered the cryptocurrency world around 2014 as a miner, with rigs set up at his home — "Much to my wife's dismay," he said.
"I thought crypto was great — the concept of it was absolutely amazing," the CEO said. "But it was just far too technical for real people in the real world to get involved in. I got some app designers and thought, 'Wouldn't it be awesome if we could make a crypto that worked entirely from a remote mobile phone?"
After melting some phones, making some compromises, and, perhaps most significantly, gaining an understanding of just how much of the world's population is unbanked, Electroneum was launched in 2017.
"The unbanked section of society is massive — much, much larger than I had any idea about when we first started getting into this," Ells said. "Cryptocurrency provides an opportunity for them to do something outside of the fiat transactions they've only ever been used to."
How the Electroneum Ecosystem of Products Can Improve the Lives of Millions Around the World
Nearly one-third of the world's population remains unbanked, according to the World Bank's Global Findex.
"These people haven't got Visa cards in their pockets or Apple Pay — they haven't got any of this stuff," Ells said. "So digital currency had attention."
Many crypto companies have noted how their specific digital currency can help those who haven't historically had access to bank accounts or digital payments, Ells said, but their involvement in these populations ends there.
"We were actually flying out to these countries, getting our boots on the ground," he said. "I've flown all over the place in Africa and Southeast Asia. And what you realize is that these people actually can't get Bitcoin or Ethereum because they're unbanked. They can't open an exchange account and buy those currencies."
But Ells said that's where Electroneum is different.
"We are using the power of blockchain to unlock the global digital economy for millions of people in the developing world," according to the company. "Helping everyone to live life on their own terms, our solution is enabling people to embrace their entrepreneurial spirit and find new ways to enhance their lives."
This is accomplished through a wide variety of tactics, Ells said. One of the most critical components was being able to provide instant payments, which many cryptos do not.
Additionally, the CEO wanted to devise a way users could earn cryptocurrency, so Electroneum launched AnyTask.com.
"AnyTask.com is the first freelance platform to unlock the global digital economy for the world's unbanked," according to the company. "The sellers of AnyTask do not need a bank account and sellers fees do not exist. For the first time, those that live within developing regions can get involved and earn more."
Ells said the freelance platform has garnered a lot of excitement among certain unbanked populations and has attracted the attention of a number of nonprofit organizations that are becoming involved.
Businesses Can Access a New Sector of Customers Who are Using Digital Transactions for the First Time
While Electroneum's most evident potential and benefits are seen with the world's unbanked population, the crypto ecosystem also has distinct advantages for businesses and other organizations as well.
To this end, Electroneum is currently working with a number of mobile virtual network operators (MVNOs) in Africa and Asia who believe the ecosystem can help increase customer acquisition and retention as well as reduce vendor-to-operator costs. The platform also aims to help these companies drive vertical sales and generate new revenue streams.
"We achieve this in a number of ways," according to the company. "We reward users with up to $3 worth of ETN each month, allowing them to buy more data & airtime. For every customer you refer, you will receive an ongoing ETN reward, thus creating an additional revenue stream."

Electroneum also presents new opportunities for retailers and corporations.
"Considered as a transformational shift in the way people buy and sell goods, our digital payments ecosystem provides a new way for your customers to buy your products," according to the company.
The platform's API enables online and in-store retailers to integrate with Electroneum and instantly begin accepting ETN as payment.
This provides businesses with an array of benefits, including being able to access one-fifth of the world's population that is taking part in the global digital economy for the first time. Electroneum said businesses may also see a higher average spend from ETN users who are receiving up to $3 worth of ETN from the company each month.
As with MVNOs, these retailers are also rewarded with ETN for referring their customers to Electroneum.
The Benefits of Using the ETN Crypto
As readers may have deduced, Electroneum's ETN coin comes with an array of benefits for users and businesses.
Of course, AnyTask.com users can use the platform as their own digital freelance marketplace, but they also earn ETN while partaking in it.
Electroneum users can also earn ETN through the ETN Rewards program.
"Earn ETN every month with ETN Rewards," according to the company website. "Simply download the Electroneum app and signup to get started. Oh, and you'll receive a free signup bonus reward!"
Ells said that, with ETN, users also gain access to instant payment capabilities.
"You can pay someone in seconds. Simply scan their QR code with your phone," according to the company. "Payments happen in an instant thanks to our Instant Payment Notification System."
ETN users also enjoy low-cost remittance.
"Cryptocurrency is revolutionizing cross-border remittances (sending money abroad)," according to Electroneum. "ETN can be sent anywhere in the world to anyone with the Electroneum app at a fraction of the cost compared to traditional remittance services."
Because of its functionality, more and more local entrepreneurs and businesses are seeing the benefits that come with accepting ETN as well.
"We've seen taxi companies, barbers, and many small stores and businesses start to accept ETN," according to Electroneum. "Remember that ETN is probably the first digital payment method that our users have ever had, and certainly the first way to gain additional income from the developed world."
With its accessibility, instant payment functionality, and potential for reaching much of the world's unbanked population, the Electroneum ecosystem is putting forth innovative ideas in the crypto marketplace.
"I think we made Electroneum different right from the very beginning because you could get a little bit of it on your smartphone, you get a reward system that enables you to have it if you just install the free app," Ells said. "And you have some that you can start playing around with — you could send a little to a friend and can start realizing what this can do."
And if Ells' vision and guidance have anything to say about it, Electroneum can do a lot — for a lot of people. And he hasn't melted a phone in years.