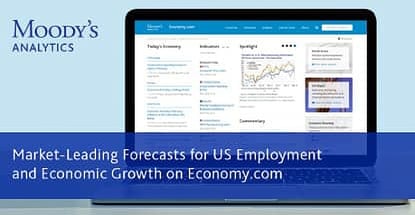 credit card news
Our experts and industry insiders blog the latest news, studies and current events from inside the credit card industry. Our articles follow strict editorial guidelines.
In a Nutshell: The American job market is the strongest it's been in nearly five decades, with unemployment rates dipping toward 4% and more than 6 million available jobs in the country. Monthly employment forecasts released in a joint partnership between Automatic Data Processing (ADP) and Moody's Analytics show the job market remaining on its current pace well into 2019. Moody's Analytics, a world leader in macroeconomic data forecasting, publishes dozens of monthly reports on its website, Economy.com, that examine the economies of more than 50 countries. Some of the world's most respected economists compile reports that provide forecasts of world economic data as much as 30 years into the future across some 300 economic metrics.
Every month, Wall Street investors turn to the US Labor Department's nonfarm payrolls count to gain a stronger understanding of the country's economic and labor health. Preceding the report each month is the National Employment Report, published in partnership with Automatic Data Processing (ADP) and Moody's Analytics.
The ADP/Moody's Analytics report moves markets based on its historical accuracy in forecasting monthly employment numbers. A team of world-class Moody's Analytics economists studies thousands of intricate data points to accurately gauge the US job market and complete each report.
The economists become versed on everything from snow to stock markets by the time Moody's Analytics' site, Economy.com, publishes the reports.
"Any time you're forecasting monthly employment, it can be a humbling experience," said Ryan Sweet, Director of Real-Time Economics and Head of Monetary Policy Research at Moody's Analytics. "The margin of error is plus-or-minus 100,000 jobs, so it's a fairly large span. For the most part, there are a lot of variables that factor into employment forecasting and there's often some temporary factors that can cause employment numbers to swing in one direction or the other."

Sweet, a member of the US macroeconomics team at Moody's Analytics, is on MarketWatch and Bloomberg's lists of the most accurate high-frequency forecasters of the US economy. He focuses on the monthly forecasts of employment, as well as other high-frequency economic indicators, while the remainder of the team completes forecasts that stretch as far as 30 years into the future.
Sweet factors in numerous variables into his employment forecasts, including the unusual US winter weather of 2018, to compile his report.
"During this time of year, the weather is a primary culprit of a number swing," Sweet said. "That was the case in February since we shifted from an unseasonably cold January into an unseasonably warm February. That difference propped up construction, leisure and hospitality, retail, and restaurants. They all benefited from the favorable weather in February."
The US Bureau of Labor Statistics (BLS) tabulates the official employment totals each month from numbers gathered during a predetermined payroll reference week. The official and forecasted numbers could both become skewed if weather impacts that week.
"I know it sounds odd when an economist can point to weather as a boost or a drag for the economy, but it can have a significant impact on the high-frequency data," Sweet said. "Our economy is very seasonal. Not much activity occurs in the winter and things start to pick up in the spring and summer. When you get big weather shifts, like a snowstorm happening during the payroll reference week, it can have a big effect on employment."
Weather, as well as swings in the stock market, economic volatility, and confidence in the business market regularly impact employment numbers, but Sweet said a different factor is most important when forecasting employment data.
"Generally, what matters most is the strength of the underlying economy," he said. "When the economy is doing well, businesses are hiring. When the economy weakens, there are cutbacks on hours, and workers are laid off."
Tariffs and Tax Cuts Pull the Economy in Different Directions
Tariffs and tax cuts, two things that have dominated the 2018 economic landscape, seem destined to pull the country's job market in opposing directions. While many experts feel President Trump's issuance of tariffs on steel and aluminum is a form of posturing to renegotiate current foreign trade deals, Sweet said the policy could have different ramifications if the strategy is not successful.
"Tariffs are usually good political policy, but bad economic policy," he said. "Tariffs raise import prices for steel and aluminum, which a lot of US industries rely on heavily. The costs companies will have to pay for imported steel and aluminum will go up. That affects the broader economy."
Sweet said that domestic steel and aluminum manufacturers will likely see a benefit and boost in production from the potential tariffs, which could lead to the addition of new workers and manufacturing plants around the country. But he stressed that any disruption in the US supply chain can have a significant spillover effect.
"The odds are that these tariffs aren't going to move the needle too much on the US economy from a Gross Domestic Product (GDP) perspective, as aluminum and steel make up a pretty small portion of the overall picture," he said. "But given the net effect, which accounts for the increase in employment but also the higher costs other industries will face in producing their goods, we'll probably lose between 100,000 and 150,000 jobs due to these tariffs."
Employment gains made via the government's personal and corporate tax cuts should absorb those job losses. Sweet said the tax breaks should have a net benefit for the country that will last well into next year.
"The cuts should provide a significant boost to the economy in 2018 and into 2019," he said. "Our economy is doing really well and now we're going to go on a little bit of a sugar high, which will likely put GDP growth around 3% this year and maybe a little bit weaker than that in 2019. That means businesses will have to go out and hire to meet the increase in demand."
Job Market Growth Should Extend into 2019 and Beyond
The Job Openings and Labor Turnover Summary (JOLTS) reported in March 2018 that more than 6 million jobs were vacant in the US, a record number for the data that goes back to December 2000. The number shows that, as the economy strengthens, employers are willing to take on more payroll to meet demands as opposed to finding new ways to drive productivity within their current staff.
"Businesses seemed focused on adding workers to meet increased demand instead of investing in enhanced productivity measures," Sweet said. "I think the job market will continue to motor along this year, and we'll continue to create roughly 200,000 jobs per month. That should push the unemployment rate to 3.5% or lower. The fiscal stimulus and corporate tax cuts will put unemployment at its lowest since the mid- to late-1960s."
Most human resource offices are no longer overwhelmed as they once were with the number of submitted résumés for posted positions. These businesses now must resort to new tactics, including online searches and college campus promotional campaigns, to find the right employees for their company.
For now, Sweet says he doesn't see a labor shortage in the US, but that could change in the coming years if more workers don't reenter the workforce.
Wage Growth Not Moving in Sync with Unemployment
Some workers are still sitting on the sidelines, waiting for the right financial opportunity to reenter the labor market. Most unemployed workers point to the lack of wage growth that often coincides with an improvement in unemployment rates as their reason for waiting out the job market.
While the lack of wage growth puzzles most economists, Sweet said several factors could explain why workers aren't seeing increases in their paychecks.
"Productivity growth in the US has been horrible over the last five years," he said. "There's been a gradual acceleration in wage growth, so we are making improvements, but looking at where unemployment is today, we should see nominal wage growth around 3%. We're a little below that."
Despite sluggish productivity numbers and a weak US dollar, signs of a strong job market and low unemployment have led to recent stock market drops over fears that economic growth is too strong. That notwithstanding, a record-setting bull market has Wall Street investors setting their sights on the Dow Jones Industrial Average passing 28,000 sometime in 2018.
"There's some concern that the economy could eventually overheat since the job market is booming and the unemployment rate is going nowhere but lower," Sweet said. "Businesses are already grumbling that they're having a hard time finding qualified workers, which hints that we could be moving closer to having supply constraints. We need more workers moving into the labor force to fill these open positions."
Meanwhile, Sweet and his team continue to focus on the economic data that spots trends and highlights strengths and weaknesses in the underlying economy. That's what Moody's Analytics has become known for and what drives subscribers to Economy.com every month in search of market-leading economic forecasts.