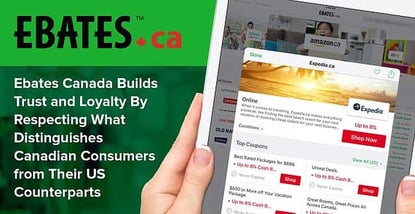 credit card news
Our experts and industry insiders blog the latest news, studies and current events from inside the credit card industry. Our articles follow strict editorial guidelines.
In a Nutshell: US-based Ebates, an online shopping pioneer founded in 1998, earned its success the old-fashioned way — with an effective value proposition and dedication to customer satisfaction. In Canada, Ebates.ca is seeing the same kind of success, with triple-digit growth each of the past three years. While the two sites are similar regarding the value they bring through cash back offers and the customer trust and loyalty they inspire, Ebates Canada is not merely a copy of its American counterpart. Instead, Ebates.ca has become a market leader by understanding the preferences of Canadian consumers and tailoring its products accordingly.
Since its inception in 1998, Ebates has built a successful business around the proposition that customers could shop their favorite brands and reclaim a percentage of their purchase price as cash back. That value proposition is so popular, Ebates Inc.'s websites have paid members more than $325 million in cash back since inception. The company's success drew the attention of Japanese e-commerce firm Rakuten, Inc., which acquired Ebates in 2014 for $1 billion. Ebates.com, based in San Francisco, California, was the flagship site in that acquisition.
At the time of the Rakuten acquisition, Toronto-based Ebates.ca was two years old and still relatively small. Now five years in, Ebates Canada has made its mark by charting its own path to success. The Canadian company's leaders have applied the fundamentals and values of the US site — a cash back business model, dedication to customer satisfaction, and word-of-mouth marketing — while respecting the differences between Canadian and American consumers and the distinctive concerns of Canadian retailers. As a result, Ebates.ca has seen triple-digit yearly growth over the past three years.
"The Canadian e-commerce landscape has gone through a different evolution than the US," said Belinda Baugniet, Director of Marketing at Ebates.ca. "I think that type of growth speaks to the fact that we're being strategic about what kind of merchant we are and how we're marketing differently to the Canadian population."
Ebates.ca has incorporated many of the features Ebates pioneered in the US for its own customer base, including a browser plug-in, mobile app, and in-store cash back (launching later this year).
But Belinda told us the retail market is different in Canada, and Ebates.ca tailors its products to meet those needs. And, because of that focus on Canadian consumers' needs, Ebates Canada continues to grow.
Meeting the Needs of Canada's E-Commerce Marketplace
Since the founding of Ebates Canada in 2012, the company has carefully pursued relationships with a growing number of North American retailers that take Canadian credit cards and ship to Canada.
"We have the ability to help those merchants drive significant sales and scale, including customer convergence and repeat buying, in a way that no other marketing spend accomplish," said Belinda.
Ebates.ca actively pursues partnerships with Canadian brands, which have tended to be slower than their US counterparts to adopt affiliate marketing strategies.
In addition to corporate inertia, a couple of systemic challenges also distinguish the Canadian market. The first is the sheer size and low population density of Canada.
"That makes returns and exchanges a little more complicated than in the US," Belinda said.
In-store returns are offered by retailers in Canadian cities, but a significant portion of the customer base simply lives too far away from urban centers for in-store returns to be practical. But, as more online stores offer prepaid return packaging with simple instructions, that barrier is decreasing and Canadian consumers are increasingly embracing online shopping.
"There has been a lot of headway made here, but I do think returns are one of the areas where we see the most difference between ourselves and the US," Belinda said. "We'll see that trend improve as e-commerce in Canada continues to see the double-digit growth it's been seeing year over year."
Another challenge stems from Canada's status as a nation of two languages. While Ebates Canada has nearly identical English and French versions of its website, that is not always the case when dealing with US companies. So, Ebates.ca works with US retailers who are hoping to see some traction in Canada to solve those problems.
Consumer Preferences Drive Strategy and Product Rollouts
Meanwhile, differences in the attitudes and preferences of American and Canadian consumers have influenced the pace in which Ebates.ca rolls out products that have seen widespread acceptance in the US.
"What we see is that Canadians are fiscally quite cautious, as a rule," said Belinda. "We've found they make fewer impulse purchases."
But the site continues to grow and will introduce its in-store cash back program to the Canadian market later this year.
"We will launch that in 2017 with what we call an 'MVP' group of merchants," said Belinda. "So as we grow and add more members, we're able to deliver more products that make sense from a business standpoint."
The Ebates.ca mobile app, on the other hand, has enjoyed better reception since its release. The app launched in 2015 and has seen tremendous acceptance, Belinda said. Ebates Canada also offers the Express Cash Back browser plug-in to provide automatic cash back notifications at participating websites, a tactic which is driving triple-digit growth year over year.
The Convergence of North American Shopping Events is Spurring Growth
Meanwhile, in the area of shopping events, widespread consumer convergence has occurred in North America, erasing some of the commerce barriers between the US and Canada.
"We've seen a blurring of the border for some of the large tentpole shopping events like Black Friday and Cyber Monday," said Belinda.
The cross-border consumer response to the end-of-year holiday period is similar, but some differences exist between Canada and the US when it comes to secondary and nation-specific holidays. Boxing Day, for example, is a focus for Canadian retailers and consumers, and 2017 saw the unique celebration of Canada's 150th birthday.
"Canada 150 was a big shopping event that we, and our retailers, acknowledged," said Belinda, "with all the major merchants in Canada coming out with campaigns and specific merchandise. So that really was an opportunity for us to build on something uniquely Canadian."
Ebates.ca Celebrates 5 Years of Serving Canadian Shoppers
As Ebates.ca prepares to celebrate its 5th birthday with week-long festivities, including prizes and up to 15% Cash Back,the company has many reasons to revel in its success, but, for Belinda, it all comes back to a commitment to understanding what makes the Canadian marketplace unique.
"There was an initial education process because the concept of cash back outside of a credit card program was something that was new in Canada," said Belinda. "We had to prove it was as easy as it seems."
Apparently, Ebates Canada did just that — and in only five years. A recent brand study found that nine out of 10 Canadians consider Ebates.ca an appealing and practical way to earn money while shopping. So appealing in fact, that Ebates Canada will welcome its three millionth member before the end of August.
"Our unaided brand awareness is almost 50% among users of cash back sites," Belinda said. "We're extremely proud of the growth we've seen."
So while the association with an American flagship brand has its merits, that only goes so far with Canadians. More important are the Canadian experts in e-commerce and retail on the Ebates.ca team, who are making decisions that serve the shoppers the site wants to attract.
"That has really been exciting for us as we grow this brand in Canada and shape it into something that is meaningful for Canadians," Belinda said.