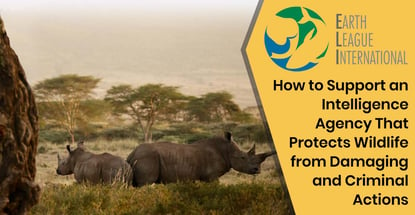 credit card news
Our experts and industry insiders blog the latest news, studies and current events from inside the credit card industry. Our articles follow strict editorial guidelines.
In a Nutshell: Illegal wildlife networks operate around the world right under our noses. They not only mistreat animals and devastate their populations, but they also damage natural ecosystems. Earth League International is an NGO that functions as an intelligence agency to fight these illegal operations. The ELI goes undercover to produce in-depth reports that enforcement agencies can use to put an end to harmful and illegal activities. The NGO also aims to educate the public about these issues and has been featured prominently in two widely released documentaries, "The Ivory Game" and "Sea of Shadows." People can support the ELI by donating via the organization's website.
In early 2020, Netflix unleashed "The Tiger King" on households across the country. The documentary series primarily focused on the human relationships between a number of eccentric personalities involved with exotic animals in the U.S.
While the series addressed some of the illegal activities and animal abuse that takes place in the exotic animal trade, it really only scratched the surface. But hopefully, it opened some viewers' eyes to just how poorly animals are treated — oftentimes under the guise of a friendly zoo or preserve.

Earth League International
didn't show up in "The Tiger King" series, but the non-governmental organization has been on the front lines of this and many other battles on behalf of wildlife and natural ecosystems around the world for years.
The organization began life as the Elephant Action League in 2013 before rebranding to Earth League International in 2019.
Andrea Crosta, Executive Director and Co-Founder of ELA, said he chose the original name because of his love of elephants. But since its earliest days, the organization's work encompassed much more than protecting elephants.
"Elephants have always been very dear to my heart," Crosta said. "They are very symbolic and powerful animals."
To simply say Earth League International does more than protect elephants is an understatement. The organization promotes itself as the first intelligence agency for Earth.
"We protect wildlife, oceans, and forests through intelligence and undercover operations, targeting illegal wildlife supply chains, environmental criminal organizations, traffickers, and corrupt government officials," according to the ELI website.
Earth League's Initial Anti-Poacher Mission Quickly Grew Into Battles on Multiple Fronts
Crosta has long been a champion of wildlife and conservation efforts although he has been working for more than 17 years as an international consultant to companies and governmental agencies on high-end security technologies and services, homeland security, anti-piracy, investigations, and risk management.
It was this professional career that led him to Earth League International.
"Eight years ago, I was in Kenya for a professional assignment for a prominent politician from Somalia, and it was right in the middle of the elephant poaching crisis — the big one — losing maybe 40,000 to 50,000 elephants per year," he said. "I saw with my own eyes how helpless we were against it."
Crosta said that he then began participating in anti-poaching trips with anti-poaching units in the area, and even the anti-poachers didn't know how to handle the massive problem.
"I went back to my original passion and decided to create an NGO, but a new kind of NGO. I wanted to do something that nobody was doing," he said. "Because of my background working with intelligence officers around the world, I clearly saw that nobody was using professional intelligence to fight environmental crime."
He said most efforts at the time were disproportionately focused on changing hearts and minds on the two ends of the supply chain — with poachers and consumers. But, he said, traditional anti-poaching efforts only buy time and campaigns geared toward consumers can take more than a generation to see results.
That's when Crosta, along with Francesco Rocca and Gilda Moratti, created ELI to fight on behalf of wildlife and nature using different tactics.
"Earth League International (formerly Elephant Action League) works to merge the worlds of intelligence, investigation, and conservation in the service of wildlife, forests, oceans, and the people who protect them," according to the company website.
Intelligence Gathering and Conservation Efforts Bridge Gaps for Governmental Agencies
"I think there is a space for an NGO that puts intelligence at the very heart of the strategy and fights back by going right in the middle of things, where you can find the real drivers and the real enablers," Crosta said.
And that's exactly what Earth League International does.
ELI agents go undercover on the frontlines of some of the world's most dangerous and devastating operations when it comes to wildlife and ecology.
"We have been sharing confidential information with about a dozen enforcement agencies around the world," Crosta said. "We have excellent relations with U.S. Homeland Security and U.S. Fish and Wildlife here in the states."
The ELI maintains similar relationships with government agencies around the world.
"This is a very important part of our work," he said. "We produce very detailed confidential briefs that we share with law enforcement. There is a lot of confidentiality. You have to imagine briefs coming from hundreds and hundreds of hours of conversation that our undercover teams have with traffickers and kingpins in organized crime."
The ELI undercover agents secretly record basically everything, Crosta said. After the ELI produces its reports based on the data, they share them with pertinent enforcement agencies.
"We basically jumpstart the work of the enforcement agency," he said. "And it's not just about arresting people. It's also about understanding what's going on, who are the main players? Where are the real pressure points?"
The NGO began its field operations in 2015 and has since conducted dozens of intelligence-gathering and investigative missions in 14 countries throughout Africa, Asia, and Latin America, according to the ELA. These operations include infiltrating several criminal wildlife supply chains including ivory, rhino horns, live animals, jaguar body parts, and seafood.
"This work has resulted in the arrests of 12 people, including two of the most significant wildlife traffickers in South East Asia, as well as the production of dozens of Confidential Intelligence Briefs that have been shared with numerous law enforcement and government agencies (…)," according to the organization.
The Organization's Work Can Be Seen Up-Close in Two Streaming Documentaries
Crosta explained that much of Earth League International's work is directed toward providing information to enforcement agencies and internal players who are fighting illegal wildlife activities, but it also aims to educate the public.
"We've done two big documentaries, one with Netflix called "The Ivory Game" and another one with National Geographic, called "Sea of Shadows" that won the Sundance Film Festival last year," Crosta said.
He said the organization is also currently working on a documentary specifically focused on Earth League International.
"The Ivory Game" features Crosta, among other players, and focuses on the whistleblowing initiative known as WildLeaks and the dark, complex world of the international ivory supply chain.
The ELI published its report, "Blending Ivory: Old Loopholes, New Hopes," in January 2016, and the preceding investigation helped shape the documentary.
"Undercover footage from this 2015 investigation exposed the areas where illegal ivory opportunistically enters the legal ivory market, and where China's legal trade system and legal businesses are exploited to launder illicit ivory onto the legal market," according to the ELA. "It is this footage that is presented in 'The Ivory Game' film narrative."
"Sea of Shadows" premiered at the 2019 Sundance Film Festival where it won the Audience Award. The documentary plays out as a real-life thriller as it chronicles an assortment of real-life heroes engaged in a noble battle for a vanishing species, and in turn, the value of all life on earth, according to the ELA.
"In Mexico's Sea of Cortez, a group of brilliant scientists, high-tech activists, investigative journalists, and courageous undercover agents attempt to rescue an endangered whale while battling the vicious Mexican drug cartels and Chinese traffickers whose destructive poaching methods are threatening the region's marine life," according to the documentary description.
Supporting the NGO's Mission to Protect and Conserve
As a nonprofit organization, Earth League International relies on the support of donors to help carry out its important operations.
"Your donation (tax-deductible in the U.S.) to Earth League International funds important information-gathering activities, deep-cover field investigations of the key players, and modus operandi of international criminal networks engaged in wildlife crime such as poaching and the trafficking of ivory and rhino horn, wild animals, and illegal timber," according to the website.
Crosta said people can also support the ELI simply by engaging with the organization on social media and spreading awareness about its mission.
"We always try to advance the concept of an intelligence-led approach to conservation — the value of intelligence," Crosta said. "So part of our work is to inject this into the public narrative."