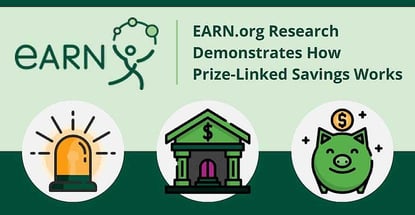 credit card news
Our experts and industry insiders blog the latest news, studies and current events from inside the credit card industry. Our articles follow strict editorial guidelines.
In a Nutshell: Research shows that prize-linked savings initiatives encourage more low-income consumers to build healthy savings habits. EARN.org is a nonprofit that conducts research and leverages fintech to implement prize-linked savings programs like its Scratch & Save game. Not only does EARN.org's research help to guide its own programs and strategies, but it also shares its results to help other nonprofits improve their own approaches to helping consumers save more.
In 2005, South Africa's First National Bank introduced the Million-a-Month savings account, which awarded cash prizes to account holders — including a monthly grand prize of 1 million South African rand (about $70,000 USD).
The program looked a lot like the lottery, except the idea behind it was to encourage more people to build savings. And it worked. So much so that in 2008, South Africa's Supreme Court shut the program down because it was pulling so much money away from the national lottery.

These types of prize-linked savings incentives have been around for a long time but the concept is relatively new in the U.S. A credit union in Michigan introduced the first prize-linked savings account in 2009. Again, the account proved successful and the concept has gradually spread across the country.
EARN.org is a nonprofit dedicated to helping low-income families develop healthy savings habits through research and real-world programs. The organization recently delved into the effectiveness of prize-linked savings and produced a report based on its research.
"What's really exciting to me with these programs is the opportunity to really dive into the data and think about how people are spending and saving money," said Tim Lucas, EARN.org's Director of Research. "After looking at the data over the first few months, we are really encouraged by our findings."
Scratch & Save Demonstrates SaverLife's Gamified Approach to Helping Users Build Better Saving Habits
In 2018, EARN.org launched its first instant-win savings initiative — Scratch & Save — nationally after testing smaller sweepstakes in partnership with Commonwealth, another financial nonprofit. Scratch & Save is part of EARN.org's larger SaverLife program. SaverLife's goal is to help people save.
Consumers who sign up for Scratch & Save have weekly chances to win money. Users who save $5 could win $5 or $100. Users who save $20 could win $20 or $100. They can open up the card and scratch with their finger on a smartphone, and it only takes a second, Lucas said.
Lucas said the lottery is a $70-plus billion industry, and the average American spends around $300 on lottery games each year. And about half of all households with an income less than $25,000 per year play the lottery, he said.
About three-quarters of Scratch & Save players told EARN.org that playing the game feels like playing the lottery, according to Lucas.
Despite some occasional skepticism, EARN.org's Director of Communications Shana Beal said that Scratch & Save isn't a gimmick.
"I like to think of Scratch & Save as a can't lose situation," she said. "If you don't win that week, you have money that you've put into savings that is earning interest. And, that money wasn't in your savings account the previous week."
Beal said the odds of winning vary from week to week, depending on the number of players, but there are usually around 100 winners in any given week. She said the odds are definitely higher than in any state lottery.
EARN.org's Report on Prize-Linked Savings Guides its Own Offerings and Helps Other Nonprofits
EARN.org was able to gain valuable research data through Scratch & Save by monitoring the activity of its participants.
"Initially, we gave people a Scratch & Save card up front to let them see what they're dealing with," Lucas said. "We found that people who actually scratched the card were 14% more likely to save, overall."
Participants who saved and played a Scratch & Save card were 30% more likely to save again the following week than those who didn't save in a given week, according to EARN.org's report.
Additionally, the report shows that winning a prize during the first week of participating was a major predictor that users would continue to save.
"People who won in the first week saved $5 and played future scratch cards at double the rate of people who didn't win in the first week," according to the report.
Although participants only had to save $5 to be eligible to receive a Scratch & Save card, EARN.org found that people were routinely saving higher amounts, up to $100 per week, Lucas said.
Overall, user engagement in the program was high with more than 3,000 people saving at least $5 week in Scratch & Save over a course of 10 weeks. Participants scratched 8,347 cards, and email open rates were more than 40%, which EARN.org reports were much higher than industry averages and the typical open rates the organization sees.
"We are constantly looking for ways to help make our Savers more successful," Lucas said. "Having this type of data at our disposal will help us further refine our programs and help guide our strategies in the future."
He said that, because EARN.org observed that people often saved more than $5 in a week, the organization is looking at how to reward those larger savings deposits with future versions of Scratch & Save. It is also considering other options like whether to make every initial Scratch & Save card a winner, or whether to require users to link a savings account.
"We didn't force people to choose which type of bank account to link to, but we've seen that far more people are successful saving money every month if those deposits are going into a pure savings account rather than checking," Lucas said.
He said as a nonprofit with rich data at its fingertips, it is incumbent on EARN.org to share its research with the public and others within the finance industry to help as many people as possible.
Leveraging Fintech in the Nonprofit Sector
EARN.org was founded in San Francisco in 2001 with the goal to help low-income families save for important life events, including education or purchasing a home, through large-scale initiatives.
Over the years — in part because of its proximity to many innovative startups in San Francisco — the organization has evolved to incorporate technology to reach even more people. Today, EARN.org operates "at the intersection of financial technology and inclusion to empower low-income Americans to take charge of their financial lives," according to its website.
"One of the things that really excited me about coming to EARN.org is the fact that it is a nonprofit that operates on this very fintech-like model," Lucas said. "The organization has a ton of data available. We're constantly doing interviews and surveys. All the kinds of things you would see in a fintech startup."
Beal said the organization's unique approach can sometimes be a hurdle to overcome because some people can forget EARN.org is truly a nonprofit. She said it does not make any money from people participating in its programs.
"We are a nonprofit and our mission is to help people save money," she said. "Our goal is to help them establish a savings habit so that everybody has the money they need in the bank. First for an emergency and then later to start doing those bigger things like saving for education or retirement, or buying a home."
Beal said as a 501(c)(3) nonprofit, EARN.org's programs are financed through a combination of corporate sponsorships, grants, and private philanthropy.
Continuing to Refine Prize-Linked Savings Opportunities and a Pledge for Tax Time
Lucas said EARN.org will continue to dive into the rich data it obtains from its programs in order to produce more valuable reports, guide its programs, and, ultimately help people save.
EARN.org recently launched a Tax Pledge saving campaign. For pledging to save a portion of their tax refund, users get a chance to win an instant cash prize and receive educational content to help with their 2018 filing. EARN.org chose tax-time to launch this prize-linked savings campaign because tax season is an important savings moment. Nationally, 109 million households receive more than $304 billion in federal refunds. For many families, this is the biggest paycheck they receive all year, and the perfect moment to launch a savings habit and an emergency fund. Anyone is eligible to take the pledge at SaverLife.org.
Lucas said the program is built around data that shows people who pledge to save a portion of their tax return are more likely to follow through and actually save than those who didn't. And, those who saved were more likely to have a portion of their tax refund left after three months. Lucas said the extra chunk of money in savings allowed people to catch up on medical expenses, traffic tickets, utilities, or other non-monthly debts.