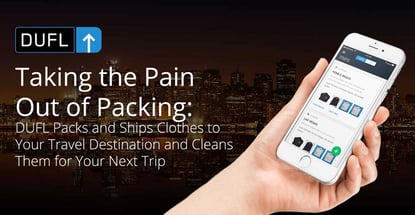 credit card news
Our experts and industry insiders blog the latest news, studies and current events from inside the credit card industry. Our articles follow strict editorial guidelines.
In a Nutshell: While air travel for both business and pleasure continues to increase, the journey from home to the airport to the hotel and back can still be an exercise in frustration. But DUFL wants to eliminate that pain point by packing and shipping your bags for you. Not only can DUFL users get items shipped to their destinations, but the service also professionally cleans and stores your clothing and accessories, so they're ready for the next trip. With just a few taps on the DUFL app, the platform can make dragging bags through the airport a thing of the past.
The average business traveler with a carry-on bag spends about 5.5 hours of personal time preparing and managing luggage during each trip. That includes time spent at the dry cleaners and in the laundry room at home.
But selecting, laundering, and packing clothes and gear for a trip is only part of the time investment.
Today's hectic airport environment also features long lines at security checkpoints, overcrowded gates, and luggage compartments that seem to be full before the plane even boards.
And then there's that last day on the road after business travelers have checked out of their hotels. Anyone who has ever stored a bag in an office hallway or trade show storage room while they attended a final session likely yearns for a better way.
Enter DUFL, which simplifies business travel by storing, packing, and shipping your luggage on your behalf. Like a personal valet, DUFL cares for your items and sees to it that your bag is where it needs to be — when it needs to be there.
And DUFL works through a mobile app and online platform that allows busy travelers to select their wardrobe with a few clicks. When the trip is done, DUFL retrieves the bag, and cleans and stores the clothes, so they're ready for the next trip.
"The idea for DUFL came up in an airport, which is no surprise," said DUFL Chairman, CEO, and Founder Bill Rinehart. "I was in London on a Friday, and we were waiting for the car to drive us to the airport. I was sitting there looking at my bag and thinking, 'I've got to take this thing halfway around the world. There's got to be a better way.'"
Along with Co-Founder and Chief Marketing Officer Andrea Graziani, Rinehart set about transforming the idea into DUFL.
Now, the platform provides travelers with an ideal option that saves hours of valuable time — and frustration — on each trip.
Manage a Virtual Closet to Store, Select, and Ship Items
Users can get up and running with DUFL by downloading the app — available on iOS and Android — or accessing the service over the web and ordering a Welcome Kit.
"We send a massive suitcase to your home," Rinehart said. "In it, you place all the things you typically travel with. We take it back to one of our warehouses, inventory everything, take professional photographs, and, from that point forward, your DUFL virtual closet resides on your phone."
To schedule a trip, enter your destination and arrival date on the app — a location-based search function precisely determines the destination. And then it's time to select the items you need. It's an intuitive experience, according to Graziani.
"As soon as we've inventoried and photographed everything, you can see your items pictured in the app," Graziani said. "So, after you tell us where you're going and when, you just tap on the photos of the things you want to take."
DUFL takes it from there. When travelers arrive at their hotels, their bag is already there. When they are ready to leave, travelers schedule the pickup, affix the shipping label included in the bag, and drop the bag off at the hotel front desk.
Travelers make their journey home without a bag to tend to, and DUFL professionals clean and store the items with meticulous care. Their clothing items wait at a warehouse until the user calls on DUFL through the app to prepare another bag.
Delivering Sports Equipment and Trade Show Gear
DUFL started in 2016 and has been growing steadily ever since. One thing the team has learned is that there's no typical customer.
"There's a need across almost any industry you can think of — all walks of life, anybody who's traveling," Graziani said. "We focus on business travelers, but the reality of it is that anybody can sign up. We see everybody from traveling doctors and nurses to priests, movie stars, athletes — you name it."
As more users have discovered the service, DUFL has expanded to keep pace. Frequent business travelers often include some leisure activities while on the road, so the service has grown to handle almost anything its customers can throw at it.
"People wanted us to ship golf clubs and skis and other sports-related items," Graziani said. "And then we had folks who were traveling to trade shows. They're lugging lots of equipment with them — booths and monitors and pamphlets and all that stuff."
DUFL Sports works just like the core service except that it stores and ships sports equipment, including golf clubs, skis, snowboards, bikes, scuba gear, among other items. The customer packs these items and ships them using the provided DUFL shipping labels. DUFL Business offers the same service for trade show gear and marketing materials.
"Our customers are very vocal, and we're often on a first-name basis. If they can think of a way to ship it, we will," Graziani said. "We store and maintain those items in the warehouse, they appear in your virtual closet, and they're just items you can select and ship like everything else."
DUFL Saves Travelers Time and Hassle So They Can Focus on What's Important
There's a certain freedom in lean travel. Encumbered by nothing more than a briefcase, messenger bag, or carry-on when they board their flight, DUFL customers often praise the service as a revelation.
"Everyone tells us that it saves them a tremendous amount of stress and time per round trip. That's time they didn't spend cleaning or packing or getting through security or worrying about checking a bag," Graziani said.
Many DUFL users keep more than one bag moving through the system. That way, when back-to-back business trips make shipping a bag back to DUFL impractical, another is ready to go. Or, users who travel to Miami one week and New York City the next fill their closets with clothes appropriate for every season.
Either way, they can manage the logistics using what DUFL calls pack lists. Users can group clothing items appropriate for a Florida trip into a pack list, for example, and select that list during the packing process instead of having to tap on individual items.
"The best analogy is like a music playlist on your phone," Rinehart said.
A certain amount of trust is involved for users to provide their personal items to DUFL. That's why privacy is also integral to the service.
"The folks who pack the items in the warehouse don't know whose clothes they are," Rinehart said.
That trust, alongside the care and convenience DUFL brings to the table, have made the service essential to so many of today's frequent fliers.