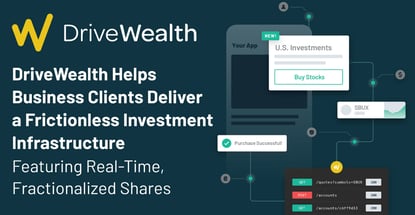 credit card news
Our experts and industry insiders blog the latest news, studies and current events from inside the credit card industry. Our articles follow strict editorial guidelines.
In a Nutshell: Until very recently, investing in stocks and other assets was limited to those with enough funds to conduct full-share purchases through brokerage firms. That meant hefty account minimums and significant trading fees. Thankfully, technology has torn down the biggest barriers to investing, and DriveWealth is a platform that makes trading nearly frictionless for its partners' clients. The company delivers an investment infrastructure driven by its open API, which allows its partners to customize their own customer's trading experience. DriveWealth also facilitates real-time, fractional share trading — an approach to investing that has disrupted the industry. All of this is done while providing end-to-end, high-quality customer support.
While investing and trading in the stock market has theoretically been available to anyone interested, in reality, a number of barriers have prevented average consumers from entering the world of traded securities.
For starters, one must have extra funds with which to invest. And even then, to purchase stocks or bonds from an exchange such as the New York Stock Exchange or NASDAQ, you have to be a licensed stockbroker or broker-dealer.

For the average consumer, that would mean locating a broker or firm and paying for their services — a fee for every purchase, sell, or trade. The cost of buying and selling itself could take a significant toll on an average person's allotted investment fund, not to mention the hefty minimum deposit often required by brokerage firms.
The time and costs associated with investing meant that for over a century, asset trading was, for the most part, limited to upper-middle and upper-class circles.
That is, until recently.
In the last decade, technology has torn down most of the barriers to entering the investment world with companies and apps that make buying and trading security assets easier and cheaper than ever for the average consumer.
And DriveWealth is helping businesses remove the remaining bits of friction that exist in the trading realm.
"Our lean infrastructure gives our partners the power to offer trading, investing, retirement and rewards, in real-time fractional shares on a dollar basis, through whatever user experience you create or their customers demand," according to the company.
We recently spoke with DriveWealth's Chief Information Officer, Ryan Burke, to learn more about the state of online trading and how DriveWealth is delivering its frictionless product to businesses and, in turn, their clients.
"There is a clear need in the market," Burke said. "Brokerage and investment infrastructure is old — you have 25 to 30-year old technology that is broadly inflexible. And particularly inflexible when we're talking about the B2C need in the marketplace."
An API-Driven Platform that Lets Partners Build Their Customers' Digital Experiences
"We're an API-first, rich platform," Burke said. "We are exposing the entire brokerage stack to our partners via API. So when we talk about removing friction from the investing experience, that is your digital onboarding."
Among the components of this onboarding process is customer identification and KYC requirements, he said.
"This can include document collection and verification, all the way through account opening, through funding, and through actual execution," he said.
This allows DriveWealth's partners to design everything their customers see and buy, while DriveWealth powers everything they do not see, which includes execution, clearing and settlement tax, and regulatory reporting.
"DriveWealth partners with companies of all sizes," according to the company website. "Update your existing investment offering or build custom investment experiences using our componentized platform."
DriveWealth is currently used within banks and wealth management firms — established financial businesses that want to offer more modern, digital investing offerings. It is also used by fintechs and startups to add investing into their users' experience.
"The great thing about DriveWealth's API technology being available to a broad variety of financial organizations is that it ultimately answers what consumers have been asking for, a centralized one-stop shop for their finances," Burke said. "At DriveWealth we refer to this as embedded finance, having a centralized digital wallet where you can save, pay bills, invest."
The platform can also be applied to consumer brands, such as loyalty programs, card issuers, and digital wallets looking to expand their product offerings. DriveWealth supports end customers in over 150 countries.
"Our global, purpose-built platform enables our partners to launch quickly with scale and ease, so they can focus on their strategy and core business," according to the website.
Of course, these aren't just theoretical applications — DriveWealth has partnered with numerous businesses in the financial space since its launch.
One of the most recent of these partnerships is with Revolut.
"Revolut is a big digital challenger bank in the U.K.," Burke said. "They understand that bundling and multinational services are extremely important. And they're creating new platforms to engage their clients and to take advantage of the unique digital experience and differentiating factors."
Revolut announced the partnership in August 2019 with news that its customers now have access to stock trading capabilities through the challenger bank.
"Last month, Revolut made stock trading available to Metal customers, enabling them to buy and sell 300 U.S. stocks directly from the Revolut app," according to an announcement. "Today's launch sees Revolut add 150 more U.S. stocks for customers to choose from (…). Revolut customers can now access over 450 U.S. stocks and download monthly statements directly from within the app."
Fractional Investing for Everybody
Not only does DriveWealth's platform allow its partners to shape the user experience and capabilities for its clients, it delivers one of the most democratizing and important trading tools available today — fractional investing.
"Fractional investing is the practice of purchasing only the portion of any stock or fund based on how much you are able to invest," according to a Data-Driven Investor article. "Through fractional investing, you can purchase any fraction of the current value of any share of stock."
This new twist completely disrupts everything experts know about investing, according to the article.
In the past, the hottest stocks may have been out of reach for common investors due to the high price of one share. Now, consumers can slowly buy into the stock by purchasing a small piece of it at a time. And, as the stock price goes up or down, the fractional investment goes up and down proportionally.
"We've heard a lot about fractional investing in the last six months, but we've been powering fractional, real-time investments since 2015," Burke said.
Exposing its partners to all of the components — such as execution, clearance, settlements, regulatory reporting, and account management — in real-time differentiates DriveWealth from other platforms, he added.
"That enables our partners to build out and deliver frictionless investment experiences to their underlying clients," he said. "So, where they've really focused on user experience and the acquisition of clients, we — through our technology platform — enable them to bring that to life."
Burke said because of fractional investing, DriveWealth views the future of investing as dollar-based rather than full-share based.
"I don't often use the term democratize, but nonetheless, it's true," he said. "Fractional investing is broadening accessibility to more individuals around the world."
DriveWealth is powering fractional share capabilities for the likes of consumer favorites such as Square's Cash App, MoneyLion's Managed Investment Account, Revolut's app, and many more.
Providing Support for Partners from Development to Launch, and Beyond
Burke said DriveWealth prioritizes providing high-quality customer support through every phase of the platform experience, and this includes two different facets of support.
"When we look at DriveWealth, we want to broaden our capabilities so the end client can consume your products or services," he said. "And we want to deepen and scale our technology platform to support our clients and the scaling of clients. Obviously, we grow as our clients will."
But, in terms of the company's approach with clients, Burke said DriveWealth values hearing from its customers.
"We very much solicit our clients' feedback, including what's on their product road map to understand where they are looking to go, what they're looking to do, to help inform our product road map," he said.
He said DriveWealth also seeks ways to improve and expand its offerings in its own right as well as through new technology and new products to increase relevance in the space.
Partners can count on end-to-end consultative support from DriveWealth.
"DriveWealth is way more than a layer of technology — our dedicated team of integration experts supports you throughout product development, platform launch, and as you continue to evolve," according to the company website.
This includes on-site development assistance, full API documentation, detailed workflow and product examples, and a dedicated Slack channel, according to the company.
Whether you're involved in a new startup looking to deliver the latest investing features to attract clients or you're with an established institution making sure your clients have the tools to stay current with their investment portfolios, DriveWealth's frictionless infrastructure may provide the answer.