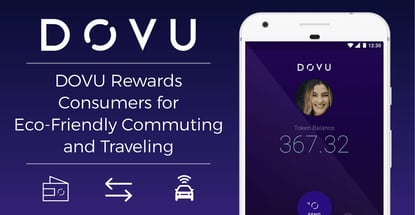 credit card news
Our experts and industry insiders blog the latest news, studies and current events from inside the credit card industry. Our articles follow strict editorial guidelines.
In a Nutshell: Our personal data has more value than we think — though we give it away for free every day through smartphone and internet usage. DOVU plans to change the way consumers drive, walk, cycle, ride, or scoot by rewarding them with DOV cryptocurrency tokens for sharing their commuting information via the company's Wallet application. DOVU provides its API to original equipment manufacturers (OEMs) and all types of businesses in the transport sector, including governments, which can be plugged into any mobile app, website, vehicle dashboard or IoT interface. This allows its partners to provide incentives in exchange for the tokens, and users always have full control over which data points they share.
Our mobile devices and the applications that run on them constantly collect and transmit data on our usage patterns, locations, and interests. Although that information may seem like no big deal to us individually, it's gold to the companies mining it.
Recent studies show that the average American could make approximately $240 per year by monetizing their personal data for digital marketing. Instead, we give it away in exchange for an addictive video game, a few song plays, or nothing at all.
DOVU understands that there is legitimate value in an individual's consumer data. The company wants to reward travelers for sharing information on their personal movement so it can reach its goal of creating more eco-friendly daily commutes and smarter city transit.
Blockchain-powered DOVU allows users to share their commute data in exchange for DOV tokens. Users store these ERC-20 tokens in the DOVU Wallet or in other digital wallets and can exchange them on the DOVU marketplace for future mobility related services and products from a host of business partners.
DOVU has already attracted a host of big-name partners, including OEMs BMW, Jaguar Land Rover, Volvo Financial Services, and mass transit companies like Go-Ahead, despite its service only being in beta testing.
DOVU's long-term goal is to help OEMs better understand their customers and reward them for their travel behavior, while providing consumers with a platform that facilitates a more eco-friendly way to commute.
"The platform aims to connect all different actors in transportation — from governments and public transport providers to businesses and organizations to help them build smart cities where the end goal is to benefit the end user — us," said Krasina Mileva, Co-Founder & COO of DOVU. "On the B2B side, we want to allow all our partners to tap into a wider ecosystem, where they can better understand their customers and have a better digital relationship with them, while rewarding them for data and change of behavior."
Customers have full control over which data points they share, including the time spent commuting, the route taken, and other insights.
"Some might say we resemble a loyalty program, but we aren't one," Mileva said. "Existing loyalty programs are focused on the spend. You always need to make a purchase in order to get a reward. With DOVU, it's not about spending. We're nudging individuals to be eco-friendly, smarter citizens but also we make sure that they feel appreciated for the value they deliver to the transport sector."
DOVU hopes that consumers will get a better understanding of their travel behaviors and start to think of ways to alter their commutes to help the environment. Taking it a step further, the company plans to work with local businesses to create eco-friendly ways to commute.
"We also want to help businesses change customer traveling behavior," Mileva said. "So, if you normally use your car in the morning to go to work, we can help businesses to nudge the customer to change their normal route that they drive or maybe decide to not even drive that day and take public transportation or walk and get rewarded for that action."
Consumers Choose Which Data Points They Share
The DOVU Wallet app collects, stores, and transmits user data. Consumers maintain real-time access controls and can disable or remove access to the data at any time through the app.
If traveling by car, the app can track which route a person takes, how fast they drive, how often they brake, and several other data points that OEMs and mass-transit companies can use to expand, improve, and alter their products and services.
"It all deals with travel patterns," Mileva said. "Let's say we have 100 users and perform a simple survey to find out how they got to work that day. Knowing what modes of transportation they use, we can use to reflect in a smart city environment but also, if need be, nudge them to change their mode of transport or route."
Ride-sharing companies and businesses that rent public bikes or scooters use this data to determine where in the city their services are needed. OEMs leverage the information to build better, smarter vehicles. But if you don't want to share your data with certain companies, or you want to keep specific information private, you can do so with a few taps on your wallet.
"This app gives the end-user a bit more flexibility as to when and what they share with not only us but with all of our business partners," Mileva said. "That's not the case with most applications on our phones, where they mine all of our data and give us nothing in return. And, with most of them, if we disable something within the app, you can't actually use the service. That's not very fair to the user."
Business Partners Provide Rewards for Data Sharing
DOVU has deep connections in the transportation sector. The company, which was founded by Mileva and CEO Irfon Watkins, received early seed funding from InMotion Ventures — Jaguar Land Rover's investment arm — and Creative England, a fund backed by the U.K. government.

DOVU cemented its placement in the public transit sector earlier this year by partnering with Go-Ahead — one of the largest public transport providers in the U.K. Each year, Go-Ahead facilitates more than 1 billion customer journeys and plans to use the data to improve user experience across its wide range of bus and rail services.
"They operate around 25% of the public transport in the U.K., both bus and rail," Mileva said. "We're set to go live around October with them."
DOVU's project will initially focus on Go-Ahead's Thameslink and Southern Rail services. Customers who earn DOV tokens for sharing their travel data or for altering their travel behaviors can redeem their tokens for Go-Ahead services.
Mileva said the partnership is just the beginning of wider-ranging plans that will change not only how we commute, but where we drive and commute.
"We also work with BMW, Volvo Financial Services, and a few other businesses and governments," Mileva said. "Plus, we're in the very early stages of scoping out a smart city project in the Middle East."
Building Smarter Cities, One Commute at a Time
DOVU also has plans to work with cities around the world to help each local government learn more about its citizens and create more efficient commuting options.
"The main idea is to find a more eco-friendly way of planning how we move, given that we're moving toward a smart city environment," Mileva said. "The way to make our cities smarter lies behind how we work with businesses."
And these cities, like DOVU's users, span the globe. In a monthly report from April 2019, DOVU shared that, while 33% of its users reside in the U.K., the company receives data from commuters in the U.S., India, Bangladesh, France, Germany, Italy, and other countries around the world.
DOVU began its beta testing in December 2018, and preliminary reports show a strong platform with heavy user engagement based on its rewards system. As the company continues fundraising and adding new business partners, it plans to push toward a brand launch that coincides with the needs of the companies using the service.
"We're working to align our official launch with our business partners to make sure we can provide everything they want within the wallet," Mileva said. "That way, when we do officially launch, the product will make more sense than it might right now."
Mileva added that a "very optimistic" view would have a launch sometime within Q3 of 2019, though she's confident the service will fully roll out no later than Q4.
In the meantime, new and existing users can continue to share their data and reap rewards, and can extend those rewards even further by sharing the service with friends. As for DOVU, it will continue to help build smarter cities and residents through commuting data that aims to create a better environment for all.