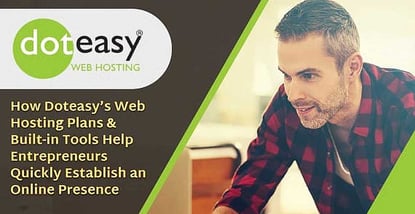 credit card news
Our experts and industry insiders blog the latest news, studies and current events from inside the credit card industry. Our articles follow strict editorial guidelines.
In a Nutshell: In the early days of the internet, smaller companies found it complicated — and often unnecessary — to create a website. But as consumer focus has shifted to online channels, even SMBs need to build a strong web presence today. For non-tech-savvy entrepreneurs, the idea of entering e-commerce can seem daunting. But Doteasy, a web hosting company with 17 years of industry experience, makes it easy for business owners to launch a professional website within hours. The company provides a free drag-and-drop site builder, access to hundreds of easy-to-install apps, and affordable hosting plans optimized for businesses. Doteasy helps brands create sites that serve customers and grow an online audience.
Entrepreneurs had a difficult time getting their businesses online in the early days of the internet, with prohibitive cost and lack of technical expertise being the main hurdles. And, back then, an online presence wasn't vital to success as less than half of the US population used the internet before 2000. Today, nearly 90% of Americans are online.
With the introduction of content management systems that don't require users to have coding skills, websites quickly became a necessity for all — from SMBs setting up sites to large enterprises expanding their reach. The internet is also no longer an optional marketing channel; it is the marketing channel. And Doteasy, a web hosting company founded in 2000, wants to make sure every business has access to it.
"These days, if potential customers can't find you on the web, they're likely to wonder about the legitimacy of your business," said Dora Mui, Marketing and PR Coordinator for Doteasy. "You can also lose out on conversions if customers fail to find your contact information online."

Still, building a website with the functionality and customized branding to attract and support customers is daunting for those with little or no proficiency in coding, domains, and security licensing requirements. That's where Doteasy comes in.
Doteasy is an all-in-one web hosting choice for entrepreneurs, with plans that range from shared hosting to managed services. It also offers easy one-click installs and access to hundreds of business-critical apps.
For the past 17 years, Doteasy has witnessed — and evolved with — changes in the digital landscape and continues to develop solution-focused web hosting to help businesses get online quickly and easily.
Affordable Plans with Intuitive Tools for Any Experience Level
Doteasy's hosting plans are budget-friendly for those just getting started and include everything to get a website up and running, as well as numerous add-ons.
"We make sure that we offer options to accommodate a variety of user levels," Dora said. "For users with no technical experience whatsoever, they can still create a professional website. If you can figure out how to upload a photo on Facebook, you can make your own website."
The shared hosting starter plan includes 1GB of website space, free domain registration, 10 sub-domains, and 10 email accounts. Unlimited and SSD plans add more space, unlimited bandwidth, and email accounts.

Each plan includes an intuitive website builder, sample templates, one-click WordPress install, and the choice of over 250 free apps. Doteasy allows that high level of customization through its partnership with site builder Website.com.
"When you're using the site builder, what you see is what you get. All you need to do is click, drag, and drop the content you want," Dora said. "I got my dad set up with the site builder, and he loves it."
Because Doteasy offers tools for creating and customizing a website, a small business owner can establish an online presence quickly — perhaps even under 60 minutes.
"Once sign up is completed and approved, it's possible for users to build and publish their website within an hour," Dora said.
Solution-Driven Business Features Made for E-Commerce
Over the last 17 years, Doteasy has listened to customers and has adopted a business model that will include more targeted solutions for e-commerce and online marketing.
Doteasy's site builder has tiers to create sites with built-in professional and e-commerce capabilities. It also offers numerous e-commerce apps like shopping carts, invoicing systems, CMSs, among others. The apps are written in different scripts, so without a unique tool, installing them would typically require advanced coding expertise.
"Many people don't have the time or knowledge to code an entire website from scratch," Dora noted. With the Softaculous auto-script installer, users can easily embed apps and create pages and sites — including online stores or galleries.
"The auto script installer really speeds up the time it takes to make a website. You can start building a site with open-source scripts right away," Dora said.
Doteasy has designed hosting plans that cater to business users' needs. Since WordPress is such a popular CMS for small business sites, Doteasy recently added a WordPress Hosting plan that has the CMS pre-installed. "It also includes auto-updates and security plugins — for example, a plugin that would prevent brute force attacks," Dora said.
From the feedback its in-house customer support staff has received, Doteasy realized it had many customers who needed more advanced VPS-level hosting and resources. But those customers didn't have the experience or time to manage their own servers. "Our business hosting plans were developed specifically to meet those needs," Dora said.
Business hosting plans include many of the benefits of VPS, like enhanced resources, stronger bandwidth, and greater security. But Doteasy adds a user-friendly cPanel interface for management, e-commerce traffic optimization, site backup, and spam protection.
It's also important to have security licensing to establish credibility and build customer trust. That is why Doteasy's business plans include HTTPS as well as SSL certificates for all domains registered with the account.
Doteasy has proven its ability to adapt to an ever-changing digital marketplace by offering simplified hosting and site-building solutions. The company wants to equip new e-commerce brands with the tools to create a strong web presence.
Educating and Helping SMBs Successfully Launch Websites
Establishing an online presence is a vital step for businesses to build brand awareness and connect with consumers. With web hosting plans to meet the needs of SMBs — and the tools to create a professional site — Doteasy makes it simple to get online.
"At Doteasy, we're constantly thinking of the best ways to help business owners get the most out of their website," Dora said.
Doteasy also helps educate entrepreneurs to ensure their success. On its site, business users can take advantage of a comprehensive knowledgebase, web hosting news blog, and a WordPress resource site with free features and updates. There's also a Doteasy YouTube channel with tutorials and tips.
"We love when small business owners find their stride online, and it's the best feeling when they call or write back to us and let us know about their success," Dora said.