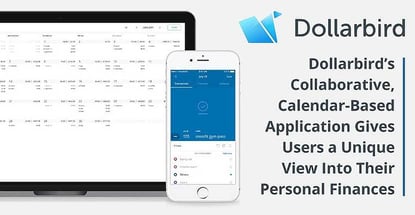 credit card news
Our experts and industry insiders blog the latest news, studies and current events from inside the credit card industry. Our articles follow strict editorial guidelines.
In a Nutshell: Financial stress has the potential not only to impact one's health, but it's also a leading cause of marital problems. Thankfully, couples have a number of resources to turn to, including Dollarbird. The straightforward app uses a calendar visualization in which users can input their current and future expenses to get a valuable overview of their spending habits and future outlay. The app works well for individuals but was developed with collaboration in mind, with a feature that allows multiple parties to access the same financial calendar. The app is just one of Halcyon Mobile's products that combine progressive technology with approachable design.
Marriage is a sacred union between two parties who love each other and commit to spending the rest of their lives together in sickness and in health, for better or worse, for richer or poorer.
In theory, anyway.
It's no secret that stress around money is a leading cause of problems within a marriage and even for divorce.
And it's easy to see why. If one partner's spending and saving habits differ greatly than those of the other, it can lead to disagreements and conflict. Perhaps a spouse discovers that he or she prioritizes financial success more than their mate — it's not always easy to resolve two differing philosophies on metrics for success in life. Or, if a couple is simply not earning enough money to make ends meet, the inherent stress of the situation can put once-loving partners at odds.
Thankfully, couples today have a number of resources at their disposal, including counseling, financial education tools, and money management technology to try to remediate money-based marital stressors.
Dollarbird falls into the latter category and is not only one of the simplest finance tracking apps on the market today but it was also created to be easily shared among multiple parties.
"I think young families are pretty much our biggest core user base," said Szabi Szekely, who founded the company with his partner Levi Szabo. "They are the most active segment, for sure. We look at collaboration as the core driver for the product."
Dollarbird launched in 2013 and at the time was part of Halcyon Mobile, another company founded by Szabi and Levi that creates and consults with companies that also focus on progressive technology and clean functionality. In 2017, the partners spun off Dollarbird as its own independent company. The Dollarbird app is clean and simple, helping users manage their expenses by inputting information onto a calendar interface.
Dollarbird's Simplicity and Calendar-Based User Experience Sets It Apart From Other Personal Finance Apps
Consumers these days have numerous budgeting and finance apps with a wide range of functionality, tons of features, and bank account integration. But sometimes, having too many options and features can be overwhelming, and consumers either don't engage with the app as much as they should or abandon it altogether.
Dollarbird seeks to solve that problem by maintaining a simple design and straightforward functionality. Users can track and forecast their finances by adding events to the calendar and categorizing entries.
The app also has a built-in AI component that learns user habits and expenditures, assists in forecasting spending, and helps to categorize finances.

"Dollarbird kind of started from our own needs in managing our finances on smartphones," Szabi said. "We started building the concept in 2011, and at the time there wasn't anything particularly good in the app store. I think we're still the only serious app that's using a calendar as the interface. That's the baseline differentiator for Dollarbird."
He said most people are already familiar with managing tasks and general information on calendars so it's often an easy transition for them to begin using Dollarbird to manage their finances.
With some apps like Mint, Szabi said user engagement drops off fairly quickly because users add their bank account details to the app and kind of forget about it. On the other hand, programs like Quicken work well for users who like to be highly engaged with their finances but more casual users do not take advantage of all its features.
"Dollarbird was the response to trying to find a good middle ground between the simplicity and detachedness of Mint and the vast features available with Quicken," Szabi said. "We wanted to find something that actually works for regular people with stuff that comes up in real life, without having to take on the role of personal finance guru."
He said a lot of Dollarbird users also love the fact that it does not integrate with their bank accounts because they aren't comfortable turning over their bank account information to a third-party app.
Customers Can Use the App Individually or Collaboratively
Another key component to Dollarbird's user experience is it can be used individually or as part of a team.
Szabi said the free version of Dollarbird, which gives users access to one calendar, is perfect for individual users. But with the Pro plan, users get 20 calendars with up to three people being able to access them. The Pro plan costs $39.99 per year or $3.33 per month.
"You get to use the same data set with a couple of other collaborators," Szabi said. "Most often that will be family members but we also have a number of small business owners who use Dollarbird to collaborate with their CFO or accountant."
The collaborative aspect of Dollarbird is also a valuable retention tool for customers. Szabi said the team component keeps users engaged because oftentimes in families, one spouse will be more interested in personal finance management than the other, but it helps keep both parties in the app.
"If you start using it with your wife, she might say, 'Hey, why aren't you inputting your expenses in Dollarbird and doing your part?'" Szabi said. "That keeps users engaged quite well."
Users can also file the calendars into multiple folders to keep one-off projects separate from everyday or repeat expenditures, he said. And even when collaborators are involved, users can still maintain a level of privacy if needed.
"We see people using the folders for a personal hidden calendar if you have expenses you don't want to share with your collaborators," he said. "It's kind of a cheeky way to manage your personal-personal finance."
Dollarbird is available for iOS and Android.
Dollarbird's Founding Company, Halcyon Mobile, Supports Uncomplicated AI Tech Startups
Dollarbird was originally developed and launched through Halcyon Mobile, the company founded by Szabi and Levi with the broader mission of designing and creating high-quality apps for startups from a range of different industries. The Halcyon Mobile team carries the same philosophy of keeping things simple while incorporating cutting-edge AI technologies when possible into all its projects.
In addition to Dollarbird, Halcyon Mobile has been responsible for a number of other apps for notable companies, including Lego and Red Bull. The team has also been involved in creating apps focused on more niche industries, including R|Tribe, a social recovery app that helps people recovering from addictions to drugs, sex, gambling, or alcohol connect to a supportive community with which they can share their journey.

And the SmartUp app has been featured by Apple in the Best New App category in 64 countries. The app is geared toward innovators, visionaries, and startup players, and it democratizes knowledge by facilitating the sharing of advice, insights, and quizzes among its 150,000 members.
Szabi said he and Levi created Halcyon Mobile in 2005 and the company has now expanded to nearly 100 employees in its home country of Romania.
The company can help clients through the whole process or assist with specific portions, including product and user experience design; iOS, Android, and back-end development; QA deployment; and scaling.
Szabi said Dollarbird remains a passion — among all the firm's projects — partially because it was one of the biggest and most serious products he and Levi worked on in the company's early days.
New Features Coming Soon, Including Automatic Receipt Image Recognition
Most people who are or have been married are probably at least somewhat familiar with the push and pull that can come when two parties are dealing with financial issues together. Similar situations can arise among small business partners as well.
With its simple calendar-based approach and AI technology, Dollarbird can go a long way toward taking the mystery out of where and how someone is spending money. Hopefully, this can help set individuals and couples alike on the right track for financial success.
Szabi said the company is gearing up for an update in the near future that will add even more functionality to Dollarbird while maintaining its simplicity.
"Part of the update is a new feature where you can take a photo of a receipt and the app will automatically detect it and add it to your calendar," he said. "The state of machine learning right now enables us to build features like this. You couldn't do this three years ago. Right now, you can run neural networks on your phone and instantly perform magic, so to speak, on real-world data."