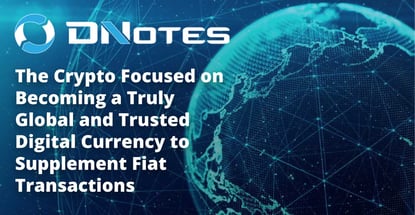 credit card news
Our experts and industry insiders blog the latest news, studies and current events from inside the credit card industry. Our articles follow strict editorial guidelines.
In a Nutshell: DNotes entered the cryptocurrency space in 2014 with the mission to become the most trusted digital currency on the market. The company's Founder and CEO, Alan Yong, said DNotes can only gain the global mass adoption he envisions for the crypto if it gains the trust of its potential users. In working toward that goal, DNotes has established HERo, an initiative aimed at providing women with the resources, inspiration, and knowledge to play a significant role in the decentralized digital currency marketplace. Yong said the company is also working on establishing a complete ecosystem surrounding DNotes, including establishing an exchange, partnering with banks, launching multi-currencies cards, and offering its DNotes Vault wallet for users.
Alan Yong has always been a future-focused kind of guy.
In the early 1990s, Yong understood the great potential held by personal computers that were increasingly appearing on desktops in American households. But instead of jumping into the fray to compete with the PC manufacturers of the day, Yong was busy looking to the future.
He developed the DTR — the world's first personal tablet computer — and landed multimillion-dollar contracts with the Pentagon and IBM.
So, when Yong learned about a new tech called blockchain and the digital currencies being powered by it, he surveyed the young industry and began thinking about the future. But first, he had to figure out how to separate what he saw as a toxic culture surrounding cryptocurrencies from the technology itself.
"Initially, I said not to touch blockchain with a 10-foot pole," Yong said. "It had a lot to do with the culture surrounding the industry. Overall, it's not doing a better job than the big banking industry."
But the more he thought about it, Yong said, the more he understood just how world-changing this new technology could be — even bigger than the internet.
"For the first time in the world — if done correctly — cryptocurrency would allow global participation using one common currency as a supplement to fiat currency," he said.
After this realization, Yong got to work establishing DNotes, a digital currency that the CEO says stands apart from other cryptos due to the company's long-term strategy to become a truly inclusive, trusted payment method open to anyone in the world.
Building Trust is Key to DNotes' Mission
"For the last five years, DNotes has been relentlessly building a family of critical ecosystems essential for mass adoption of digital currency," Yong said. "Everything that we do is predicated on building an inclusive trusted digital currency with a purpose — to change the world for the better for everyone."
Currently, DNotes is like many other digital coins in that it doesn't have any intrinsic value, he said. And it won't for a while. The most friendly audiences for DNotes are those that have patience and can understand that there is a right way to introduce crypto to change the world for the better.
"This is a very long-term commitment to do the right thing, at the right time, the right way," Yong said. "It is not dependent on the price of the coin at any point in time but its intrinsic value and usefulness. It takes a long time to build up infrastructure and get people educated."
He said this is why DNotes has not been a participant of what he calls the ICO gold rush to pump up the price of DNotes. DNotes is the most undervalued coin in the entire industry, according to Yong.
Last year, the company announced the launch of a new and improved iteration of DNotes.
"With the launch of DNotes 2.0, the company is accelerating its efforts to achieve digital currency's true promise of a world in which everyone can enjoy true financial inclusion and empowerment. A world where everyone can be his or her own bank. A world where people of all walks of life can gain access to the business capital, resources, and financial services they need to truly fulfill their human potential." — DNotes
One of the main changes in DNotes 2.0 is the adoption of proof-of-stake as the network consensus algorithm as opposed to its proof-of-work method in the first version. The change reduces the influence of cryptocurrency miners and places more emphasis on DNotes stakeholders.
HERo Facilitates an Inclusive Space Where Women Can Thrive in the Digital Currency Market
A lot of cryptocurrency companies talk about the importance of access, transparency, and inclusiveness, but not all of them demonstrate their commitment the way DNotes does.
"An important component of our ecosystem is HERo, a greatly expanded version of Cryptomoms, which we launched in April 2014 to encourage and assist women to participate in the cryptocurrency space dominated by men," Yong said.
The crypto world cannot exclude the women's market, he said, after all, they control at least half the world's assets if not more, and hold half of the world's buying power.
HERo takes on numerous approaches to provide women with the tools, resources, and inspiration they need to play significant roles in the world of cryptocurrency, including launching businesses and engaging in cutting-edge technology.
With this initiative focused on women self-empowerment, DNotes wants to help narrow the gender gap in technology, entrepreneurship, finance, and fintech, Yong said. The underlying philosophy behind HERo's approach is the notion that a helping hand is more productive than a hand-out over the long term.
"The company's ambitious plans include an informational website that will provide invaluable entrepreneurial guidance," according to the HERo website. "We will partner with industry peers, showcase successful female-centric and women-owned businesses, and provide critical tools with resources that women can use to achieve their entrepreneurial dreams."
The HERo website is packed with valuable articles and resources geared toward women that address nearly every aspect of the financial, entrepreneurial, and cryptocurrency worlds. Contributing authors include well-established thought leaders, entrepreneurs, and other successful women in business. The site also highlights events across the country that align with HERo's goals.
Establishing a Complete Ecosystem is a Key Component to Global Adoption
Yong said DNotes must foster a complete ecosystem for the digital currency to realize its end goals, which will be composed of a number of different components working in unison.
"We are very committed to our long-term vision of building an inclusive, trusted digital currency that will supplement fiat currency," he said. "It is a massive global project that will include our own exchange, bank, partner bank, multi-currencies cards, and others."
DNotes Vault is a free web wallet for DNotes users that is an integral part of this ecosystem.
"It is easier to open a DNotes Vault account than a bank account. It is also secure," according to the DNotes Vault website. "We guarantee 100% of your deposit through a separate cold storage account, secured in a different location, with an amount always in excess of the total deposit. The guaranteed funds are verifiable any time through the blockchain."
Blockchain technology has world-changing implications that will allow anyone in the world to participate in the decentralized cryptocurrency ecosystem, including micro-investments and micro-payments, Yong said.
"Trust, integrity, intrinsic value, stability, regulatory compliance, security, convenience, and ease of use are among many essential factors we are mindful of, leading to the realization of our vision," he said.
Yong also details his approach to cryptocurrency and his vision for DNotes in his forthcoming book, "The Four Pillars of Business Success." The book is intended to help entrepreneurs, business leaders, and managers gain the solid foundation needed to foster a best-in-class business.
"At DNotes, we have had a very defined vision since day one," Yong said. "We have to be the most trusted digital currency in the world, and that is how you can one day have mass adoption. I hope it can happen this year, but I don't really think so. It may take another five years; maybe 10 years."