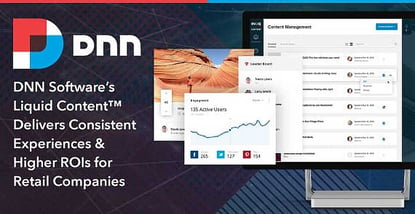 credit card news
Our experts and industry insiders blog the latest news, studies and current events from inside the credit card industry. Our articles follow strict editorial guidelines.
In a Nutshell: To improve conversion rates, retailers need to reach customers through multiple channels, including their e-commerce site, mobile application, and social media. That once required costly and inefficient processes, like duplicating content and continually updating it in several places, to create consistent customer experiences across channels. As a response to these modern challenges, DNN Software created Liquid Content™ to surface content wherever and however customers want to access it. The company's Evoq CMS uses this technology to improve reach and conversion rates by delivering content that's contextually relevant for every channel and device.
In a world gone mobile, modern retailers are responding by designing consistent experiences that reach customers wherever they are.
"A CMS (Content Management System) needs to publish to your website, but it cannot only be confined to a website," said Dennis Shiao, Director of Content Marketing for DNN Software. "We believe a CMS needs to help organizations manage content but also to increasingly reach the customer wherever they happen to be."
Before centrally managed content delivery systems like DNN's Evoq platform, companies that wanted to get their product descriptions and sales events in front of customers would have to recreate and manage content in three different places for it to appear on a website designed for desktop, a mobile-optimized site, and a mobile application. The Evoq CMS is essentially a cloud-powered single pool of marketing content that is able to reach customers where they want to be reached in the proper context.
DNN Software designed Evoq with flexibility in mind, and the drag-and-drop user interface and Liquid Content technology that drives the platform delivers device-appropriate content to customers. The Evoq CMS was named to help its clients evoke customer actions through content.
"With a traditional CMS that's not multichannel-friendly, it's very difficult to manage all three experiences," Shiao said. "You might have to hire an agency to build each experience separately, and the product information might have to be repeated or exported with multiple copies stored in multiple locations."
With a customer base primarily made up of mid-market businesses (those with revenues between $50 million and $1 billion), DNN created Evoq to be cost-effective and efficient. The powerful platform has helped the company compete for enterprise contracts, and DNN counts Coinstar, Domino's, Little Caesar's, and Pier 1 Imports among its larger retail customers. The platform is also used in hundreds of public-facing websites by the U.S. Department of Defense.
Digital Transformation is Placing Multichannel Demands Upon Retailers
Beginning in 2014, mobile devices overtook desktop computers in terms of web usage, and mobile is only expected to take more of the lion's share of the market in years to come. Another study by Flurry reported that 90% of time spent on mobile devices was spent in applications.
Based on this information, it's evident that companies need to think outside of the desktop and design content that can be used in multiple ways. National Public Radio coined a mantra known as COPE, which stands for Create Once, Publish Everywhere, and this philosophy is at the core of Evoq.
"Both in a B2B and B2C world, the customer is all over the place," Shiao said. "They're using different channels all the time, and they're shifting from one context to another. They might be using their phone in a gym, and then they move to the car. Maybe they have an in-dashboard device that's internet connected. Then they get home, and maybe they sit down at a desktop computer."
DNN Software's centrally managed content system was designed with these modern challenges in mind. The company also knows that not every experience is the same, so product information is presented in the most relevant manner based on factors like character limits and the types of images that fit the device.
"Our belief is that the same content should not be shared in literally the same way across each channel because every channel has its own context," Shiao said. "Every channel has its own expectations, such as mobile versus desktop, and so it should be tailored and contextual for the channel. Liquid Content allows you to do that."
Cost-Effective CMS that Caters to Mid-Market Businesses
While other CMS platforms have multichannel publishing capabilities, DNN Software stands out for enabling marketers and retail managers to create content types through a drag-and-drop interface without the need for vast coding knowledge. Typically, this process could involve hiring developers or an agency to build what is needed, which can be too costly for non-enterprise companies.
"We believe one of our unique strengths is that Evoq is the most accessible multichannel publishing system for the mid-market," Shiao said. "What I mean by that is a lot of the competitor offerings require extensive developer resources."
Much of the savings associated with Evoq boils down to the concept of managing content in one place for publishing across several channels.
"In the old model, you might have had three copies of your product information that had to be managed separately," Shiao said. "That is a huge burden for an organization. They might have multiple employees dedicated to each channel. So when a product description changes, you had to update it in three places. Through the COPE model, you have a lot more efficiency, and it also ensures consistency across the channels."
Evoq Architecture Built to Handle Delivery to Next-Gen Tech
The marketing departments for retail companies have realized how necessary it is to meet customers wherever they may be — from social media to their e-commerce sites. However, many of the newer channels that have become so critical to business success are still evolving, and new platforms are launched daily. DNN Software built the Evoq platform with this in mind so its retail clients won't be facing massive content overhauls whenever the next big thing takes hold.
"If you think about 10 years ago, Instagram didn't exist, Snapchat didn't exist, and Facebook was just getting started," Shiao said. "All of these channels that retailers use today didn't exist yet. We don't know what's going to be the primary channel to reach customers in 2020. We do know that, with Liquid Content, whatever that channel happens to be, we have an architecture that allows those additional channels to access your content and serve it in a contextual way."
While DNN Software has built-in support for social media channels, like Facebook, Twitter, and LinkedIn, the company distributes an API (application programming interface) that allows different mediums to interact with Liquid Content from any web-connected device, which sets them up to handle whatever technology comes next.
One exciting capability DNN Software developed is an Alexa Skill for Amazon Echo, so consumers can interact with content through voice commands. With the software company finding innovative ways of making content more flexible, we'll be watching closely to see how Liquid Content evolves to meet the needs of businesses looking to connect with customers.
"If you're a retail store, you want the offers on your products and sales to reach the customer where they happen to be," Shiao said. "To do that, you need a CMS that allows you to manage the information about your products in one place. So you'll get that on your website but also publish that out to places where your customer happens to be."