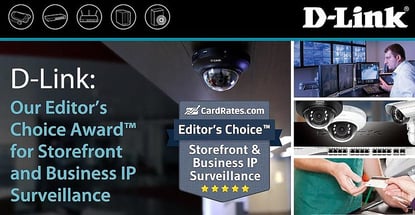 credit card news
Our experts and industry insiders blog the latest news, studies and current events from inside the credit card industry. Our articles follow strict editorial guidelines.
In a Nutshell: IP (Internet Protocol), or digital, video surveillance is replacing analog closed-circuit television (CCTV) systems, and D-Link is doing its part to help business owners transition to equipment that improves clarity, scalability, and intelligence through new technology. Boasting a reliable all-in-one solution that gives vigilant business owners the peace of mind of knowing their businesses are being monitored around the clock, D-Link has earned our Editor's Choice Award for Storefront and Business IP Surveillance. Among D-Link's surveillance suite are wireless networking equipment, switches, storage, and centralized management software, making it a one-stop shop for business owners.
Business owners tend to spend long hours at work, overseeing day-to-day operations and managing their employees. However, they can't be there every minute of every day.
Reliable surveillance cameras serve as extra sets of eyes, providing business owners with peace of mind by capturing video footage of what's happening when they're at home or away on business trips.
High-resolution cameras are a key piece of the puzzle, but an effective surveillance system also requires switches, a reliable wireless network, ample storage, and software that ties it all together. Taiwan-based D-Link gives its clients a complete end-to-end solution while enabling remote monitoring from mobile devices, and that's why the company has earned our Editor's Choice Award for Storefront and Business IP Surveillance.
D-Link has been a manufacturer of network equipment for more than three decades and is helping to usher in an era of IP (Internet Protocol) surveillance. IP has been on the rise in recent years as more companies have updated from outdated analog CCTV (Closed-Circuit Television) to digital systems.
In the modern digital world, the word "analog" has become synonymous with being antiquated, and in many ways, CCTV is outdated. Built on technology from the 1950s, CCTV is cheaper than IP surveillance but falls short on range of motion, scalability, intelligence, and integrations with modern business software.
Seeking an IP surveillance solution to safeguard his business, Jean-Remy Tainturier, owner and manager of Les Amandiers Hotel in Saint-Raphaël on the Côte d'Azur, France, turned to D-Link.
The historic hotel was built out of a mansion and has only 10 bedrooms so staffing needs are low. With four full-time employees and temporary workers during peak season, the hotel did not want to employ night-time security, and Jean-Remy was looking to make his guests feel more secure with external and internal surveillance equipment.
"We have never had any major security concerns, but I still wanted to remain in contact with the hotel in the evening, given that there is a reduced staff at certain times," Jean-Remy said.
Another factor in his decision was a hotel project he was working on in the Dominican Republic. D-Link users benefit from the mydlink mobile application, which provides peace of mind by allowing them to monitor their homes and businesses from wherever they are in the world. D-Link's IP surveillance equipment gives both Jean-Remy and his guests peace of mind, even when he's across an ocean.
"Our guests, who are told about the presence of these cameras, feel all the more secure during their stay, which allows us to retain their loyalty," Jean-Remy said.
More Than Cameras: End-To-End Security for Companies
D-Link has sold more than 2 million IP cameras, which are offered in a wide range of types, such as box, bullet, cube, and dome cameras, but effective surveillance requires equipment that often goes unseen by customers.
First, a reliable wireless network solution needs to be in place to keep the system online. Switches, or switching hubs, are also essential as they connect network segments, only sending information to the proper receivers to prevent the bottlenecking of excessive data. D-Link also provides a suite of business-grade switches, including unmanaged, smart switches, and fully managed switches.
Storage is also an important consideration when choosing a surveillance solution. Think about how much space is taken up on your smartphone by a few dozen videos. Now imagine how quickly your phone would reach its storage capacity if your camera never stopped recording.
Businesses of every size benefit from D-Link's range of storage solutions. For smaller businesses and homes, D-Link recommends a 2-Bay Network Video Recorder (NVR) that stores up to 8TB in video data. Medium-sized companies can use D-Link's 6-Bay NVR with Network Attached Storage that supports up to 18TB. Enterprise-grade businesses can use the 12-Bay Storage Area Network (SAN) that starts at 48TB of raw storage capacity and can scale up to 480TB.
D-Link provides everything a business needs to set up a surveillance system, including centralized management software that handles video recording and playback, as well as scheduled and motion-based recording.
Topping Analog CCTV for Clarity, Scalability & Intelligence
The reasons for the market's evolution from CCTV to IP surveillance are many, but chief among them is video resolution. CCTV has limitations in video quality, which can be problematic when you think about the purpose of installing security cameras.
For instance, if someone burglarizes your place of business and is caught on tape, picture quality can mean the difference between bringing the perpetrator to justice or someone getting away with a crime because facial features are too vague or blurry for use by law enforcement or inadmissible as evidence in court.
IP cameras also offer wider fields of view than traditional CCTV cameras, which often translates to the need for fewer cameras to monitor the same amount of office space. Plus, infrared lighting is available on IP systems, which helps with capturing images and footage in low-light environments.
IP also has a huge advantage over CCTV in scalability. The majority of IP cameras support Power over Ethernet (PoE), which makes equipment installation easier and less expensive through single cable deployment. Analog systems require additional, more costly cabling, and it's often easier to completely start from scratch when the need arises for additional cameras. Scaling up is much simpler when using IP as it's a plug-and-play system, so adding or moving cameras is a breeze.
Another advantage of IP surveillance is the overall intelligence of the system and its ability to integrate with other business applications. Many IP cameras have built-in motion detection and video analytics, and businesses can control and configure cameras remotely.
IP systems can quickly find events such as when motion is detected, even allowing business owners to receive automated email alerts. For example, if a business is broken into overnight, an owner would be alerted and have the opportunity to call law enforcement to catch a burglar red-handed.
If a criminal gets away, the business can quickly find pertinent video footage instead of fast-forwarding through hours of video with their finger on the pause button, waiting to see something out of the ordinary on the screen, as they would have to do using an analog system.
D-Link Surveillance Provides Businesses with Peace of Mind
The D-Link IP surveillance system installed at Les Amandiers Hotel gives Jean-Remy the ability to monitor every essential area of the business from wherever he is via his computer or smartphone. The on-premise cameras have also had a calming effect on visitors.
"All this monitoring capability provides staff and guests with a much greater sense of security and safety at all times," Jean-Remy said.
High-quality video is available 24 hours a day, and the scalability an IP system provides means Jean-Remy can add extra cameras or change their locations without any issues.
The growing popularity of IP surveillance positions D-Link for growth as more companies upgrade to more modern monitoring systems. Its end-to-end equipment solution simplifies the process for business owners who can get everything they need from one company, which is why D-Link has earned our Editor's Choice Award for Storefront and Business IP Surveillance.
"Designed to address the unique needs of today's businesses, D-Link leverages our breadth of technologies to provide flexible solutions to optimize security and protect what matters to business owners," said Carissa Blegen, D-Link surveillance product line manager, in a release.