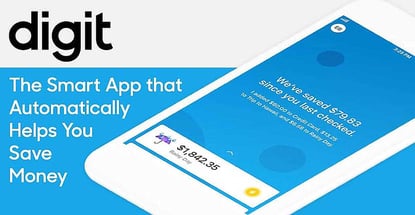 credit card news
Our experts and industry insiders blog the latest news, studies and current events from inside the credit card industry. Our articles follow strict editorial guidelines.
In a Nutshell: Establishing a savings habit can be a challenge, especially if money is tight. With Digit, you can start saving without having to change your habits or even think about it. The app's predictive technology learns your spending habits and automatically saves for you. And, you can let Digit determine when and how much to save or you can customize with limits or specific goals. The handy app has helped users securely save more than $1 billion.
With all the tasks and responsibilities of daily life, establishing a savings habit can be difficult — particularly if money is already tight.
Tracking spending, managing a budget, and trying to determine how much money you can stash away takes valuable time and energy, and can divert attention from other areas of your life.
I've had my own stops and starts along the way when it comes to saving money. I'll sketch out a budget and savings plan, then an unexpected expense will arise, or a new pet will join the family. The previous budget is suddenly out of date and sometimes it takes a few months before I finally get around to creating a new one.
With Digit, you can put money into savings, every day, without even thinking about it.
"Digit is an app that automatically saves money from your checking account in order to help you save, manage expenses, pay off credit card debt, or reach any other financial goals," said Digit COO Vishwas Prabhakara. "You're told you have to have a spreadsheet and watch your money every day. We tell our users you actually don't need to change anything in your life and we'll find the money for you."
Digit's Predictive Technology Determines When and How Much to Save
"I think the secret sauce of Digit is that we are an automated, personalized, and intelligent solution for managing your personal finances," Prabhakara said. "We hear from users all the time who say they never thought they could save money but they've saved more than they ever expected with Digit."
When new customers sign up for Digit, they link their bank account to the app. Prabhakara said the app then analyzes their transaction history from the last several years, and the Digit algorithm builds a customized and personalized savings approach for each user.
He said the app continues to analyze a user's account every day and determines, based on their income, bills, and spending habits, how much Digit can save for the customer that day.
"So, some days it might save zero, some days it might save 35 cents; other days it might save $35," Prabhakara said. "One week you might not eat out at all and have a little bit more money in your checking account. Digit can figure that out and save that little bit of extra money to savings before you spend it on something else."
As an added incentive, Digit pays out a bonus equivalent to 1% of your annual savings. The program takes an average of how much you've saved each quarter and deposits the bonus back into your checking account every three months.
Digit offers a 30-day free trial and costs $2.99 per month once the trial period ends.
"There's something that resonates with that demographic for our product," he said. "If you look at most financial companies and fintech players, that's not the distribution that you're going to see. So, we spend a lot of time making sure we're targeting those audiences and helping to get them on the platform."
Customize Your Saving Plan or Let Digit Do All the Heavy Lifting for You
"When you sign up for Digit, everyone gets what we call a rainy day fund, so you have a default goal, and we'll just save for you," Prabhakara said. "But, you can get more specific. You can say I want to save $1,000 for a trip to Africa next March. It's really up to you on what level of detail you want to provide."
He said customers can also set their own minimums and maximum savings amounts if they prefer. Digit also offers a low balance protection feature.
"You can say, 'I don't want my checking to ever dip below $300," Prabhakara said. "And so, if we anticipate that you're going to go below that, or if we anticipate a bill coming up that's going to push you below that, we would automatically tell you that and transfer money straight into your account."
Digit also allows customers to make a transfer out of their Digit savings account and back into their checking account at any time with no fees. Prabhakara said the money belongs to the customer, and they are always free to do anything they want with it. Additionally, this feature allows for what Digit calls an "undo" button.
"If something unexpected happens or if your situation changes and you need to pull back the money that Digit put into savings, you can do that at any time," he said. "You can get the money back into your checking account within 24 hours."
Prabhakara said Digit can even predict an overdraft fee that you might cause and let you know about it in advance. And, if an overdraft fee ever does occur because of Digit, the company will reimburse the overdraft fee.
Digit customers can set unlimited savings goals in their account, make unlimited withdrawals, and there is no minimum amount required to maintain a Digit account.
Digit Has Helped Users Securely Save More Than $1 Billion
The proof that Digit really works for people looking to save money is in the numbers.
Prabhakara said the app has helped people save more than $1 billion over the past few years. It has even helped Prabhakara save money in places he didn't realize he could do better.
"I always thought I was pretty on top of my game, but I can actually find more money and save more money with Digit because income and expenses are variable," he said. "The app picks up on little changes in ways that we don't necessarily notice."
He said the company is always listening to customer feedback to learn more about what their pain points are in managing personal finance and to improve the product.
"Managing your money is hard, and it takes a toll on people whether they realize it or not," he said. "It either distracts them from other things or actually creates real stress that has a downstream negative impact."
By paying attention to its user's needs, the company has helped people who have often struggled to get ahead, and it has helped people who have historically had savings plans save more.
"We've been able to accomplish this level of savings because of what differentiates us from our competitors, which is automation and personalized intelligence," Prabhakara said. "And it really makes the whole savings process effortless for the end user."
Additionally, Digit ensures that its customers' funds are kept safe.
The company anonymizes user data and applies 256-bit encryption — the same level as that used in military security — to keep customer information safe. User funds are held at FDIC-insured banks and are protected up to $250,000.
Digit's New Product Focuses on Reducing Credit Card Debt
With Digit's goal of continually evaluating its users' needs, the company discovered that about 40% of its customers have a goal of paying off credit card debt. Digit recently launched Credit Card Debt Reduction, which is geared specifically toward helping Digit users do just that.
"After you link your bank account to Digit, you can also link a credit card," Prabhakara said. "We'll set up a credit card statement goal just like your other goals. At the end of the month, we'll make a payment on your behalf to the credit card company with the money you've saved."
So, whether you're saving for a trip to Africa, paying down credit card debt, or just trying to start an emergency fund, Digit can help in a stress-free way that doesn't require even a single spreadsheet.