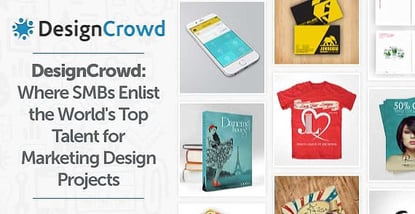 credit card news
Our experts and industry insiders blog the latest news, studies and current events from inside the credit card industry. Our articles follow strict editorial guidelines.
In a Nutshell: Competition keeps prices low and drives creative solutions, and nowhere is this more apparent than on DesignCrowd, a platform that connects creatives looking for work and businesses seeking high-quality design to impress clients. Since 2008, the site has paid more than $41 million to its global network of 575,000 designers. Over the years, thousands of companies have turned to DesignCrowd for its crowdsourcing approach to graphic design — proving professional logos and marketing materials are possible without expensive agency fees. 
To be taken seriously in a competitive industry, retailers must go beyond selling quality products and delivering memorable customer experiences. They must also look the part.
The world's top businesses know the importance of an instantly recognizable logo, and many of them are willing to pay top dollar for it. For example, British oil company BP spent $175 million on its iconic sunflower design.
Fortunately for small businesses, you don't need to spend millions of dollars on branding to grab customers' attention with a memorable logo, especially thanks to crowdsourcing sites like DesignCrowd.
You may recognize that name from creative marketing efforts like when the Sydney-based company inspired designers to Photoshop Kim Jong-un haircuts on celebrity photos or when it held contests to create entertaining 2014 FIFA World Cup memes.
However, thousands of companies, such as Microsoft, Amnesty International, Virgin Group, and Absolut Vodka, have turned to DesignCrowd and the more than 575,000 talented freelancers who accept projects on its platform to outsource graphic design needs.
DesignCrowd Founder and CEO Alec Lynch told The Huffington Post that the idea for the site came out of problems with the modern design industry for both clients and designers.
"For businesses buying design, I could see they faced three key problems: it was expensive, it was slow, and it was risky when buying design (there was no certainty they would get a good result)," Alec said. "Second, for designers, I could see it was difficult to find work or get a job — even if you were qualified or talented."
It's essentially a free market economy, where businesses hold contests for talented creatives around the world, and the best design wins. And with so many choices, the ability to set a project budget, and a money-back guarantee, businesses in need of professional graphic design work also win.
Quantity & Quality: Assign a Project to More Than 575K Designers Through the Platform
Typically, when a company is looking to update its logo or create new marketing materials, it will approach an individual designer or agency for contract work. The strength of the DesignCrowd platform is that you're not limited to the ideas and creative flourishes of one designer. Once you describe what you're looking for, you're sending an assignment out to an open market. Thousands of designers from all over the world can then choose to submit entries, and you'll have the final say over which design wins out.
Just as in the business world, competition leads to lower prices, which is ideal for smaller companies, who want to look professional but might not be able to devote a lot of resources toward graphic design projects.
And although the prices are lower, the quality isn't. Many of the designers on the site are true professionals who prefer the flexibility of working as freelancers. For example, Anand Thangavel is the most prolific designer on the site, cracking the $1 million mark in earnings after five years of taking on DesignCrowd projects.
Working out of his home in the UK, Anand quit his full-time job to join the gig-based economy and has made a lot of money because of his tireless work ethic and commitment to quality.
"Using a 'crowdsourcing' platform is really exciting; I get to interact with such a diverse range of clients and take on the projects which really interest me, not to mention the numerous opportunities to hone your skills," Anand told The Huffington Post Australia. "Clients expect you to be up to date with new technologies, whether it be new features on websites or creating a mobile responsive site, you've always going to be updated on the latest trend — learning is the biggest plus for the work I do."
Host a Design Contest on DesignCrowd & Choose from 25 to 100 Custom Submissions
Although logos are a popular request, DesignCrowd allows businesses to outsource a range of products that fall into four main categories — corporate identity, web design, graphic design, and print design.
Corporate identity includes logos, business cards, and stationery; web design helps businesses improve their online and social media presence; graphic design includes T-shirts, icons, book covers, and illustrations; and print design covers marketing materials like flyers, brochures, posters, newsletters, and menus.
Setting up a design contest on DesignCrowd is simple. Essentially, companies log into the site and write a brief description of what they want out of a logo, business card, website, T-shirt, or anything else they want help with. Then they set a budget of at least $150 depending on the project category. Designers then read the description, decide if it's up their alley, and get started. Contest deadlines can be scheduled for 3, 5, or 10 days.
Within a few hours of posting a contest, designs begin pouring in from all over the world. An average contest receives between 25 to 100 submissions. Plus, designers can't see each other's work, which encourages creativity and a wider range of entries.
Businesses can then pick their favorites, provide designers with feedback, and ask for revisions. Once a business has made a selection, the top design is awarded the prize, and a business receives full copyright of the design files to use as they wish. And since DesignCrowd projects come with a money-back guarantee, companies never leave dissatisfied.
From a Garage in Sydney to a Global Design Marketplace
The popularity of crowdsourcing has played a key role in DesignCrowd's growth. In fact, 35% of the American workforce (nearly 55 million people) are freelancers.
While the term crowdsourcing was first coined by Wired Magazine author Jeff Howe in 2006, the concept of incentivizing a large sector of the population to get creative can be traced back to 1714 when the British government offered today's equivalent of $4.7 million to anyone who could solve "The Longitude Problem" for safer maritime travel.
Kickstarter and Indiegogo are now household names, and crowdsourcing is more popular than ever, putting DesignCrowd in prime position to thrive. For example, Gartner predicted in 2014 that 75% of enterprises would be using some form of crowdsourcing by 2018.
DesignCrowd has come a long way since it's humble beginnings in Alec's mother's garage in Sydney. In fact, designers have been awarded more than $41 million since the company's launch in January of 2008.
Alec's keen foresight about the need for a platform mutually beneficial for businesses and designers is largely the reason for the company's global explosion. In fact, designers in 165 countries are submitting freelance work on the site that is helping thousands of companies around the world look more professional in customer-facing mediums.