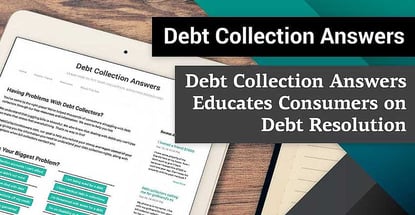 credit card news
Our experts and industry insiders blog the latest news, studies and current events from inside the credit card industry. Our articles follow strict editorial guidelines.
In a Nutshell: Frequent calls and demands from collection agencies can be intimidating to consumers who aren't aware of their rights — or debt collectors' legal boundaries. That's why Gerri Detweiler and Mary Reed wrote the e-book "Debt Collections Answers: How to Use Debt Collection Laws to Protect Your Rights" to educate consumers on this important topic. In addition to the book, which the authors have recently updated, the Debt Collection Answers website provides answers to thousands of frequently asked questions and helps consumers keep pace with changing collection practices. Debt Collection Answers equips consumers with actionable advice and connects them with low-cost legal services and trusted debt resolution providers.
A woman named Barb from Stillwater, Oklahoma, needed advice on a troubling student loan situation. When a debt collector contacted her wanting to settle her outstanding student loan debt, she agreed to a payment plan because she didn't have enough money to pay the bill outright.
But, after the payment plan had been set up, the debt collector contacted her father, as well, because he had cosigned on the loan. The company informed him that he would have to pay off the same loan.
Barb was concerned because her father was living off Social Security checks and couldn't afford to make loan payments.
So she visited Debt Collection Answers to tell her story and ask: "Can they make both of us pay at the same time?"
Gerri Detweiler and Mary Reed, the Co-Founders of Debt Collection Answers and Co-Authors of "Debt Collection Answers: How to Use Debt Collection Laws to Protect Your Rights," responded to Barb with this advice:
"Until the debt is paid, the debt collector can try to collect from your cosigner. But just because they are trying to make him pay doesn't mean that he can pay or that they can do anything to force him to pay. I would suggest you listen to this interview about student loan default with attorney Joshua Cohen. Hopefully, this information will be helpful."
For people like Barb, the threat of debt collection — and the harassment that often accompanies it — raises many questions about an individual's legal rights and options. As the response to Barb shows, the mission of Debt Collection Answers is to steer consumers to resources that will help them resolve their debt while protecting their rights and financial stability.
As consumer debt — especially from medical bills and student loans — continues to plague millions of Americans, debt collection activity, both legal and illegal, has increased along with it. Consumers need to understand how to interact with debt collectors, spot scams, and resolve debt in ways that protect their financial futures. Debt Collection Answers directly addresses these issues with free educational content, information on where to go for legal advice, and thoughtful responses to common questions.
"We find that people who are hearing from debt collectors are scared or embarrassed and don't understand that they have strong consumer rights that can protect them from debt collection practices," Detweiler said. "We want to help every single person who has a question. That's why we've written the book and created the site — to give them a place to find answers."
Debt Collection Answers e-Book Informs Consumers About Their Rights
Detweiler and Reed wrote the first edition of "Debt Collection Answers" in 2009 in response to the stories about debt collection nightmares they'd heard over the years working in the consumer credit sector.
Reed — who owns the public relations and marketing firm MR-PR — has worked directly with attorneys and personal finance professionals for more than 30 years. Detweiler served as the education director for Credit.com, worked as a radio talk show host, and was an expert for numerous media outlets.
"I've done a ton of interviews and writing for different sites. I used to manage a couple of credit forums and host regular radio shows, so I would hear directly from consumers experiencing these kinds of problems," Detweiler said. "At the time, I felt there needed to be a resource that would help them understand their rights and protect them from making bad decisions."
The updated version of their e-book, which can be downloaded for free in multiple digital formats, teaches consumers about the legal protections that dictate what third-party debt collection agencies can and cannot do — starting with the provisions in the Fair Debt Collection Practices Act (FDCPA).
"There are certain things debt collectors aren't allowed to do — for example, harass you at work. You need to understand what your rights are if they're calling your cellphone repeatedly or calling you at all times of the day. There are basic rights that can make it a lot easier to deal with debt collectors," Detweiler said.
The e-book provides consumers with sample letters to debt collectors as well as worksheets and templates for recording interactions with collection agencies, among other resources. Visitors can use these resources as they learn more about their federal protections when dealing with debt collectors
"If you tell a debt collector to stop contacting you, they must stop. You can also tell a debt collector that they're calling you at an inconvenient time and place, and set some basic terms," Detweiler said. "Another common step is to request a written verification of debt, which can give you the chance to figure out whether you actually owe anything."
Each state has its own debt collection laws, as well, which are conveniently listed in the book's appendix. In many cases, state laws provide even greater protection for consumers.
"Federal law doesn't state that a collector can't contact you, but state law may say that a debt collector can't try to collect after the statute of limitations has expired," Detweiler said.
Debt Collection Answers also helps consumers understand their rights when resolving an account in collections — addressing questionsthat include how to know whether they should pay a debt and, if they can't pay, what free or low-cost legal options they have.
Blog, Hotline, and Legal Resources Provide Actionable Advice
When readers download Debt Collection Answers on Amazon, they're invited to submit a question to Detweiler and Reed in the discussion section of the book's Amazon page. These receive the highest priority, and many are shared on the Debt Collection Answers website.
Detweiler and Reed launched Debt Collection Answers as a singular repository for their e-book, blog, and answers to reader questions. But, with thousands of inquiries to field, there's simply not enough time for Detweiler and Reed, who both have full-time careers, to answer every one. That's why they've partnered with debt resolution experts, including Hello Resolve, to offer more targeted answers and solutions.
"Our goal is to partner with reputable providers to help consumers who may need to find a bankruptcy attorney or talk to someone about credit counseling or debt settlement," Detweiler said.
On the Debt Collection Answers homepage, visitors who need immediate help are invited to call the Debt Hotline, submit a question, request a free consultation, or get a free settlement estimate. Selecting a link under "What's Your Biggest Problem?" takes visitors to a page of advice and services that address specific needs, with additional links to legal resources listed under Free and Low-Cost Help.
Tracking Trends While Championing Consumer Protection
Over the years, Debt Collection Answers has fielded more than 10,000 questions. And, as the issues surrounding consumer debt evolve, the questions keep coming. Detweiler and Reed have updated their e-book and the articles on the site to address some of the most pressing problems in the field of consumer debt — such as the rise of debt collection calls to mobile phones.
"Two of the biggest developments, since the book was originally published, are the increase in scammers and debt changing hands to multiple collection agencies," Detweiler said. "When we started, you didn't have the problem of scammers getting their hands on cheaply purchased information and placing massive numbers of phone calls to consumers, often from overseas locations. They make it sound like the repayment arrangements they make are legitimate, and the consumer may get trapped into thinking they're resolving a debt when they're just paying a scammer."
"We'd love to see more protections that help consumers deal with overwhelming situations. We want to educate as much as possible, but we'd also love to see legislation to help people who are struggling with debt." Gerri Detweiler, Co-Founder of Debt Collection Answers
According to Detweiler, medical bills and defaulted student loans are two of the most common and troubling types of collections. "Our health insurance system is still in need of reform, and that often means people end up with huge medical bills in collections. It's scary and frustrating. And it's the same thing with student loan debt," she said.
Helping someone like Barb learn her rights in the face of intimidating debt collection tactics shows Detweiler and Reed's passion for helping overwhelmed consumers deal with debt while maintaining their dignity.
"This has, very much, been a labor of love," Detweiler said.
Debt Collection Answers is there to educate, help, and advocate for more consumer protections for the many consumers who struggle with debt and don't understand their options when they hear from debt collectors.
"We'd love to see more protections that help consumers deal with overwhelming situations. We want to educate as much as possible, but we'd also love to see legislation to help people who are struggling with debt," Detweiler said.