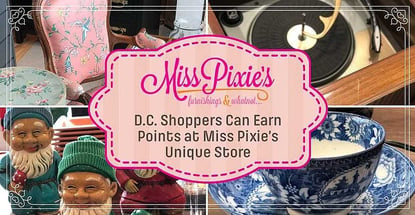 credit card news
Our experts and industry insiders blog the latest news, studies and current events from inside the credit card industry. Our articles follow strict editorial guidelines.
In a Nutshell: It's nice to build up credit card reward points to cash in on that flight for your next vacation or stash a few extra bucks in your bank account. And it's easy enough to earn those points by shopping online, but we also appreciate the thrill of a good old-fashioned thrifting experience. When we learned about the expansive Miss Pixie's Furnishings & whatnot in Washington, D.C., our vintage shopping radar alerts were sounding loudly. Miss Pixie's is a long-running D.C. shop with a huge and frequently refreshed inventory that is worth a visit if you're looking to build up credit card points while scoring some great vintage items.
Among the joys of second-hand shopping, one of my favorites is sorting through items that have been passed along over years — maybe decades — to wind up in your hands. Some items hold significant monetary value, other items may be worth next to nothing today but likely meant the world to a little boy or girl 50 years earlier. And other items are just bizarre.
My wife has a knack for thrift store shopping. She has picked up original mid-century modern furniture pieces worth hundreds of dollars for less than $10. I'm not as adept at scoring those kinds of finds. But there's something appealing about rummaging through the past and imagining the stories connected to a dusty trinket or to consider who may have eaten dinner at the table for sale in the corner.

When we heard about Miss Pixie's Furnishings & whatnot, located in Washington, D.C., our ears perked up. We know our readers are always looking for fun ways to earn credit card points toward valuable rewards. What better way to earn points than visiting a quirky, long-running vintage furnishings shop that refreshes its inventory each week?
We spoke to Miss Pixie herself — aka Pixie Windsor — to learn more about her expansive shop and her thrifting origin story.
Miss Pixie's Specializes in Vintage Home Furnishings, but Shoppers Can Find a Little Bit of Everything
As the shop's name suggests, Miss Pixie's main focus is furniture, but, like any good vintage store, shoppers can find just about anything in the store, which is in the heart of Washington, D.C., about a mile north of the White House.
"We sell all kinds of vintage home furnishings," Windsor said. "But not all the items are necessarily vintage. We buy all of our items at auction, so sometimes you'll get something new or sometimes you'll get what I like to call vintage Ikea, which is no longer available but still a good product."
Windsor said the store also sells vintage lamps as well as various types of artwork. She said, with the holiday season in full swing, the store is currently stocked with little artificial Christmas tree and vintage ornaments.
"We usually stock a lot of dressers, lamps, farm tables, bookshelves, that kind of rudimentary stuff for people moving into the city or moving into a new home," she said.
As the nation's capital and host to a number of colleges, Windsor said there are always a large number of people moving into the city to begin careers, internships, or to seek other opportunities, and they comprise a large number of her customers.
But she said the store brings in new inventory every Wednesday and regular customers show up each week to find out what's new. For those interested in checking out the latest news or inventory, Miss Pixie's team maintains up-to-date Instagram, Facebook, and Twitter accounts. The store website is updated regularly as well. Miss Pixie's is open daily from 11 a.m. to 7 p.m.
From a Small Town to the Heart of D.C. — Pixie's Love of Auctions and All Things Vintage
"I actually grew up on a farm out in the middle of nowhere on the Eastern Shore," Windsor said. "My great-aunt, my uncles, and my parents went to auctions all the time."
Windsor said she went to just about every type of auction imaginable growing up in a rural area, including livestock and farm equipment auctions.
"It's what I grew up doing, and I loved it, but I was also not interested in spending the rest of my life on a farm so I moved to D.C.," she said.
During her early days in the nation's capital, Windsor worked in the restaurant business but said she realized she was too pushy and bossy and that she needed to figure out how to be her own boss. She opened the first iteration of Miss Pixie's Furnishings & whatnot in 1997 with a few of her own items in a 500-square-foot space in the Adams Morgan neighborhood.
"The previous owner had a vintage shop there also, so he steered me toward a couple of really good auctions, and that's pretty much where we get everything today," Windsor said.
Miss Pixie's was in its tiny, original location for 10 years before moving into several other spots until it settled into its current location in 2008. At 4,000 square feet, it is considerably larger than Miss Pixie's original location. But Windsor said she doesn't seem to have any problems keeping it full of inventory.
She also makes sure the store has a pleasant and welcoming atmosphere, in part by keeping cookies on hand for customers and playing upbeat music over the speakers. The store is also kid-friendly and dog-friendly.
Every Item Has a Story, and Miss Pixie's Has Accrued an Abundance of Its Own Unique Tales Over the Years
"On Tuesdays and Wednesdays, I have to get up at 5 a.m. and drive to auctions. It's a busy day. But when I come into the shop, I hear a lot of good feedback from our customers about how the store makes them happy," Windsor said. "People are always telling us how they love this or that item, or how something reminds them of when they were a kid. Lots of good vibes."
Windsor said it's funny how people run into certain items in her store. One woman was looking through a big box of vintage black and white photos from a country club with a friend. Her friend held up a photo and said the subject in the photo looked like the woman's grandmother. Turns out, it was.
"I gave her the photo," Windsor said. "I wasn't going to charge her for a picture of her own family."
Another time, a military veteran in his 80s, who used to specialize in sending messages via carrier pigeon, came into the store. He came across a box of rolled up pieces of paper that turned out to be certificates of completion for carrier pigeons' journeys. And the box was from his hometown.
Miss Pixie and her store are also deeply embedded in the Washington, D.C., community. The store hosts an annual holiday market featuring local vendors, food, and live music, which sees around 1,000 visitors in just a few hours. And in August, it participates in a large neighborhood Dog Days sale. Additionally, the store frequently holds community events to benefit local charities, including homeless shelters and food banks.
"We've had birthday parties here. We've done all kinds of things," Windsor said. "We had a wedding here, engagement parties. And even a memorial service for a longtime neighborhood customer."
Windsor said that, with the store's location being in the heart of D.C., they often see national television journalists browsing in the store.
She said her dream customers would be to have Michelle Obama and Oprah Winfrey in her shop at the same time. It hasn't happened yet but Windsor isn't ruling out the possibility.
So, if you're in the Washington, D.C. area, we highly recommend giving Miss Pixie and her unique store a visit. You can earn credit card points while rewarding yourself not only with hard-to-find vintage items but a singular experience as well.