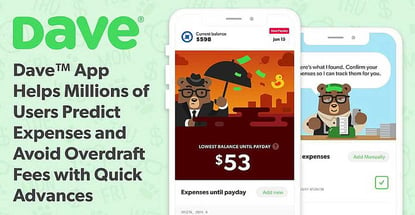 credit card news
Our experts and industry insiders blog the latest news, studies and current events from inside the credit card industry. Our articles follow strict editorial guidelines.
In a Nutshell: The Dave app arrived in 2017 as nearly 25% of Americans were exceeding their checking accounts at least once a year, and banks were charging them nearly $35 billion in overdraft fees. The app helps consumers track their expenses and forecast spending patterns based on data the platform accrues from financial accounts. Dave helps millions of users stay within their limits and avoid costly overdraft charges. And when the unexpected happens, Dave stands ready to advance users up to $75 — interest-free — to cover them until their next payday.
For years, developers have focused on rolling out budgeting and financial apps that help affluent users manage their complex assets. But underneath that churn, an even bigger market awaited. Until the Dave app arrived in 2017, no one had stepped up to serve consumers wanting, not so much investment advice, but rather to manage their spending habits to avoid bank overdraft fees.
"There's a vast population of hardworking, everyday Americans who view their bank not as a financial partner but as an entity hovering on the outskirts of their lives until there's an opportunity to charge a fee," said Jason Wilk, the Co-Founder and CEO of Dave. "As we looked at the marketplace, we saw no one focusing on helping those people get ahead of that cycle."
It's a market that only grows more important. In this era of ongoing economic transformation, banks made almost $35 billion from overdraft charges in 2017, with that figure projected to increase to $40 billion by 2020. Over the course of a year, more than 25% of Americans will make a purchase when they have insufficient funds in checking accounts. And for a smaller subset of account holders, the problem is even bigger — 10% of those who make a purchase or other transaction that is more than the amount in their checking or savings accounts exceed their account balances more than eight times in a year.
"We called ourselves Dave because we view ourselves as David fighting against this Goliath-sized problem of overdraft fees," Wilk said.
Most people draw more than they have in their accounts because they're unaware of expenses about to hit while they're waiting on their next paycheck. Like an assistant hired to keep tabs on finances, Dave monitors and alerts users about upcoming bills and expenses to project how low a user's balance will go until the next payday.
"We set out to build the simplest budgeting tool possible," Wilk said. "Dave helps people understand where their money's going from paycheck to paycheck."
Manage Expenses and Receive Predictive Alerts
Getting started with Dave is a straightforward process. Users choose from a pre-populated list of thousands of banks and credit unions, securely connect using bank login info, and create an account with Dave using a mobile number.
They're presented with an uncluttered view of upcoming expenses derived from bank data and their own input.
"Everything at Dave is centered around your next paycheck. Within seconds we analyze and predict how you spend your money," Wilk said. "Based on your history, we ask you to confirm upcoming fixed and variable expenses — including Amazon, Uber, Netflix, restaurants,  whatever."
That generates the visual and functional highlight of the Dave app — an assessment of exactly how low the user's balance will go until their next paycheck is deposited. "We're like a weather forecast for your checking account," Wilk said. "On our home screen, we're not just telling you when you're getting paid and how much you're on track to spend, we're giving you a real-world bottom line."
Like all good forecasting tools, Dave lets users control how low they want their balance to go before the app sends out a predictive alert. When they set a threshold, the app texts them when it reaches that point.
"And if you ever get that low, we let you know your upcoming Amazon bill is going to bring your balance into the negative. You can then look at what's coming up in your life, and maybe cut back on some expenses," Wilk said.
Interest-Free Paycheck Advances Can Protect Users From Overdraft Fees
But if cutting back isn't an option and an overdraft fee looms, Dave is ready to advance up to $75 to cover upcoming expenses. Based on confirmation of steady direct-deposit income from an employer, users who typically maintain a little cushion in their checking account can receive free or express delivery of emergency funds on a no-questions-asked, interest-free basis. Funds are collected automatically on the next payday either from a credit card on file or from the connected bank account.
"The average purchase that triggers a penalty is about $20 — but the average overdraft fee is almost twice that," Wilk said. "We help outsmart overdrafts because we think it's fundamentally wrong to kick people when they're down. It's just ridiculous to have to pay so much for something as small as a coffee."
Any consumer who has ever thought about paying bills with a credit card or resorting to taking out an expensive payday loan will appreciate Dave's easy access to short-term, no-interest credit. The cash advance model has not only sped up Dave's growth, but it has also saved users both money and frustration.
The app has nearly 1.5 million active users and counting, and it saves the average user about $500 in overdraft fees per year.
"Our goal is to help users find a solution to their short-term cash flow problems, not earn fee income when you mess up," Wilk said. "If we can put $50 to 75 into your account and you can avoid the fee, you avoid getting even further behind."
Dave offsets the fees banks charge the app for services and requests by charging users a $1 membership per month. Avoiding only one overdraft fee every three years will pay for the app over that time period. When Dave successfully helps a user avoid an overdraft fee, it also invites the user to "tip" a small percentage of that fee back to Dave.
"Our 'pay what you think is fair' model is one way we prove we're in it for the right reasons," Wilk said. "Because we don't just put those tips in our pockets. Through our partner, Trees for the Future, we donate a tree for every percentage tipped, planting fruit-bearing trees in sub-Saharan Africa that help the environment and encourage entrepreneurship."
Helping Consumers Learn About — and Improve — Their Financial Health
One of Dave's investors and board members is famous entrepreneur and owner of the NBA's Dallas Mavericks, Mark Cuban. The Dave app resonates with Cuban because, as a struggling student and young businessman, he also got crushed by overdraft fees — which he called a "useless expense."
Millions of people who find themselves in that situation now use Dave as their personal financial consultant to monitor income and spending patterns and protect them from financial slip-ups.
"Our biggest demographic is younger, tech-savvy folks who are just emerging into their independent lives," Wilk said. "But they're not the only Americans living paycheck to paycheck. Dave is perfect for anyone who wants to get ahead in their financial life instead of remaining a step behind month after month."
Armed with protection against the worst tendencies of banks can mean not just better cash flow for users on a day-to-day basis but also growth over the long term. Dave users may even come to see their bank as a useful partner in planning for their financial future, not as some fee machine.
"At Dave, we're building products that the banks won't. Everybody working at Dave has an interest in our mission and in helping people," Wilk said. "People who have built wealth may be blind to the fact that 60 to 70% of Americans don't have enough money to cover a short-term emergency. But we aren't— and that's why we built Dave," Wilk said.
And the app is having a significant impact on people's financial lives as it helps them overcome challenges and use their own resources to improve their situations.