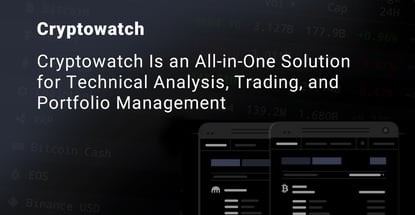 credit card news
Our experts and industry insiders blog the latest news, studies and current events from inside the credit card industry. Our articles follow strict editorial guidelines.
In a Nutshell: Cryptowatch is a pioneer in the development of a multi-currency, multi-exchange cryptocurrency trading terminal. The platform allows users to track portfolios, analyze price charts, and place trades. The three-tier pricing plan — from $0 to $75/month — accommodates all types of traders from novice to expert. Cryptowatch is built for security, with multi-factor authentication and data encryption, among many other features.
Pity the beleaguered cryptocurrency trader. To start with, she may deal with a myriad of currencies, exchanges, and trading platforms as cross-currency prices zig and zag throughout the trading day. Then there is the need to gather and interpret real-time information, place trades based on that information, and track portfolio positions.
Wouldn't it be nice to do all these things from a single, easy-to-use platform? Rejoice, traders, because Cryptowatch has just what you need.
Cryptowatch is a real-time trading platform. It connects you to the worldwide crypto markets with tools that support research, analysis, monitoring, and order execution. The company, which is owned by the Kraken Exchange, was founded in 2014 by Artur Sapek.
"Artur started by listing a few exchanges on the site," said Evan, Head of Marketing at Cryptowatch. "He's a very artistic person, and as you can see from the site, there is a very strong aesthetic that's super retro. He wanted to build charts for real-time price data, and that eventually turned into the Cryptowatch trading platform."
Like "The Bloomberg Terminal" for Cryptocurrencies
The Bloomberg terminal is an industry-standard electronic trading platform that allows users to observe and evaluate all types of real-time financial market data. Bloomberg terminals were the inspiration for the Cryptowatch trading platform.
Cryptowatch gives traders a single interface to analyze price movements, keep a finger on the pulse of the market, and execute trades and trading strategies across a variety of different exchanges. It simplifies the crypto trading process through the use of a common set of screens for all cryptocurrencies and exchanges. Compare this to the many exchanges and currency-specific trading products that have their own unique interfaces.
Although the different screens present a unified look, Cryptowatch provides users the ability to create custom themes.
"We added custom theming last year as well," said Evan. "We broke down the interface into seven color values, like the background, the text, the action buttons, alerts, straight lines, and so forth. You can customize all of these colors and create a unique theme."
Cryptowatch users can also choose from a number of set themes, including some built for high or low contrast, depending on the trader's preference.
A strong feature of the Cryptowatch platform is extensive user documentation and tutorials. These include guides for configuring the platform, connecting to an exchange, setting alerts, analyzing prices, and placing trades.
Once set up, traders can buy and sell thousands of cryptocurrencies, including Ethereum, Bitcoin, and Ripple by connecting to dozens of crypto exchanges, including Binance, Bitfinex, Bitstamp, Coinbase Pro, Kraken, and Poloniex. Traders can also monitor account balances and live P&Ls across multiple exchanges, manage their portfolio positions, and submit new orders to any market.
Multiple Tiers Give Users a Choice of Capabilities and Price Points
Cryptowatch is available in three price tiers: A simple free plan, a basic plan that costs $15 a month, and a professional plan for $75 a month.
The free plan provides all the fundamental functions of a trading terminal. The underlying philosophy is that you should be able to do everything necessary to stay abreast of the market for free. The plan includes trading on six different exchanges, price charts and technical analysis indicators, and monitoring of portfolio balances.
Trades can be made on a computer or via a mobile device. Users also get free access to the chat feature and portfolio for viewing and managing balance, positions, and orders across exchanges. For the technically minded, the free plan also offers access to a REST API that aggregates data across more than 25 crypto exchanges.
With the Basic Plan, traders also get SMS alerts and extensibility options like access to an upgraded version of the Cryptofinance.ai Google Sheets plugin. The Basic plan comes with expanded API limits as well — 16 CPU seconds per hour of the REST API and 5 GB of data over the WebSocket API per month.
The Pro Plan is for heavy automators who want to build connections to multiple exchanges, follow market data, and construct their own tools.
"We also added historical data from Cryptofinance to the Pro Plan, so that users can pull troves of historical market data into Google Sheets," explained Evan. "The Pro Plan is really for people who know what they're doing and want access to a lot of raw data that we normalize and stream directly to them."
In this tier, Cryptowatch offers 128 CPU-seconds per hour of REST API data, and the WebSocket API provides 75 GB of market data per month. Finally, the Pro Plan integrates with Zapier so traders can automate alerting and trading workflows.
Sophisticated Security Protects Users from Hackers
Cryptowatch requires multi-factor authentication on all logins to provide highly secure access. Traders can't connect an exchange to Cryptowatch until they've set up multi-factor authentication (MFA).
MFA protects against credential-stuffing attacks, which are quite common across many systems. In credential stuffing, hackers will take usernames and passwords that have been hacked from other sites and force them through an application's login page using an automated script.
This often works because hackers know that people use the same combination of login ID and password on different sites. Needless to say, that's a poor practice that all computer users should avoid.

Fraudsters can obtain login information from a hacked crypto exchange. However, to connect to an exchange and have trading capabilities on Cryptowatch, traders must enable multi-factor authentication. The platform supports two MFA implementations.
The first is a time-based one-time passcode authentication (TOTP) app like Google authenticator. It's tied to a phone (a physical device), rather than a phone number. In addition, traders can use any U2F hardware device like a Yubikey, essentially a small USB stick for authentication.
"Cryptowatch is owned by Kraken, which is one of the most secure crypto exchanges," said Evan. "All of our corporate policies are extremely security conscious. This is by far the most secure system I've ever worked on."