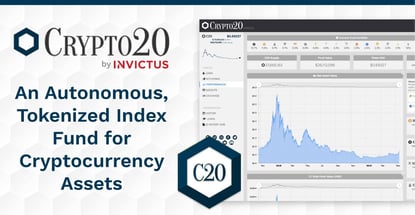 credit card news
Our experts and industry insiders blog the latest news, studies and current events from inside the credit card industry. Our articles follow strict editorial guidelines.
In a Nutshell: Crypto20 is a tokenized cryptocurrency index fund that allows investors to gain exposure to crypto assets while mitigating risks and optimizing returns through diversification. Invictus Capital, the company behind the fund, takes successful frameworks and methodologies from the world of traditional finance and applies them to the nascent world of cryptocurrencies. The Crypto20 fund is rebalanced on a weekly basis to generate the best returns for investors — a strategy based on extensive testing and research conducted by Invictus. In the long run, Invictus is modeling itself as the Vanguard Group of the cryptocurrency world.
Digital currencies such as Bitcoin may have started life a decade ago as a revolutionary means of transferring funds from one party to another, but these days cryptocurrencies are widely accepted as an investment asset.
Over the past few years, a number of financial services for cryptocurrency investing have sprung up that run parallel to traditional investment offerings. It's easier than ever to buy, sell, and trade cryptocurrency on an exchange similar to how traditional stocks are traded.

Financial experts advise investors that a diversified stock portfolio will help mitigate risk while generally delivering positive returns in the long run. And that advice seems to hold true in the crypto world as well.
Crypto enthusiasts are now able to choose from a variety of index funds to spread their investments across any number of top cryptocurrencies in the ecosystem.
But Crypto20 — a product offered by the Cayman Islands-based Invictus Capital — is one of the first platforms in the space taking investment options a step further with its automated, tokenized index fund.
We recently had the opportunity to speak with Jonty Bylos, Invictus Capital's Business Development Manager, about the origins of Crypto20 and the benefits the index fund can offer for crypto investors.
"Crypto20 was sort of the inception of Invictus Capital," Bylos said. "In 2017, the core founders were exploring ICO options for an ERC-20 token that would have real value and could actually be used, so you can actually use smart contracts in a sophisticated way."
Bylos said the Invictus founders hit upon the idea of combining a sophisticated index strategy with smart contract technology to make it easier for traders to gain access to the index and for investors to gain liquidity of their assets.
Although Crypto20 and Invictus Capital's other products — Crypto10 and Hyperion, a venture capital fund — are not currently available in the U.S., the company hopes to open them up to U.S. investors in the future.
How a Tokenized Index Fund Reduces Risk and Boosts Diversification for New Crypto Investors
The Crypto20 website promotes the platform as the first autonomous token-as-a-fund index and an easy way for anyone to access the world of cryptocurrency with broad, diversified risk.
"It's a one-stop shop for getting exposure to crypto, and so far, we've seen the fund outperform both Bitcoin and the entire market cap," Bylos said. And using the index fund approach makes sense because, over the last 30 years in traditional finance, index funds have consistently generated higher returns than actively managed funds.
Other advantages include the convenience and cost savings over other investment strategies, he said. The platform allows investors to trade in and out of a cryptocurrency very quickly, thanks to Crypto20's liquidation smart contract, and forks become dispersed and reinvested in the fund upon rebalancing.
"All those things are very complicated to manage for the individual retail investor," Bylos said. "It's not just about tracking the markets; it's about having a low-cost strategy that can follow a very complex, sometimes volatile market and give you diversified exposure."
Crypto20 maintains a forward-pricing policy to prevent arbitrage and to cover exchange fees upon liquidation, he said, but costs are kept very low for the investor, with no brokerage fees.
"Automation allows CRYPTO20 to operate with fees of only 0.5% p/a as opposed to the market average of 3% p/a," according to the Crypto20 white paper.
Additionally, the tokenized approach maintains maximum transparency so investors can track the value of their underlying assets in real time and view Crypto20 transactions on the blockchain.
Enhancing What Works in Traditional Finance through Innovations that Add Transparency and Reduce Fees
"We decided as a fundamental core theme, that Invictus takes tools, methodologies, frameworks, and principles of traditional financial markets and apply that to cryptocurrencies," Bylos said.
Any big strategy that has typically fared very well in the stock market in the last 100 years or so could potentially be a good model to introduce into the crypto space, he said. And that's just what Crypto20 does with its adoption of the index fund strategy.
"I think diversification is a huge mitigation tool in the crypto space," Bylos said.
The first index fund was launched by John Bogle in 1975 (eventually known as the Vanguard 500 Index Fund), and while many were skeptical at first, by the late 1990s the fund was one of the largest in the world.
"It's a great example of how we'll take a principle from the traditional finance space and introduce it into the crypto world," Bylos said. "And within that space, we leave behind a lot of arduous and costly processes, such as when people are trying to liquidate funds."
Additionally, there is no minimum investment for Crypto20. "You can literally invest $1 or up to several hundred thousand dollars," Bylos said.
The smart contract technology and automation processes at the heart of the Crypto20 platform also help to facilitate know-your-customer and anti-money laundering standards, making investor registration a more convenient process.
Bylos added that another product from Invictus — Crypto10 — caters to investors who are concerned about the maximum fund drawdown.
"C20 is a closed-ended fund and the maximum token supply is fixed," according to an article by Invictus Co-Founder Daniel Schwartzkopff. "As an open-ended fund C10 behaves quite differently: Purchases and redemptions occur directly through Invictus Capital's investor portal or by direct interaction with the smart contract. Exchanges are no longer required for liquidity on the buy or sell side."
Quality Control and Weekly Rebalancing Help to Protect Investors' Index Funds
In addition to combining traditional finance principles with modern blockchain technology, Crypto20 relies on rich data science to power the platform and help define the fund parameters, Bylos said.
"The cryptocurrency space can be volatile at times and change quickly. A crypto can jump up into the top 10 digital currencies and turn out to be a scam or pump-and-dump scheme," he said. "We test funds on a variety of parameters to ensure these types of cryptos are not included in Crypto20 or Crypto10."
Data science also plays heavily into Crypto20's approach to rebalancing.
"Rebalancing is the act of periodically adjusting a portfolio such that its asset composition reflects the index it aims to track. Rebalancing an index fund not only reduces risk but also increases the median return," according to the white paper. "Daily, weekly and monthly rebalancing periods were investigated as well as no rebalancing."
This included back-testing portfolio values of the top 20 coins by market cap. The Crypto20 team determined that weekly rebalancing resulted in optimal results for returns and costs, Bylos said.
Crypto20 also limits coins to a 10% component weight upon rebalancing, which further mitigates risk for investors, he said, as opposed to other funds that may allocate as much as 50% of the fund to a leading crypto such as Bitcoin.
The platform's approach to its tokenized index fund "produces a combination that has broad market exposure and acceptable turnover without allowing a single asset, and thus single source of risk, to dominate," according to the white paper.
"The point is, there is huge room for smart contract technology, blockchain technology, and cryptocurrency to come in and make the traditional financial structures, principles, and practices much more efficient and cost-effective," Bylos said.
A Mission to Become the Vanguard Group of Crypto
Just as Invictus Capital zeroed in on the index fund model for its initial crypto fund offering, Bylos said the company is looking at the Vanguard Group as a model for the long-term impact of the company as well.
The Vanguard Group began with a single index fund and today manages more than $5.3 trillion in assets, offering mutual funds, ETFs, brokerage services, annuities, asset management, financial planning, and trust services.
"We want to make our products similar to Vanguard — really simple, low costs, and a good track record," Bylos said. "So far, we've been able to do that. We have a community of 20,000 investors who have been very pleased with us up to this point."