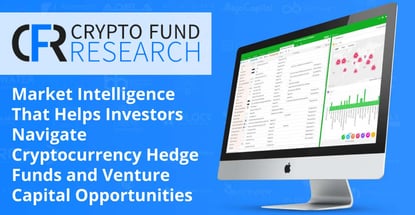 credit card news
Our experts and industry insiders blog the latest news, studies and current events from inside the credit card industry. Our articles follow strict editorial guidelines.
In a Nutshell: While traditional hedge funds have a long and storied history, players in the world of crypto are still sorting themselves out. Investing opportunities abound in crypto, but what's been missing is a means for surfacing the right bets on behalf of a growing community of institutional, high-net-worth, and family investors looking to make crypto funds part of their portfolios. Crypto Fund Research fills that gap. Its carefully vetted database of more than 800 crypto hedge funds and other alternative vehicles serves as source material for a suite of products aimed at different investment use cases.
As alternative investments have grown and diversified since the creation of the first hedge fund in 1949, indices have risen to compile data and offer analytics and services around the various opportunities.
Meanwhile, around 2009, cryptocurrency entered the financial landscape, and now thousands of currencies and blockchain- and crypto-related projects vie for investment attention.
Depending on how you look at it, crypto's inherent anonymity as a transaction medium can be seen as an advantage or a disadvantage. It's not too much to say, however, that it's attracted a fair share of bad actors to the space.
That's why, until recently, traditional larger-scale investors tended to shy away, leaving the crypto realm mostly to early adopters, technology fans, and the libertarian-minded.
But when Bitcoin took off on its astronomical rise in late 2017 and the public began to realize how much money was actually in crypto, things began to change. Not coincidentally, a slew of new investment products rose to compete with early, established crypto funds.
This was evidence of crypto entering a more mature phase. And, with his more than 10 years' experience operating his own company as a hedge fund analyst, Josh Gnaizda saw that. Crypto Fund Research is the result.
"We started seeing interest from consulting clients about what was going on in crypto," Gnaizda said. "At the time, there wasn't a lot of coverage from the traditional indices — and, generally, there still isn't."
Now in its fourth year, Crypto Fund Research is the leading provider of data and market intelligence on crypto hedge funds. With the largest and most comprehensive database in the industry, it's the go-to resource for investors looking to leverage the space — and even for crypto entrepreneurs looking for support.
Tools Aimed at Investors, Managers, and Entrepreneurs
Gnaizda, founder and CEO of Crypto Fund Research, studied economics at UC Davis and worked as an analyst at Merrill Lynch after college. San Francisco-based Crypto Fund Research is a crypto-focused adjunct to what he's been doing his entire career.
Crypto Fund Research's multi-tiered product suite starts with data and tools aimed at blockchain founders and entrepreneurs, investment service providers and consultants, and even fund managers looking for intelligence on the competition.
The original list Gnaizda started compiling even before Crypto Fund Research was founded is a downloadable spreadsheet-based resource that offers timely and detailed info on more than 800 crypto funds. Customers can also purchase access to the Venture Funding Finder, which includes online tools for filtering the data.

Aimed more toward institutional, high-net-worth, and family investors is the Crypto Fund Performance Database, the company's premier market intelligence resource, which was released in 2019.
In addition to monthly and annual performance data on more than 250 funds, the Performance Database contains detailed stats and info that addresses additional variables important to investors.
Gnaizda said there's nothing earth-shaking about how Crypto Fund Research obtains its information — it all comes down to commitment, legwork, and networking.
"A lot of our early research came from regulatory filings and news articles," Gnaizda said. "But we've been fortunate — we have a pretty good reputation, and we've been able to build relationships with a lot of the funds."
The Performance Database compiles information provided almost exclusively by the funds themselves. "Some of it is us, really researching and drilling down, trying to get info in these hard-to-reach products, and then a fair bit comes from funds working collaboratively with us," Gnaizda said. "Ultimately, to be outwardly transparent about their work is beneficial to them."
Diligent Screening Addresses Compliance Concerns
Gnaizda said that from an investment perspective, there are good reasons to work with a hedge fund provider as opposed to going out on your own — a prominent one being the way funds handle the crypto custody issue. Somewhat in the manner of traditional banks, reputable, independent crypto custodians transparently protect assets from theft and loss.
"The funds take on that custody element and, I would say, get rid of most of that risk — certainly they get rid of the risk that's associated with someone losing their private keys or what have you," Gnaizda said.
With crypto's Wild West heritage being what it is, having the capacity to identify and filter the good players from the bad players must remain top of mind for anyone entering the funds space. The Performance Database has tools for that.

"Because it's important to investors, we're doing a lot of basic fund due-diligence," Gnaizda said. "That's answering questions like, Do you have an independent auditor? Are funds custodied with a third party, who is it, and are they third-party insured? Do you have a fund admin?"
New funds are popping up all the time — whether they have the requisite structures and protections in place is actually an open question. Gnaizda's research has revealed, in fact, that a substantial portion of Crypto Fund Research's database may be off-limits to the most prudent class of investors.
"They're sort of like mom-and-pop shops that may or may not be dishonest, but they haven't taken the precautions an investor would like to see," Gnaizda said. "They may not be fully compliant, which means money could get held in lawsuits. Foundations and endowments, they just don't invest that way."
Bringing Cryptocurrency Investing into the Mainstream
Gnaizda sees vestiges of what he calls a "cyberpunk attitude" regarding crypto compliance. While some of that may remain in the space, Crypto Fund Research exists to delineate between funds so that different investment philosophies can be served.
"Maybe some people would disagree, but I feel pretty strongly that, when you're managing other people's money, you need to be transparent about it," he said. "You need to do things the right way in terms of protecting them and giving them visibility."
In accordance with that belief, the screening functions of the Performance Database are dedicated to helping investors find the right products for them. That being said, Crypto Fund Research strives for comprehensiveness.
"As far as identifying bad actors in general, I think that's a little bit tougher," Gnaizda said. "The key for investors is to find the good actors and then treat everyone else as a buyer beware."

Time is proving an ally because, as the crypto funds space grows and institutions like Crypto Fund Research introduce greater transparency, "over time, all that stuff is going to get ironed out," Gnaizda said.
"It's just a question of time — crypto's volatile not only in terms of price but in terms of headlines," he said — while also pointing out that the traditional financial space sees plenty of bad press stemming from regrettable decision-making.
"As crypto becomes a larger asset class, price volatility will go down," he said. "And the more investors see that there are transparent, high-functioning companies in the space — and there are a lot of them — the fewer instances of bad news will become headline-making."