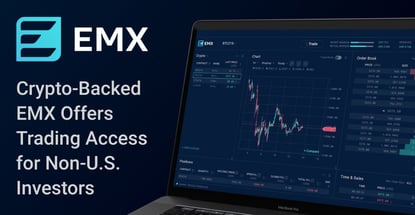 credit card news
Our experts and industry insiders blog the latest news, studies and current events from inside the credit card industry. Our articles follow strict editorial guidelines.
In a Nutshell: The global market for exchange-traded futures and options is concentrated among a small group of powerful entities. That means a lack of competitive pressure and a pricing structure that favors exchange members over other investors. Since 2017, EMX has grown into a refreshing alternative to the status quo that democratizes futures trading, making it easier, less expensive, and more equitable. The platform enables non-U.S. investors to leverage dollar-pegged crypto stablecoins and counter high-frequency trades with an innovative batch auction order model.
The global volume of exchange-traded derivatives, including futures and options, reached 16.6 billion contracts in the first half of 2019, representing trillions of dollars in market value. Due to business and market consolidation, however, that broad landscape is dominated by a few large entities that handle the vast majority of transactions.
Derivatives can help investors allocate, manage, and transfer risk, which are essential goals for global enterprises. But that consolidation and concentration of resources serve to box out smaller investors.
That's why San Francisco-based EMX built a platform that runs counter to the big exchanges and is accessible to retail investors — but also scalable to the enterprise level. It provides accessibility by leveraging the borderless efficiencies inherent in cryptocurrency.

The current status quo can be expensive and exclusive. Network improvements have resulted in massive exchanges gaining control of large portions of the market. That reduced competition means higher transaction and clearing fees and higher profit margins. Those large exchanges also tend to offer lower fees to member firms or institutional investors.
Crypto-native EMX levels the playing field for all investors regardless of size, influence, or location — although regulations currently prevent the platform from offering services to investors in the U.S. But a growing number of non-U.S.-based investors use EMX to exchange millions of dollars in volume every day.
"We're building a next-generation derivatives exchange that allows anyone in the world to trade futures using cryptocurrency as collateral," EMX Co-Founder Jim Bai said. "Crypto users can now diversify and trade different products without leaving the crypto ecosystem."
Frequency Batch Auctions Democratize Transactions
EMX users deploy crypto upon entering and exiting the platform. After staking that collateral, they can choose opportunities from an extensive portfolio of traditional and crypto-based derivatives designed to satisfy a variety of preferences.
"It's pretty cool — people can stay in crypto, but buy stocks, oil, gold, and other assets," Bai said. "And using crypto as collateral makes transferring funds anywhere in the world much easier."
When EMX launched in 2017, the platform only accepted Bitcoin (BTC) as collateral. But the platform recently rolled out support for Ethereum's ETH altcoin, along with dollar-pegged stablecoins including Tether (USDT) and TrueUSD.
And investors on EMX play by rules that are fairer than the ones set by the big exchanges, which typically process orders on a first-come, first-served basis. That has the effect of favoring investors who can afford technology that enables high-frequency trading. Members looking for every possible advantage may even install their servers as close as possible to their exchanges — sometimes in the same building or on the same networking equipment.
EMX replaces that model with one that favors price over speed. Instead of matching buy and sell orders continuously, EMX's frequency batch auction model groups trades in one-second intervals and then finds price matches among the orders in each batch.
"Those discrete batches should be imperceptible, but they will make a huge impact on the trading world because they enable someone placing orders from their basement to play on the same field as any investment bank or hedge fund," EMX said in a blog post.
Enterprise-Grade Features Boost Security and Reliability
The EMX matching engine is robust and stable enough to scale well beyond a small-scale operation. During a recent period of sharp fluctuation in Bitcoin prices, when volume on the platform increased dramatically, EMX handled it with ease.
"There were many derivatives exchanges that couldn't handle it, but we stayed up, and we satisfied our customers' trades," Bai said. "We're mostly retail-focused right now, but we're designed for institutions and the throughput of hedge funds and professional algorithm traders."
As a crypto platform open to a global community of investors, EMX also does its due diligence in terms of security and reliability.
"In markets where people didn't have easy access before, they enjoy the access EMX provides," Bai said.
Identity verification for individuals and institutions is as straightforward as it is rigorous — users generally submit digital photos of their government-issued IDs along with pictures of themselves holding them. Both know-your-customer (KYC) processing and compliance checks are outsourced to top specialists in those fields.
"It's quick and seamless to open and fund an account," Bai said. "After users pass KYC, they can deposit collateral within a couple of minutes — or even seconds in the case of ETH — and start trading."
EMX has a purpose-built outsource partner behind its asset storage solution, as well. BitGo, the crypto world's leading institutional wallet provider, has been a leader in standards, compliance, security, and even insurance in the digital storage industry since 2013.
"BitGo holds for some of the largest institutions in the world, and we trust them with our security," Bai said. "We maintain once-a-day withdrawals for requests, where we can automate and manually approve those with withdrawal requests."
Leveraging Crypto Can Improve the Futures Marketplace
In keeping with its mission to transform derivatives trading by opening up markets to the world, EMX also emphasizes user experience.
"It's always been a core focus. And we still don't think there's an exchange with a better interface than EMX," Bai said. "You can customize the different visualization modules, expand the sizes, and move things around. We wanted to give a professional feel to the exchange and improve upon the current state of the industry, which we don't think people put a lot of thought into."
EMX prepares to match the elegance of its desktop experience with a mobile app that's in the works.
"It'll stay true to the desktop site — clean, responsive, quick," Bai said.
Meanwhile, users choosing to collateralize or hold EMX tokens gain valuable benefits, including fee discounts, access to premium features on the exchange, and higher returns in EMX trading competitions and promotions.
"Recently, we staged a month-long trading competition that attracted traders from all around the world," Bai said.
And the EMX team continues to plan new features and products in response to user requests. With those, it aims to continue making derivatives trading accessible to crypto traders around the globe.
"We think we're the best place to trade derivatives in the crypto space," Bai said.