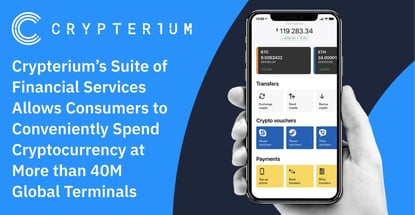 credit card news
Our experts and industry insiders blog the latest news, studies and current events from inside the credit card industry. Our articles follow strict editorial guidelines.
In a Nutshell: Crypterium is working to make it easier than ever for consumers to spend digital currencies just as they do fiat cash funds. The company focuses on ways to facilitate convenient cryptocurrency transactions and transfers with lower fees than those charged by traditional methods. And its suite of crypto-based services mirrors those of traditional banks. The Crypterium wallet allows users to easily send and receive funds across the globe instantaneously. And the forthcoming Crypterium card will function just like a traditional debit card from the user and merchant perspectives. Ultimately, the company hopes to give consumers complete control over their digital assets.
Cryptocurrency receives a lot of attention in the U.S. as an investment asset.
But — let's not forget — cryptocurrency was created to be spent. Blockchain-based digital currencies like Bitcoin and Litecoin offer avenues to conduct digital transactions in a decentralized marketplace, outside of the traditional finance structure.

And
Crypterium
is making it even more convenient to execute those transactions using digital assets. With its services that run parallel to the offerings of fiat banks, Crypterium allows customers to use cryptocurrency with the ease in which they are accustomed to conducting cash-based transactions.
We recently had the chance to touch base with Siranush Sharoyan, Crypterium's Head of Marketing, about the company's offerings and how it's making cryptocurrency easier than ever to use.
In fact, when we spoke to Sharoyan, she was traveling in Europe and testing out the second Crypterium card ever made, in anticipation of the card's widespread launch this summer.
"I've been trying to use it exclusively this week and nothing else," Sharoyan said. "It has worked perfectly so far in any place that accepts UnionPay. I'm super excited because this is what we've been working for the whole year. It's been a huge project."
One of the major distinguishing features of Crypterium, besides its 360-degree approach to cryptocurrency financial services, is the fact that it can be used virtually anywhere in the world, she said. Other crypto companies that offer any banking-type services are generally limited to a specific country or region.
Sharoyan said Crypterium's indirect partnership with UnionPay enables the company to facilitate transactions across the globe.
Lowering Fees and Making Transactions More Convenient
"The whole idea behind Crypterium and our app was to let anybody, anywhere use cryptocurrency the way they would use traditional money," Sharoyan said. "We wanted to be global and provide comprehensive services to let people do everything they need to do in real life."
It's also important that Crypterium be able to provide its services to consumers more efficiently and with lower fees than they would incur through traditional financial institutions.
Sharoyan said that many people from developing countries leave home to work in other countries and send money back to their families. But the transfer process can be slow and expensive thanks to high fees. People who send money transfers are losing a lot of money between sending the funds and their families receiving them.
"We just want you to have access to your money 24/7 and do whatever you want with the lowest fees possible, and with conveniences," she said. "We don't want you to wait three days for a bank transfer; we want you to do it instantly. And we don't want you to pay a 9% transfer fee."
Sharoyan said about 9% is the current rate for someone to transfer fiat funds from Brazil to Russia. But Crypterium fees for the same transfer would be less than half that amount, she said.
In other countries, such as Argentina, where inflation is very high and people tend to put less trust in the traditional banking system, spending via cryptocurrency is a very appealing prospect, she said.
"Why shouldn't they get the chance to use their crypto holdings just the same way they would use their pesos," Sharoyan said. "So we just want to give them the opportunity to be able to use their crypto funds as they would use fiat."
The Crypterium Wallet Eliminates Complicated Addresses and Facilitates Instantaneous Transfers
The Crypterium wallet was the first of the company's suite of services to launch and has been the company's core offering to date.
"We built this wallet with all the desired functionality of a crypto wallet — you can buy, receive, and exchange crypto, as well as send it to anyone else in the world and cash out to any MasterCard across the globe," Sharoyan said. "Right now we have Bitcoin, Ether, Litecoin, and our own CRPT Token in the wallet."
Crypterium is currently in talks to add several other secure and well-known coins to the wallet in the near future, she said.
"We don't have any hidden fees with our wallet," Sharoyan said. "We show all the fees on the final screen before you confirm any transaction. And I really think we have the lowest fees associated with both crypto and crypto-fiat transactions in the app."
The wallet also includes a feature that allows users to send funds just using a phone number, she said.
Most cryptocurrency wallets require users to type in a cumbersome crypto wallet address to send or receive funds, but with the Crypterium wallet just a phone number is sufficient. This makes the process much simpler.
"You just type in a phone number, and even if the recipient doesn't have a Crypterium wallet, one will be created automatically, and we'll send him an SMS with a link to the wallet," Sharoyan said. "Then when the recipient downloads it from the link, he will already have money in his wallet."
Additionally, fund transfers and payments are processed instantly, rather than experiencing the usual lag that occurs in cryptocurrency transactions due to the time to blockchain confirmation time. This is made possible because Crypterium processes the transaction off the blockchain, and it is added to the blockchain later.
"It helps to avoid limitations on the ability of blockchain networks to cope under high transaction demand and skyrocket the speed of transfers," according to the website.
Pair Digital Assets with a Virtual Card to Use Online and at 42 Million Terminals Globally
Sharoyan said the forthcoming Crypterium card has been a highly anticipated event within the company.
"We're all very excited. The whole office is just waiting for the moment when we'll ship the first 5,000 to our most loyal users, who have preregistered," she said. "And right after that, we're going to issue 50,000 more. We're already receiving a lot of interest."
She said the Crypterium card is unique because, while some crypto cards have come before it, this one is the first global cryptocurrency card.
The card will be available as a virtual card that can be tied to the user's Crypterium account and linked to Apple Pay or Android Pay. Then, the card can be used with the tap of a phone for merchants who accept those forms of payment.
And users will also be eligible to receive the physical card that Sharoyan has been beta testing for ATMs and retailers who don't support tap-and-pay methods.
"Your customer experience will be no different from paying with Visa or MasterCard bank cards," according to the Crypterium website. "Your transaction will go through as soon as your card touches the terminal."
And it doesn't matter which type of currency the merchant accepts — merchants will be able to receive their funds in U.S. dollars, euros, or any other local currency.
Sharoyan said Crypterium will also launch its savings account along with its cards.
"Our users can buy the card or subscribe to our services, and, if they subscribe, they also get access to a wider range of financial services," she said. "One of which is the new savings account. And depending on their subscription plan, they can get up to 5% interest on their Bitcoin savings a year."
The 2019 Road Map Includes Cards, an Exchange Listing, and Offering a White-Label Solution for Partners
As Crypterium prepares to ship out its first round of cards, the company is already looking at what its next moves will be in the coming months and years.
By the end of 2019, Crypterium anticipates rolling out a monthly loyalty program and expanding its services to offer a white-label package for its partners.
"In the beginning, we want to partner with traditional players to help bridge the traditional finance and crypto industries," Sharoyan said. "We really think traditional finance can benefit from using cryptocurrencies and vice versa."
Ultimately, emphasizing cryptocurrency is not the point, she said. "The point is that you can use your money and control your money just the way you want."