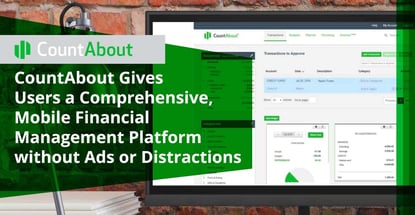 credit card news
Our experts and industry insiders blog the latest news, studies and current events from inside the credit card industry. Our articles follow strict editorial guidelines.
In a Nutshell: There's a reason why the financial management software space has been so crowded for so long. Until CountAbout arrived in late 2015, users had difficulty landing on a platform that offered the right mix of features without overwhelming them with functions they didn't need or ads they didn't want. For more and more users, CountAbout hits the sweet spot. Fully functional on mobile and over the web, CountAbout is a robust, secure, privacy-minded platform that prioritizes user experience and eliminates distractions.
Financial management applications are in one of those software categories where everything needs to be just right. You're putting the nuts and bolts of your household or small business budget on the line, so you want your product to work for you, not the other way around. And because your finances are something you probably deal with every day, you want your app to do everything you need it to do — and nothing you don't.
Simplicity, flexibility, and work-anywhere power when you need it — those are the qualities built into CountAbout, the secure financial platform for everyday people. Cloud-based CountAbout offers seamless data import from Quicken and Mint, top-tier money management features, customizability, automatic account syncing, and an ad-free experience that prioritizes user privacy.
When CountAbout Co-Founder Joseph Carpenter, a CPA by trade, went looking for that "just right" mix of features in 2012, he couldn't find it. Quicken, his platform of choice at the time, was powerful, but it kept him tethered to his personal home computer. And Mint lacked the functionality and customizability he needed.
"Mint is online, but it doesn't have running register balances, and it's loaded with ads," Carpenter said. "If you do a deep dive into all the perks of the financial packages out there, you'll discover quite quickly that there really isn't anything that's equivalent to Quicken that's online."
Online competitors that came after Mint have simply tried to mimic what Mint does, Carpenter added, which is to act "basically as a transaction platform."
"That's how we got started," Carpenter said. "We were looking for something that was online but similar in functionality to Quicken. We're the best of both worlds."
Import Data from Other Platforms or Start from Scratch
For users who don't have a legacy of working with predecessor platforms like Quicken or Mint or who aren't looking for data continuity, starting with the platform is as simple as registering and automatically downloading their transactions from thousands of participating financial institutions. If your U.S. financial institution isn't supported, you can ask CountAbout to add it.
CountAbout makes transitioning easy for the subset of users with lengthy transaction histories saved in other platforms.
"You can start from scratch," Carpenter said. "But the reason we allow users to import data is because a lot of people — including myself — really, really, really like to know what they spent 10 years ago at a restaurant. I have no idea why we're like this, but we are. We don't want to lose that data."
Therefore, a significant number of CountAbout users elect to import. "You basically pick up where you left off in Quicken or Mint," Carpenter said.
Rather than deluge users with ads and suggested services based on partner relationships, CountAbout prioritizes privacy, offering a two-tier pricing structure. All users receive a free 15-day trial of its premium service and have the option to continue the premium service or select basic access, which includes everything available on the premium tier except automatic download of transaction data. Basic users can manually enter transactions and import data files from banks that can export data in the popular Quicken Interchange Format.
Prioritizing Customer Experience Over Business Imperatives
Whichever tier you choose, the CountAbout experience is designed to be as unobtrusive as possible, free of ads and feature bloat, and designed with the user's needs — not the company's — in mind. That said, CountAbout wasn't always as elegant as it is now. In Carpenter's estimation, in fact, during the product's development phase before going public, the platform left much to be desired.
"It was atrocious when we first put it out there," he said. "But that's all design. The original concept of what we wanted it to do and the features we wanted it to provide really hasn't changed that much from that first idea. It's been more of the graphics and the interface that we've been working on since we launched."
Good design makes a huge difference in terms of how users experience software. Another thing that hasn't changed is CountAbout's mission to put its users over profits.
"We launched in October 2015 and were cash-flow positive by January 2016," Carpenter said. "That's the nature of bootstrapping, of doing the work ourselves and keeping costs under control. We didn't go out and get millions of dollars in investment money because once you do that, it changes the goal of the organization from being customer-service-oriented to profit-motivated.
"And we didn't want to lose the gist of what we were trying to provide, which is exceptional service and products," he said.
The result has been a steady 300% year-over-year growth since CountAbout went live to the public.
Respect for User Feature Preferences and Bloat
User preferences — not the business's fiduciary needs — continue to drive feature development on CountAbout. The team is also dedicated to avoiding one of the most common pitfalls in software development — feature bloat.
Its users not only make feature suggestions on the CountAbout forum but vote on them to determine which get picked up by the team. Even in the early days, however, the team chose carefully.
"We didn't go out and get millions of dollars in investment money because once you do that, it changes the goal of the organization from being customer-service-oriented to profit-motivated. And we didn't want to lose the gist of what we were trying to provide, which is exceptional service and products." Joseph Carpenter, CountAbout Co-Founder.
"That's a big problem — adding so many features that it bogs down the software and makes it very confusing," Carpenter said. "A lot of our enhancements have come from top-rated votes, and, to this day, we still have users making suggestions and voting on those suggestions."
The CountAbout team keeps an open mind about how users employ the platform — even when what they observe runs counter to what they expected.
For example, on the near-term development docket is a simple feature from Quicken that will allow users to save an account reconciliation in midstream so they can resume the reconciliation process later.
"Believe it or not, people still use manual reconciliation with their checkbooks," Carpenter said. In Quicken, you can save the reconciliation — you can exit it and come back in later. That's not something we ever anticipated a lot of people wanting to use, but they do. Based on our users' votes, we're going to be implementing that soon."
No-Compromise Financial Management for Everyday People
When people choose to incorporate an application into their daily lives, it's because they perceive an advantage in doing so. As a financial management platform, CountAbout takes its responsibilities seriously so its users can get down to the business of doing what they came to the platform to do.
"We're a platform for people who want to actively manage their finances," Carpenter said. "In Mint, transactions just download — you can go for a month and all your transactions will be there but you might not have any idea what happened a month ago."

Meanwhile, in CountAbout, transactions must be approved, and once they are, users can categorize them however they want. CountAbout populates the platform with preset categories, but those can all be modified or deleted — users maintain complete control.
"Until you approve your transactions, you won't see them in your ledger," Carpenter said. "That's just psychology of good financial management. When you've spent money, the act of reviewing the transaction reminds you."
And with new development in CountAbout's mobile app, all the functionality for using and customizing the service will be as accessible on phones as it is on larger screens.
"We just rolled out an app update so now you can manage all your categories and accounts and completely customize everything from within the app, as you can on the website," Carpenter said. Soon the app will also allow users to manage their linked bank accounts.
"It makes the app almost the only thing you need to manage your account securely and privately," Carpenter said.