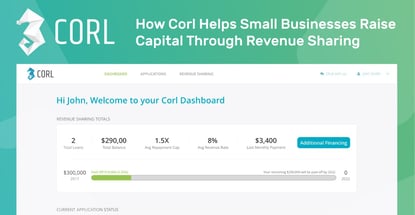 credit card news
Our experts and industry insiders blog the latest news, studies and current events from inside the credit card industry. Our articles follow strict editorial guidelines.
In a Nutshell: Small business and tech upstarts often get overlooked for financing through traditional avenues. Corl is a modern company that provides equitable access to fast and flexible funding for these types of businesses. Corl's AI-based technology analyzes the potential value and risks, and can approve its request for capital in two weeks instead of the three to nine months the approval process takes for traditional funding. Derek Manuge, Corl's CEO, said the company is open to all applications, but tech-based companies that are scalable and show a reasonable path to profitability make the best candidates for funding through Corl.
The upstart entrepreneur who pulls herself up by the bootstraps to launch a successful small business has been a cornerstone of successful American capitalism for decades.
Well, the idea of it anyway.

The truth is, small businesses can face immense challenges when it comes to funding to bring an entrepreneur's idea to life.
"Traditional bank loans for small businesses have historically been tough to obtain, but recent market trends are making it even more difficult for new startups to get the funding they deserve," according to the U.S. Chamber of Commerce.
Corl is a company addressing this problem by bringing fresh ideas to the table, such as its approach to helping small businesses raise capital through revenue sharing.
"The small companies being formed today pretty much represent the future larger companies," said Corl CEO Derek Manuge. "They should have access to the same level of capital on a risk-adjusted basis that larger entities would currently have access to."
With so many of today's startups being based in digital technology or almost entirely existing online, he said the businesses have even more difficulty securing funding through traditional means because they don't have assets to borrow against. And about 90% of these companies have fewer than 20 employees, Manuge said.
Access to Fast, Fair, and Flexible Funding
Since its launch in 2016, Corl's main objective has been to change the way startups and small businesses raise capital with its philosophy that all businesses should have equitable access to fast, fair, and flexible financing, according to the company website.
"Businesses perform better when growth is sustainable; funded startups retain autonomy, equity, and board seats while benefiting from a flexible repayment approach," according to the company.
The company states that its capital-raising techniques are an improvement over traditional avenues.
Corl refers to its model as Capital-as-a-Service — a play on the popular Software-as-a-Service model in the tech world.
Corl clients gain access to business insights, a data-rich business portal, and industry experts.
"As your team grows, so do all the little things it takes for your operations to run smoothly," according to the company. "Enjoy access to our network of advisors, partners, and service providers that can help you drive growth at discounted prices."
And all of a businesses' in-depth analysis and insights — leveraged by Corl from third-party services and reconciled with client data — can be accessed in one convenient location, allowing for more informed decisions and strategies.
Automated Technology That Analyzes Multiple Risk Models for Businesses Seeking Capital
"We're seeing this emerging asset class of revenue-sharing or revenue-based financing," Manuge said. "It's a massive market and we're all here to share it, but I think the important thing is trying to be as objective as possible with how we evaluate our risk and return on a business."
That means gathering as much data as possible on businesses to help the company make intelligent decisions.
In fact, the company boils down how Corl works to one word: data.
"How much data can we get access to?" Manuge asked. "So far as I know, I haven't met another company that has more data points on individual businesses than we do. We really put it at the forefront to make sure that we have enough information."
So, what happens with all of this rich data Corl collects? It's used to evaluate businesses and to aid in funding.
"Corl uses artificial intelligence (AI) to expedite the funding process. No need to wait 3-9 months for approval. Find out in 10 minutes," according to the company website. "Corl can fund up to 10x your monthly revenue to a maximum of $1,000,000. Payments are equal to 2-10% of your monthly revenue, and stop when you buy out the contract at 1-2x the investment amount."
Manuge provided further insight into how Corl's AI works.
"We run a suite of models analyzing the company across multiple risks," he said. "We do projections in terms of how they could potentially produce returns. We do financial statement projections as well, like assets, liabilities, income, profit expenses — all the line items that would be critical for us to determine the survival or profitability of a business."
Next, Corl's AI engine produces a score which the company uses to guide its funding decisions.
The company's revenue-sharing model aligns with business interests to drive startup growth with no strings attached, no board seats, and no forced sales. And it allows for flexible payments to match the ups and downs of a small business or startup.
Scalable Tech Companies Tend to Make the Best Candidates
"I like to focus on digital, online, or technology-oriented companies that have some automation component to it, like a recurring revenue model, perhaps," Manuge said. "Or even some evergreen product that doesn't have a lot of cost of goods sold in order to administer to their customers."
Although Corl tends to work best for certain types of companies, Manuge said the company is agnostic when it comes to businesses it funds as long as they align with Corl's standards and business model. He said the company gets applications from all kinds of businesses.
"For example, we recently had a company apply with us that's similar to a business like Uber eats, where you order food from a restaurant and they pick it up and deliver it to you," he said. "Well, their business model is they contract kitchen spaces based on the demand for certain online delivery services for food. They are the kitchen that supports the ecosystem."
Manuge said another recent company sold plush avocados with smiling faces on them. "They were selling quite aggressively," he said.
"But ultimately, it's a scalable, digital technology-oriented company that's the target, as we find they have the best growth opportunities," Manuge said. "We tend to focus on companies that are generating at least $10,000 a month in revenue, and there is some month-over-month or year-over-year growth in revenue."
He added that, preferably, the companies do not have significant liabilities.
"They don't have to be profitable but they have to have at least a clear path to profitability," he said. "So, based on that description, it's a wide range of companies."
Seeking Caterpillar Companies That Can Turn Into Butterflies
Manuge said Corl is open to all applications and the company will continue to look for quality companies to work with.
"Right now, I'm finalizing this capital raise and so we're going to have a lot to deploy," he said. "And we're actively seeking out companies that are kind of the caffeinated caterpillars that could become burgeoning butterflies."