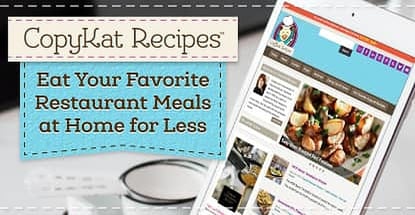 credit card news
Our experts and industry insiders blog the latest news, studies and current events from inside the credit card industry. Our articles follow strict editorial guidelines.
In a Nutshell: Dining out is a popular American pastime, with more than half of the food Americans consume coming premade from restaurants. But while ordering our favorite dishes for here or to go may be convenient, the cost can quickly add up. Stephanie Manley has developed a legion of followers through her website, CopyKat.com, where she posts recipes that replicate popular restaurant dishes. To test Manley's recipes, we pitted them against popular meal delivery service Blue Apron, which offers home delivery of premeasured ingredients for healthy meals for a weekly flat fee. We compared the two in price, quality, and convenience and found CopyKat to be the top choice for busy families to dine in and save money.
Stephanie Manley never expected the impact she'd have when she started CopyKat.com in 1995 as a way to post her family recipes and showcase her ability to replicate restaurant dishes.
Over time, the "CopyKat" restaurant recipes proved overwhelmingly popular, so she shifted her focus toward cracking popular meals — which led to some heart-wrenching fan mail.
Take, for instance, the young boy who told Manley about weekly trips to the Olive Garden with his parents to order their favorite dishes. After his parents separated, his now-single mother couldn't afford to take him on their weekly outing.
"He emailed me and asked me to recreate the dish that he and his mom loved so much, but they hadn't had it since his parents split up," Manley said. "I made a point to recreate it as close as I could."
Then there was the retirement home that emailed Manley to compliment her on her recipes. The home's residents, who were unable to leave the building for medical reasons, especially enjoyed having the meals they missed from when they were able to go out to eat.

The correspondence shows that people have a personal connection to the food they eat. A good meal creates memories that last long after you've pushed your seat away from the table. While recent Mastercard SpendingPulse reports show that Americans are consuming nearly 55% of the food they eat at restaurants, there's a movement among many Americans to save money and eat at home more often.
Achieving such a task, though, can be difficult for time-strapped consumers who may feel their cooking skills aren't up to the task of providing regularly satisfying meals.
Those sentiments have given rise to the popularity of meal services like Blue Apron, Plated, and Chef'd. For a flat weekly rate, these companies will ship a box to your doorstep with everything you need to create a meal for two (or more). They're a set-it-and-forget-it way to eat healthily.
But most of these services cost between $60 and $75 per week for two or three meals. And singles need not apply — these companies only sell meals for two or more people. In all, meals can average between $9 and $15 per person, per meal, which isn't far off from your typical restaurant experience.
I tried one of Manley's recipes to compare the cost, quality, and convenience of cooking at home versus using a meal delivery service. I consider myself a fairly busy person with cooking skills that hover around average. After testing both out, I realized those preconceived opinions may have been wrong.
The Showdown: CopyKat vs. Blue Apron
I used to love going to Bennigan's for its Ultimate Baked Potato Soup. On more than one occasion, I made a meal out of the large crocks. Sadly, there are only a few of the chain restaurants still in business, making the soup no longer available anywhere near me.
Until now. The recipe was my first search on Manley's site, and I was delighted to find it. I decided to pair it with the restaurant's Ale House Shrimp and Pasta. While the Seared Salmon and Salsa Verde I got from Blue Apron was healthier than the starchy soup and pasta, there are options for healthier meals on Manley's website.
Price
Seafood traditionally isn't cheap, but I was surprised that the ingredients for a very large crock of soup (there were leftovers after my family of three finished) and large portions of the shrimp and pasta cost a total of $22.34.
The Blue Apron delivered meal broke down to $9.50 per person, for a total of $28.50.
Although the CopyKat meal came in cheaper, both options were substantially less than the same meal at a restaurant would cost.
"Restaurants build their whole financial structure around your food costs being maybe 20% on the high end," Manley said. "If you're paying $15, that food probably cost them $4.50 to make. Keep that in mind when you're planning your grocery lists."
Quality
Blue Apron ships quality ingredients with their foods. The spices and greens were similar to what I'd purchase in the store and the addition of a pink lemon was great, as I used to grow them and they're almost never available in grocery stores.
The beauty of Manley's recipes, though, is that you can base the quality of your ingredients on your budget. I upgraded some of the ingredients in the recipe and still managed to stay under the spending limit.
"You can always upgrade recipes with better quality meat, spices, or other ingredients," Manley said. "Some people who have allergies tend to know what to substitute in a recipe as long as they know what is in it. That helps people out."
I'd call this category a tie since both meals were of higher quality than what you'd get in a typical restaurant.
Convenience
Blue Apron correctly estimates the cooking time for the Seared Salmon and Salsa Verde to fall between 30 and 45 minutes. The salsa was fairly easy to prepare with the pre-measured ingredients, but the salmon, by its delicate nature, required a little more supervision.
Manley's recipes took 45 minutes from prep-to-plate but had an active cooking time of about 10 minutes. I put everything where it needed to be, took the dog for a walk, and came back to a meal that was almost ready to eat.
Having premeasured ingredients definitely makes Blue Apron's meals convenient, but it also removes some of the creativity you can have in the kitchen, as you have only so much to work with.
On the other hand, my grocery shopping for Manley's recipes left me with extra shrimp, pasta, and a few other ingredients that I could use for future meals.
"Most of these meals may have an active time of about 15 minutes and then a cooking time around 30 minutes," Manley said. "In the end, it may take an hour, but you're not actively involved. You can literally bake a chicken by throwing some herbs and seasonings on it and popping it into the oven. You barely have to touch it. Forty-five minutes and it's done."
The Winner
In this wannabe chef's opinion, CopyKat recipes are cheaper, more convenient, and flexible in terms of the quality of ingredients you use. Plus, the recipes were so easy to use that, in the end, I actually felt like a capable cook.
I wasn't as impressed with the presentation of Blue Apron's box, which looks pristine on the advertisements, but came to my doorstep dented and mixed up. While the fault for that falls more on the delivery service than the preparer, it still damages part of the experience.
From the stories I've heard of people's experiences — including Manley's — with meal kit services, delivery seems to be a problem.
"I've used those meal services as well and have various experiences," she said. "Some of them had great meals, but the delivery wasn't great. The meals would show up three days later as a mess in a box and left me scrambling to figure out what to do about dinner."
Maximize a Food Budget with a Little Flexibility & Creativity
Manley not only specializes in creating dishes that are nearly identical to their restaurant counterparts, but she prides herself on helping readers save on their grocery bills while eating meals they love.
"The thing I try to do is maximize a grocery budget," she said. "We all sometimes need to watch our budget and what we're spending. The best way is to be selective about what you put together. You can't eat steak every night and have it be cheaper than a meal service."
Manley's suggestion is to mix meals up — if you want to have steak one night, you can have a cheaper pasta or omelet the next night. Planning meals in advance will also help save on a grocery bill.
"Maybe on a Sunday you can roast a chicken," she said. "Then throughout the week, the leftover chicken can turn into chicken salad, then maybe some chicken enchiladas. You're basically cooking three meals at once and saving time and money overall."
Reclaim Power Over Your Portions and Food Spend
Manley grew up in a small Texas town that had one blinking traffic light and no restaurants worth bragging about. Throughout high school and college, she worked in various kitchens and attended a chef's school to sharpen her skills.
Today, she enjoys helping her readers reclaim the joy of cooking while saving on their grocery bills.
"My goal is to help people cook things they're familiar with while saving money," she said. "Think about it — restaurants, for the most part, do not employ chefs or people that have culinary certificates or degrees. If they can cook it, why can't you?"
Manley said she receives regular emails asking for tips for cooks who are just starting to find their way around the kitchen. While she's always willing to respond with advice, she's also published a cookbook and has more than 600 video recipes on her YouTube channel to assist when needed.
"I always encourage people to start with things that aren't overly complex," she said. "Start with an easy recipe because there's no reason why something that's easy can't taste great. Once that skill gets honed, you can get more complex."