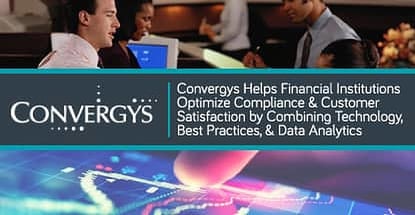 credit card news
Our experts and industry insiders blog the latest news, studies and current events from inside the credit card industry. Our articles follow strict editorial guidelines.
In a Nutshell: User experience (UX) has become a buzzword in the financial sector — and for good reason. How an end-user interacts with an organization can impact brand loyalty and bottom lines. Providing optimal customer experiences can be especially challenging for financial institutions that have to juggle customer satisfaction with regulatory compliance. That's why these organizations are turning to service providers, like Convergys, for UX outsourcing. Convergys doesn't separate compliance and customer service. Rather, the company operates on the premise that maintaining compliance and improving customer experiences are working toward the same goal. Through technology, operational prowess, and data analytics, Convergys optimizes every interaction a customer has across channels, ensuring that each individual gets uncomplicated, personalized support while adhering to regulations.

Financial institutions rarely have it easy when it comes to reaching new customers and building long-term loyalty. First, there's the steep competition of other firms, startups, and businesses. Then, there's the fact that every financial institution faces strict regulations, higher fraud risk than most industries, and increasing customer expectations in the face of a growing digital space.
The best companies know success is built on optimizing the communication between their brand and customer base. That means putting customer support first while simultaneously evolving their processes by adopting new technologies.
Convergys provides services specifically designed for the financial industry to optimize customer experiences. By marrying customer satisfaction and compliance goals, Convergys delivers personalized support to keep customers happy and organizations in line with the regulations that impact their business.

Handling more than 1.65 million financial contacts a month, Convergys is adept at assessing and designing personalized customer experiences specific to an organization's unique needs. By using the company's services, financial institutions can focus on other aspects of their day-to-day responsibilities without worrying about whether their customers are taken care of — and whether those customers' accounts are safe. Convergys aims to give organizations the ability to seamlessly build and maintain compliance and consumer trust.
Improving Customer Experience & Maintaining Compliance Are Part of the Same Goal
Convergys knows that compliance and customer satisfaction aren't mutually exclusive. In fact, the company believes actively focusing on both aspects leads to more success overall. In the financial industry, customer service has to encompass both compliance requirements and traditional personalized support, which can feel like a juggling act.
But, according to Convergys, that's actually what institutions should embrace. It describes contact centers as "the ground zero for regulatory compliance and fraud detection/prevention," which means they're the places where companies can make the most impact.
In a recent report, Convergys notes how compliance laws are designed to ensure fair consumer treatment. However, these laws can also be viewed as opportunities to better the customer experience. For Convergys, merging customer experience and compliance means building trust between customers and companies. And that's exactly what every financial institution wants.
By streamlining the customer support process, Convergys cuts down on rambling phone calls that only end in customer frustration. Instead, Convergys uses a combination of technology, a perfected operational system, and state-of-the-art data analysis to ensure that phone calls are short, effective, and leave the customer feeling heard and helped. This is the first step in re-establishing the trust that past years of security issues have called into question. And Convergys is founded on trust.
Omnichannel Technology Drives Increased Customer Loyalty & Revenue
When companies take a customer-first approach, they inevitably build trust and brand loyalty. But that means financial institutions need to think like their customers and implement technology that works with, not against, them.
In today's digital world, customers will reach out for help on whatever platform requires the least amount of effort, often resulting in non-linear interactions across various channels. This poses a unique challenge. Financial institutions need to engage with customers in a way that cuts down on forcing them to repeat information and also make the most of their customer support in terms of cost and revenue.
Convergys's Omnichannel Technology helps meld multiple checkpoints together to improve customer experience overall, which inevitably leads to happier customers and more consistent compliance. The technology is designed to support Convergys's cyclical approach to customer satisfaction, which inevitably leads to trust.
The service breaks from traditional siloed support methods by allowing customers to reach their financial institutions via channels like social media and email. But the technology also provides a way to conduct business in reverse: by combining all the data from various channels in one place, institutions can also optimize their sales based on what they already know about a consumer, meaning they can nurture ongoing relationships that yield higher value. With Omnichannel Technology, financial institutions can build trust across every platform, fix issues faster, and grow their own business in the process.
Interaction Hub Offers 360° View of the Client & Streamlines Communication
Context is everything, which is why Omnichannel Technology includes a truly unique service: its Customer Interaction Hub. Convergys describes the service as a 360 view that is created through three separate elements.
First, there's a context services manager, which connects all communications across channels in one place, then organizes and stores data for future targeted sales, thus increasing conversion rates over time. Next there's a comprehensive and flexible database where clients can track a customer's preferences, relationship history, and even their business value. Finally, there's a policy engine, which means Convergys can apply policy rules in real time to improve customer loyalty, increase revenue, and reduce cost — all while simplifying customer interactions by offering an easy-to-use application.
The system benefits all parties. Customers feel heard, policies are upheld at every sales or service touchpoint, compliance becomes both standardized and consistent, and financial institutions can actually use all that feedback to their advantage over time.
Analytics & Insights Capture Customer Sentiment Across Touchpoints
Beyond the benefits of cross-channel customer support and interactive client communication, Convergys takes the process one step further by offering state-of-the-art analytics and insights to help businesses capitalize on unprecedented access to consumer feedback. The system captures customer sentiment across every channel, then uses that data to map the customer journey in order to spotlight future sales opportunities by predicting new data-driven targets. These insights mean that institutions can optimize omnichannel findings to take responsive action, building a continual loop of customer experience, feedback, and evolution.
VOC™ Software Provides Holistic View of Customer-Facing Channels
To complete its model of flexible, scalable customer support, Convergys's Omnichannel Technology also offers what it's coined Voice of the Customer software (VOC). The service helps businesses can go beyond surface-level reports to dig deep and prioritize what's actually important to their customer base and business goals.
In short, the VOC works in four parts: it listens, interprets, reacts, then monitors. The software starts by using surveys and other services to collect data about current customers and generates reports. Based on that information, financial institutions can see what customer experience channels are working (and which aren't), build customer experience into the company culture by sharing real feedback in meetings with teams and stakeholders, and provide evidence for ongoing investment in new customer experience programs. Long-term, companies can track and monitor results via real-time reports. Like other aspects of Convergys's services, the VOC embodies a holistic approach that thinks big picture.
Personalized Interactions Lead to Improved Brand Perception
Convergys has a proven history of building customized experiences that improve how customers view brands. For Convergys, consumer trust is vital for every business regardless of industry.
That might mean working with a Brazilian telecom company with 75 million customers to help implement a massive IVR self-service overhaul that results in its customer satisfaction index rising six points, better compliance rates, and numerous best in class awards. Or it might mean partnering with an insurance provider to reduce its repeat customer support caller rate by 70-80%.
Regardless, Convergys knows how to customize solutions to suit specific customer and business needs, and the financial industry is no exception. By treating compliance and customer experience as two heads of the same coin, Convergys builds solutions that are uniquely qualified to help financial institutions change their approaches to customer support.