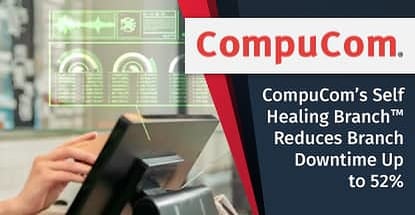 credit card news
Our experts and industry insiders blog the latest news, studies and current events from inside the credit card industry. Our articles follow strict editorial guidelines.
In a Nutshell: Financial service providers across the country depend on the performance of their networks, devices, operating systems, and applications to provide frictionless customer experiences. Downtime, even if momentary, can fracture the relationship a company spends years building with its customers. CompuCom, already a leader in IT services for financial institutions, recently announced the release of its Self Healing Branch™ solution that uses predictive and proactive technology to monitor, detect, diagnose, and resolve performance issues without the need for end-user intervention. The adaptive solution creates automation libraries that expand as new opportunities for automation are found and added through daily branch activity.
Banks and credit unions serve a variety of customers each day both in and outside of a branch. A typical snapshot could find a child and his parents waiting in a branch line to cash a birthday check from Grandma, a 20-something attempting to open a new account via an online or mobile channel, and a retired couple transferring funds online or receiving investment guidance while enjoying their dream vacation on the other side of the globe.
These experiences, and thousands like them, can be simultaneously ruined by the four words every bank manager loses sleep over: The system is down.
Suddenly the child is upset and his parents blame the bank. The 20-something decides not to open the account and the couple on their vacation vow to change institutions as soon as they return. Meanwhile, the problem with the system still exists.
CompuCom is a leading provider of managed digital workplace services for financial service providers and other large enterprises across several vertical markets throughout North America. The company's latest product, the Self Healing Branch™ is an ambitious project and aims to solve the issues banks and other financial institutions face when productivity systems go down and, more importantly, before they go down.
Downtime, even if only for a few moments, can ruin the trust and goodwill financial service providers spend years building with their customers. Outages slow productivity and cause frustration with employees and customers alike. The work required to diagnose and resolve an issue and later restore customer confidence and trust is costly and disruptive to business.

The Self Healing Branch is able to monitor, detect, diagnose, and resolve performance issues without the need for end-user intervention. The solution allows bank employees to focus on providing a frictionless experience for customers without fear of downtime.
"This is transformational as it provides financial institutions with added proactive safeguards to ensure streamlined, efficient interactions with technology in the bank branch. It is one less thing to worry about and becomes all about customers and their experiences," said Ross Feldman, CTO of Financial Services at CompuCom. "Customers need to feel safe, secure and confident about their banking interactions and activities."
The automated solution leverages CompuCom's industry-leading technology to fix detected issues before they impact business, expediting — in minutes — resolutions that once took hours or days. If an issue cannot be resolved with the Self Healing Branch technology, the system automatically records the issue, opens up a service ticket and dispatches a technician, all without any employee intervention.
"Essentially, the big market differentiator that we're providing is our ability to diagnose and resolve issues without human intervention," Feldman said. "We deliver that with a high degree of confidence."
Feldman said the solution can mitigate up to 52% of all incidents before they hit the mainstream business operation. That number is expected to increase as the product is further tested in real-world environments.
A Predictive and Proactive Solution that Decreases Downtime
The Self Healing Branch monitors processes and devices, and automates initial troubleshooting, greatly speeding up the resolution process. When the solution discovers an issue on a covered device — such as bank check readers or signature pads — it automatically works to diagnose and solve the issue without interrupting business.
The technology constantly monitors network connections and can reset or troubleshoot any connectivity issues before they become a widespread problem. The automated "detect and diagnose" protocol pinpoints exact issues within an operating system, minimizing needless replacement of parts and expensive technician visits.
If parts or components need to be replaced, the Self Healing Branch dispatches a technician with the right parts and tools to ensure the problem is quickly fixed after the initial call.
"Our technology enables the mitigation of problems before they happen or as they're happening to minimize or completely mitigate mishaps or breakages," Feldman said. "That creates a much better experience that reinforces trust and productivity, and provides a seamless interaction from start to finish."
The Self Healing Branch also detects application errors or a software crash on popular platforms, like Java, Adobe, or Flash, and immediately closes and restarts the application. Reinstallation of the application happens when necessary, all without any user intervention.
Automation Libraries Grow and Learn Over Time
The Self Healing Branch's artificial intelligence processes analytics at near real-time speeds to identify automation opportunities that help clients make necessary operational adjustments. CompuCom engineered the product as an adaptive solution, with automation libraries that expand as new opportunities for automation are found and added through daily branch activity.
"Everybody is talking about robotics and artificial intelligence," Feldman said. "This is a great example of applicability in a very critical and strategic way."
As the solution monitors branch activity over time, it better understands the processes, devices, and daily routines the network relies upon. This better equips the Self Healing Branch to spot anomalous trends and dispatch protocols to solve the issue before it can cause downtime.
Frictionless Experiences that Keep Customers Engaged
CompuCom already has decades-long relationships with six of the top 10 banks in America as well as long-standing partnerships with several other credit unions, insurance agencies, and other financial service providers. The company's latest technology, the Self Healing Branch, looks to provide Finserv clients with a solution to their biggest fear — downtime.
Using adaptive technology, the product is able to monitor, detect, diagnose, and resolve device, application, and network performance issues without the need for end-user intervention. If an issue arises that the product cannot fix, CompuCom's large staff of dedicated technicians are immediately deployed.
The Self Healing Branch's transformational possibilities will be tested over the next several months as it's faced with real-world scenarios within financial institutions around the country. Until then, Feldman said CompuCom is focused on providing the same level of service and execution its clients have come to expect.
"Being able to provide flawless delivery of uptime and service, and reliability of any service you use, is paramount and critical to our success," he said. "We're dedicated to providing that, and more, going forward."