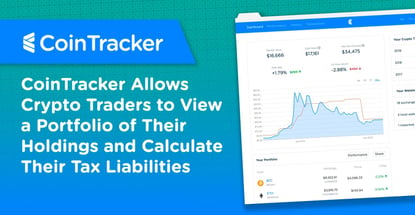 credit card news
Our experts and industry insiders blog the latest news, studies and current events from inside the credit card industry. Our articles follow strict editorial guidelines.
In a Nutshell: CoinTracker helps cryptocurrency traders and hobbyists automatically sync their holdings from more than 30 exchanges and 2,500+ coins into one streamlined portfolio. The free portfolio tracks profits and losses and all completed transactions. A well-received add-on service allows users to print all of their transactions onto a tax-ready form that calculates capital gains taxes in a snap.
Imagine being a stock trader without an organized portfolio of your holdings. That simple display of everything you own laid out with your balances, profits, and losses is often taken for granted by novice and professional traders alike.
But similar portfolios have long since been a luxury for cryptocurrency traders. Without the presence of unified exchanges, such as the NYSE or NASDAQ, crypto traders often purchase their holdings from any of the thousands of exchanges and hold their tokens in any number of hot and cold wallets scattered around the internet.
This often leads to confusion over what you own and what price you paid for each coin.
That's the problem Chandan Lodha and Jon Lerner wanted to solve when they left their jobs at Google and set out on their own. Their solution — CoinTracker — not only aggregates your crypto holdings from more than 30 exchanges and 2,500+ cryptocurrencies, but an add-on service makes it virtually effortless to calculate taxes owed at the end of the year.
But these problems weren't immediately clear to the duo.
"Our original intention was to build a traditional Fintech app that had nothing to do with cryptocurrency," Lodha said. "The goal was to make it easier for folks to save money for retirement and build wealth over the long term. The problem that we ran into was that, as developers, it was extremely frustrating to work with the ACH system for bank transfers."
When the pair tested their first ACH automatic transfer sweep — a $5 transfer from Lodha's checking into his savings account — it took 11 days to complete. And he lost about 20% of his funds to fees.
"It's a really outdated system," Lodha said. "It doesn't work on holidays or weekends, and it isn't set up for a digital age where you can do anything instantly on the internet."
So Lodha and Lerner looked deeper into their crypto hobby. Before, they were both simply interested in learning more about the currencies and technology. But they soon came to understand that this technology could one day replace the outdated ACH system.
"As we did that, we also realized we didn't have a good grasp on which assets we held, which wallets they were in, and how much they were worth," Lodha said. "We really had no insights into what was going on with our crypto portfolios."
After researching the space, they found the same issue plagued thousands of other traders. While some people used spreadsheets to keep track of every transaction they made, others simply tried to store all of the information in their heads.
CoinTracker not only displays all of your crypto holdings, but it automatically keeps track of every transaction you make. That transaction history syncs with every wallet and exchange linked to your account and keeps track of profits and losses. It can even provide suggestions of coins to sell and repurchase to reap the benefits of tax-loss harvesting.
100,000 Connected Exchanges Facilitate In-Depth Tracking
CoinTracker makes it easy for users to quickly link various wallets and exchanges to their account and begin aggregating their holdings onto one platform. Lodha said that, to date, the service actively tracks more than $10 billion in crypto transactions.
While there are several crypto portfolio services around the internet, most require users to manually input their holdings — which can become time-consuming for even the smallest of crypto hobbyists, let alone major traders.
The free CoinTracker platform tracks your holdings across wallet addresses through public information and never accesses your private keys. The automatic sync through any of the 30 supported exchanges means you can easily track your investments in real time.
CoinTracker's transfer matching algorithm also helps track trades on more complicated decentralized exchanges. Paired with the company's industry-leading tax service, CoinTracker is quickly becoming the crypto community's choice for organizing investment portfolios.
"There are a ton of new opportunities that we've unlocked by supporting crypto portfolio tracking and taxes," Lodha said. "Recently, we've been working on things that are more useful on a day-to-day basis, rather than a once-a-year tax feature."
This includes support for tax-loss harvesting — or unrealized capital loss. When a held asset falls below the price you paid when you bought it, you can sell the asset and then repurchase it at a lower price. That way, you get to reap the benefits of capital loss on your taxes and still maintain your portfolio structure.
"We've added this for cryptocurrency where it is even more impactful than traditional tax loss harvesting due to the volatility of cryptocurrencies," Lodha said.
Another recently added feature allows users to filter assets to see what percentage of their portfolio lives in exchanges versus off-exchange wallets. This lets the user understand how many third-party controlled coins they own compared to coins held in self-custody wallets.
"We try to do things that nudge people to take control of their own keys to reduce the risk of some kind of exchange hack," Lodha said. "This limits exposure to losing funds, which, unfortunately, happens all the time."
Reconciled Reports Lessen the Stress of Tax Season
Lodha and Lerner originally set out to build the definitive crypto portfolio service, but a second problem quickly presented itself to the duo while it was part of a Y Combinator winter 2018 cohort.
"It was just after the 2017 massive bull year, so people had a lot of gains and were totally panicked about how to keep track of their crypto assets for tax purposes," Lodha said. "There were no good solutions out there. We got some overwhelming feedback from our batchmates who basically told us that if we could come up with something that would solve their tax issues, they'd be willing to pay a lot of money for it."
So Lodha and Lerner helped build a prototype in just two weeks. They launched the idea on TechCrunch, got funding the same day, and had hundreds of paying users by the weekend.
The service prints out users' tax forms based on their transactional history. Pricing for the service is based on the number of transactions the user makes throughout the tax year. The service starts at $49 for a hobbyist who has 100 or fewer transactions and can ramp up to custom-pricing premium services for traders who accumulate 1 million or more transactions a year.
While that seems like an immense number of sales and purchases — 1 million in a year would average out to just over 2,740 transactions each day — Lodha said there are examples of individuals and businesses that meet that mark.
"There are a few categories of people who fall into this space," he said. "One could be businesses — like a crypto hedge fund. There are also people who are doing arbitrage trading as individuals. These people set up bots that try to make money by moving cryptocurrency from one exchange to the other and profiting off of the spread. They could easily end up with a million transactions or more in a year."
Traders often find that, as the number of transactions increase, it becomes far more difficult for accountants to sift through so many sales and purchases to calculate capital gains taxes. This solution makes it easier to automatically track, record, and calculate taxes owed without the hassle of juggling tons of paperwork.
More Solutions Planned to Cut Your End-of-Year Tax Bill
CoinTracker received instant praise for its tax services, which has the co-founders thinking of ways to improve the product with even more bells and whistles. But Lodha said its strong community of current users will decide much of what those add-ons will look like.
"There are a bunch of things that we still want to do, and we're just getting started," he said. "Most of the things we've done so far have been somewhat serendipitous, but ultimately it's driven by user feedback."

Early indications show that CoinTracker will add more countries, margin support, and other advanced features to the tax service. Many of these additions came from the hundreds of messages and comments the company receives each day through its email and on-site Intercom feature, as well as its social communities on Reddit, Telegram, and Twitter.
"We're doing all kinds of things that will help people have better crypto hygiene," Lodha said. "Whether that's tax loss harvesting, security, or self-custody of assets. That's something that we're really excited about."
CoinTracker has come a long way since its inception as a traditional Fintech application. But if it hadn't been for Lodha and Lerner's struggles with the outdated ACH system, perhaps crypto traders wouldn't have the seamless portfolio and tax-tracking services they do today.
"A lot of what we've been able to do with CoinTracker came from realizing problems that needed to be solved that we weren't originally looking to solve," Lodha said. "But once we found that the problems were happening, we knew we had something that people could use and appreciate."