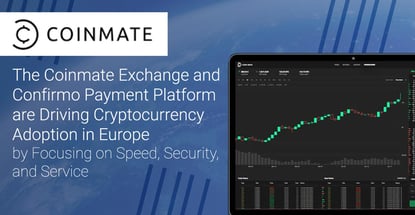 credit card news
Our experts and industry insiders blog the latest news, studies and current events from inside the credit card industry. Our articles follow strict editorial guidelines.
In a Nutshell: Cryptocurrency has the potential to solve financial inefficiencies by enabling direct exchanges across borders. But overcoming concerns about crypto's complexity and volatility has turned out to be easier said than done. That is what the Coinmate exchange and the Confirmo payment platform set out to solve in the EU. Together, the platforms drive mainstream adoption by delivering secure, convenient services that merchants, consumers, and traders can trust.
Around the turn of the 20th century, the city of Prague in the Czech Republic was a center of cutting-edge art and culture. Franz Kafka did most of his creative work there, and between 1911 and 1912 physicist Albert Einstein worked on his theory of general relativity as a professor at the University of Prague.
They were among the many bohemians who gathered in the city's burgeoning coffeehouses to exchange ideas in an environment that eventually spread all over the world. The coffee culture that evolved during that era in cities like Prague and Vienna, Austria, is now the norm for caffeine-fueled creative thinkers everywhere.

Today in Prague, a nonprofit known as Paralelní Polis (Parallel City) operates a forward-thinking coffee shop called Bitcoin Coffee that only accepts the popular cryptocurrency as payment. Since the rise of Bitcoin in 2009, crypto-anarchists — individuals, like the members of Paralelní Poli, who use cryptographic software and privacy-enhancing technologies to protect their privacy and their political and financial freedom — have come to view cryptocurrency's anonymous, borderless transactions as the basis of a new form of extra-nationalism. Bitcoin Coffee demonstrates that philosophy.
But central to those ambitions are the practical technologies that make Bitcoin transactions a reality — and platforms like Coinmate and Confirmo are working to help merchants, like Bitcoin Coffee, make that happen. Based in London, but Czech-owned and operated, the Coinmate exchange and the Confirmo payment platform are driving cryptocurrency adoption in the Czech Republic and throughout the EU.
"We want to create opportunities for people to use cryptocurrency and give it real purpose," Coinmate Head of Marketing Šimon Vršanský said.
Since its inception in 2014, Coinmate has facilitated nearly 540 million euros in Bitcoin transactions and exchanges. And major ecommerce retailers, including Czech-based Alza, rely on Confirmo to power their crypto payment platforms.
Coinmate Exchange Supports Low-Fee Cryptocurrency Trades
Notwithstanding the cutting-edge cultural overtones associated with cryptocurrency, Coinmate and Confirmo — platforms operated by Confirmo Ltd. — are finding success the old-fashioned way — delivering secure, convenient services that merchants, consumers, and traders can trust.
As a cryptocurrency exchange, Coinmate allows investors to exchange euros for Bitcoin and a few of the most popular altcoins including Litecoin and Ethereum, among others. Coinmate distinguishes itself from other European crypto exchanges by confining transactions to the most broadly accepted cryptocurrencies. And it is fully compliant with EU anti-money-laundering and know-your-customer (KYC) regulations.
"We didn't want to be like other exchanges that have hundreds of coins — we wanted to have only coins that have some background that people can trust," Vršanský said.
Czech users also appreciate that Coinmate offers fiat currency trading in the form of Czech Crowns in addition to euros. "We're the only crypto exchange that allows trading crypto against the Czech Crown," Vršanský said.
Moreover, Coinmate promotes security by enabling storage of cryptocurrencies in hot wallets, where the private keys that give access to the funds are housed online. It also offers cold wallets, where keys are housed electronically but offline, and super cold wallets, where they're housed in physical form. "We've been doing that since the beginning of the exchange," Vršanský said.
Coinmate supports one-click quick trading for those who want to buy or sell crypto within a few seconds, along with advanced functionality for more experienced traders. The advanced platform also supports stop-limit orders and other automated trades.
"It's what I use almost daily — I will just input the difference between the current price and my desired price. Sometimes it makes the trade in a day, but sometimes it takes weeks," Vršanský said.
And Coinmate accomplishes that while charging some of the lowest fees in the industry — including commissions for those who contribute liquidity to the system and help drive large volumes.
Confirmo Platform Facilitates Faster Transactions
Confirmo functions as a bridge between merchants who want to accept crypto as payment and consumers who want to use it. The platform was recently redesigned and redeployed and now includes additional functionality and flexibility for both sides of transactions.
"We also moved our database to a new server to speed up payments and purchases," Vršanský said.
Along with more efficient hardware, Confirmo offers new features for merchants, including automatic settlement downloads and printouts that dispense with the need to download PDFs manually. The system also provides easier views of balances and allows users to switch views between different currencies dynamically.
Merchants can even adjust their public profiles and customize their invoices with logos and company information. And payment button options allow merchants to personalize their brand.
"They can choose different colors, and there is a specific logo for the cryptocurrency," Vršanský said.
On the consumer side, invoices are user-friendly, simple, and smooth in appearance. Online at Alza, consumers use Confirmo-powered functionality to purchase everything from computers and mobile devices to high-end Tesla automobiles.
"It's actively used by many merchants," Vršanský said. "As the first adopters of Bitcoin in the Czech Republic — and one of the first in Europe — we want to support this technology and enable people to do more with Bitcoin than just invest in it."
Customer Feedback Drives Innovation and Support Services
Expansion plans currently focus on Europe, but Coinmate is also preparing Spanish and French versions of the platform. The team is also working on accepting additional local currencies — for example, the Swedish and Danish Crowns.
"We want to accept all the small currencies in Europe to make it more convenient for people to buy cryptocurrencies," Vršanský said. "Right now, you have to calculate from the Swedish Crown to euros and then from euros to Bitcoin — it's not convenient at all."
And Coinmate also eventually hopes to build in support for a stablecoin — a form of crypto token that is directly pegged to a fiat currency.
"Not only cryptocurrencies, but even the Czech Crown and the euro, can be volatile. So we want to have a stablecoin that non-euro users can trade against to keep the value the same," Vršanský said.
Customer feedback drives this innovation. Reviews of Coinmate confirm that customers enjoy the service for its quick and responsive customer support. Just as Confirmo built its redesigned platform in response to customer feedback, Coinmate has earned its reputation for user-friendliness by listening to its customers.
"We take all the feedback we receive seriously, and users see that we apply it," Vršanský said. "We work to make everything more user-friendly, so we're constantly developing both services while adding new features and new coins."
In the Czech Republic and other EU nations, crypto payments are increasingly possible, not only online and in experimental spaces like Paralelní Polis but also in everyday locations. The user experience at an establishment like Bitcoin Coffee can work just as it would anywhere else — which is what Confirmo and Coinmate are showing.
"We want to be the best in Europe — the most convenient for users," Vršanský said. "Our biggest advantage is that real people are happy and satisfied with our service."