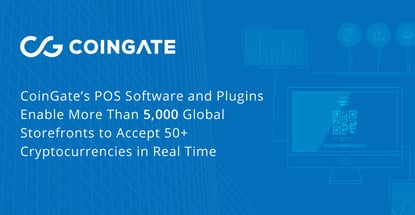 credit card news
Our experts and industry insiders blog the latest news, studies and current events from inside the credit card industry. Our articles follow strict editorial guidelines.
In a Nutshell: CoinGate offers API, plugin, button, and POS (point of sale) solutions for merchants who want to accept cryptocurrency payments for sales or services. The system allows users to accept 50 different virtual assets and holds all transacted funds in cold storage to maximize security. The company currently operates in 120 different countries and allows merchants to process transactions in real-time via a personal bank account, Bitcoin, or other cryptocurrencies.
When consumers started carrying credit cards in their wallets, retailers — or at least those who purchased the expensive equipment to accept this new form of payment — gained access to an entirely new revenue stream.
The businesses that became early adopters thrived. Those that didn't lost sales.
In many ways, cryptocurrency looks like this generation's version of credit cards. Tech-savvy retailers that jump on the bandwagon and accept various tokens as payment will earn the loyalty of crypto-enthusiasts. Those who do not may find themselves in the same boat as the companies that originally shunned credit cards.
The main difference between early credit card terminals and crypto acceptance programs is that merchants don't need a lot of expensive equipment to accept cryptocurrencies. This is especially true with industry up-and-comer CoinGate, which currently works with more than 5,000 global businesses to integrate crypto acceptance into their online and offline stores.
"Our main business is working with other businesses to allow them to accept cryptocurrencies," said Veronika Mishura, Marketing Manager at CoinGate. "We also allow additional services that help them to buy cryptocurrencies in non-traditional ways."
With the service, merchants can accept 50 different cryptocurrencies as payment, including the popular Bitcoin, Litecoin, Ethereum, and XRP. Users can also purchase crypto with mobile credit through SMS and call to a premium phone number. Unlike other crypto purchasing gateways, CoinGate allows consumers to purchase cryptocurrencies using credit cards.
CoinGate is available in more than 120 countries. The United States remains the largest entry hurdle for the company — though Mishura noted that the CoinGate team has a plan to begin offering its services to the country over time.
"We started with a very simple premise — to help businesses accept Bitcoin, while also accepting traditional currencies and moving them to their bank account," Mishura said. "There are a lot of factors we needed to consider when building the platform."
Multiple Integrations Make Adding POS Easy & Flexible
Retailers won't need a large setup to partner with CoinGate. Whether they're an online retailer or a traditional brick-and-mortar business, the company offers solutions to fit their needs and scale.
"We offer different types of integrations," Mishura said. "A key form is with plugins that work with popular online retail storefronts such as Prestashop or Magento."
The CoinGate plugin allows websites to configure their account information on a simple interface and immediately begin accepting real-time crypto payments. Merchants can also create various purchase buttons for their website that automatically link to the POS and shopping cart system.
In-person transactions process quickly through the CoinGate POS application that runs on any device with a connection to the internet. Through the app, merchants can input sales data and create a real-time crypto transaction that processes and completes in a matter of seconds — instead of the typical minutes- or hours-long hold time.
The company's powerful API integrations allow users to accept and process 50 different cryptocurrencies through one API. Whether a merchant is operating a service-based business, a retail shop, or an online casino, the API allows fully automated payment processing through sending and receiving callbacks.
Merchants can track and categorize individual payments through their own merchant portal, thanks to the unique Bitcoin and Altcoin addresses that generate with every transaction.
Cold Storage Keeps Payments Safe From Hackers
Aside from the technical know-how and equipment burden, many retailers or service providers shy away from accepting cryptocurrency because of security concerns. News reports of malicious hacks and cryptocurrency theft inevitably scare aware merchants.
But CoinGate's in-depth security features are enough to put those fears to rest. For starters, all of the cryptocurrency a retailer collects automatically leaves the volatile online ecosystem and rests in CoinGate's secure cold storage.
"When you store your cryptocurrency online in wallets, your coins aren't very secure," Mishura said. "We store all of the funds offline, which makes them available only on-demand when a merchant is ready to withdraw their funds."
Mishura noted that the cold storage process doesn't allow any leaks or other flaws that could lead to crypto theft. That's counter to services that choose to store users' crypto online in hot wallets.
"Your money is never fully protected when it's online," Mishura said. "That's why we introduced cold storage. With this method, it's basically impossible to steal the money while it remains offline."
CoinGate's system not only keeps crypto assets safe, but it makes the typically cumbersome transaction process quick and easy — which is important if you're a merchant running a business and serve multiple customers in a short period.
"Many traditional cryptocurrency transactions require multiple passwords and many steps to complete a transaction — which is difficult in a storefront setting," Mishura said. "We wanted to streamline this to eliminate some of those steps, but still keep the transaction safe."
The POS system also works to assuage any retailer fears of market volatility. Instead of basing payouts and withdraws on the current market price of an accepted coin, CoinGate keeps the merchant's balance locked into the market valuation at the time of the transaction.
"However many coins you accept during your transaction does not change when the value of the coins change," Mishura said. "Even if you wait two or three weeks to withdraw the coins, the amount you received is the amount you will get."
New Features Include Recurring Payments
As the number of crypto users continues to rise, so too does the demand for new POS technology. CoinGate is on the cutting edge of this technology with products and services that will make it easier than ever for retailers to join the crypto world.
The company will soon list a directory of all of its clients that will help consumers find merchants that accept cryptocurrency through the CoinGate platform.
"We'll also include a rating section," Mishura said. "There, shoppers can rate their purchase experience and share their thoughts with other shoppers."

Though the directory will help partnered retailers gain exposure among consumers who want to shop using crypto assets, the next platform enhancement could be a game-changer for the company.
"We're going to soon unveil a new billing feature that will allow merchants to accept recurring payments via cryptocurrency," Mishura said. "We're very excited about that new addition."
With recurring billing, consumers can pay for subscription services, payment plans, monthly dues, and other ongoing payments using cryptocurrency.
These innovations — along with a community-focused mindset that caters to the consumer — will help this new-age payment system thrive in a retail marketplace that traditionally shies away from change and growth.
And, if CoinGate has its way, it will be the POS system that leads the revolution around the globe.