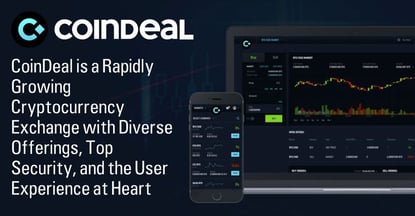 credit card news
Our experts and industry insiders blog the latest news, studies and current events from inside the credit card industry. Our articles follow strict editorial guidelines.
In a Nutshell: With more than 200 cryptocurrency exchanges, investors may feel overwhelmed when deciding which one to choose. CoinDeal, which launched in 2018, is a relative newcomer to the exchange scene, but it has already established a strong base of nearly 260,000 users. The company strives to set itself apart from other exchanges by providing a powerful platform with more than 30 available cryptocurrency pairings. And it prioritizes security and high-quality service to help users feel comfortable using CoinDeal for its crypto trades and investments. The exchange also partnered with the English Premier League club, the Wolverhampton Wanderers, garnering more than £18 million and valuable media exposure for the young company.
As with any new technology, only time will tell which cryptocurrencies and cryptocurrency exchanges will see the most widespread adoption. In 2018, Forbes estimated that there were more than 200 active cryptocurrency exchanges supporting active trading.
For comparison, 16 stock exchanges account for nearly 90% of global market capitalization.

With so many different cryptocurrency exchanges on the market, it's not surprising that cryptocurrency newcomers may be unsure of which ones are the most trustworthy and provide quality service.
CoinDeal launched in March 2018 and is quickly proving its worth in the cryptocurrency exchange market with its high level of transparency, attentive customer service, and maximum security measures.
We recently spoke with Alex Strześniewski, CoinDeal's Business Development Director, to learn more about the exchange's origins, its rapid growth, and partnering with a soccer team (or football for our international readers).
"We got started after we located an unfortunate niche; we saw a lot of cryptocurrency exchanges with very low support and bad security," Strześniewski said. "These exchanges were getting hacked over and over again. And people can't even see a face connected to the exchange."
Founders Adam Bicz, Filip Dzierżak and Kajetan Maćkowiak developed CoinDeal to connect the traditional world of banking and finance with cryptocurrency through a powerful, secure exchange where users could feel confident in conducting their cryptocurrency transactions.
CoinDeal Goes the Extra Mile to Verify Users and Adheres to the Highest Security Standards
Strześniewski said CoinDeal makes a point to take extra steps in confirming its users via know-your-customer standards (KYC) and applies the highest security for existing users.
"Some people think KYC is a bit of a hassle, but in the long run, we think users will be glad to know someone has their back," he said. "And they might not even know yet that somebody needs to have their back."
CoinDeal integrates Jumio — a leading KYC provider — and its Netverify product into the company's platform, Strześniewski said.
The exchange's verification process is a multi-step procedure, beginning with users registering with an email and password, then verifying the password. Users are also asked to provide a copy of a photo id, upload a selfie, and provide a utility bill or a similar document.
"We manually check whether the selfie matches the photo ID," Strześniewski said. "And we go through the utility bill line by line — it's all done by hand. We're trying to make sure we know exactly who we're dealing with so CoinDeal is a safe trading and investment platform for everybody involved."
He said the in-depth verification process may be a deterrent for some companies because it costs between $2 and $5 to verify each user.
And CoinDeal makes sure it maintains a high level of security for users once they are verified to the exchange, Strześniewski said.
The platform is secured by the most advanced SSL standards, and the company partners with Cloudflare to implement other security features.
"Users are protected by complex password requirements, mandatory 2FA and email confirmations needed for withdrawals and warnings about login attempts made from different IP than usually," according to CoinDeal's website.
Ease of Use and Listening to Community Feedback Helps CoinDeal Stand Apart from Other Exchanges
"In our first eight months of existence we became the 40th largest cryptocurrency exchange in the world, doing about $31 million in daily trading," Strześniewski said.
In fact, the exchange has experienced such an influx of users signing up for the platform that it is having to scale up the number of CoinDeal employees just to keep up with registration.
"We actually tripled our support team to verify more users," Strześniewski said. "We have almost 260,000 users at this point, and we can only verify 5,000 new registrations per day."
Part of the reason behind the surge is the fact that CoinDeal offers access to more than 30 cryptocurrency pairs, such as Ethereum, Bitcoin, and Litecoin, but also fiat currencies, including U.S. dollars, euros, British pounds, and Russian rubles.
Strześniewski said CoinDeal is constantly evaluating and reassessing which cryptocurrencies and fiat currencies should be included on the exchange, and the CoinDeal community plays an important role in this process.
The company adds a new cryptocurrency to the exchange each month based on a community vote.
"We really focused on the big cryptos in the beginning because that was what we thought users wanted to trade the most," Strześniewski said. "But we know there are always smaller projects that might not be as prominent on the radar that our users are interested in trading."
But listening to community feedback doesn't end there. Strześniewski said he and the other members of the CoinDeal leadership team make a point to stay connected with the exchange's community of users.
"No matter how big your support team is, there are still some cases that can fall between the cracks, so even our CEO gets on Telegram to try to help out users," he said.
Strześniewski was recently speaking at a cryptocurrency conference, and, after his talk, several CoinDeal users approached him with questions related to a user-conducted poll they had been discussing in an online forum.
"Not to toot my own horn, but I'm one of the company executives and I had seen the poll they were referencing, and I was able to discuss it with them right there at the conference, face to face," he said.
A Partnership with the Wolverhampton Wanderers Soccer Team Exposes the Brand and Attracts Users
In July 2018, CoinDeal announced that it was an official partner of the Wolverhampton Wanderers, an English Premier League soccer team. The CoinDeal logo appears on the sleeves of Wanderers jerseys and is displayed on the team's electronic signs and scoreboards.
"At CoinDeal we are very aware of the impact that football marketing can have on brand and its community, especially in an industry such as ours," said Co-Founder Maćkowiak. "We believe that a club like Wolverhampton Wanderers in the game as prestigious as English Premier League will help carry our message globally."
The China-based investment group Fosun purchased the Wolverhampton Wanderers in 2016 and in 2018 returned to the Premier League after a six-year absence.
Strześniewski said the CoinDeal leadership was drawn to the narrative of two newcomers coming together to support each other.
In February, CoinDeal announced the Wolverhampton sponsorship had generated just over £18 million for the exchange.
"CoinDeal achieves another great result from the return of the media value from sponsorship," according to the announcement. "Thanks to the presence on the sleeves of Wolverhampton Wanderers, CoinDeal noted nearly 90 million in media value and more than a half million exposures."
Strześniewski said CoinDeal probably wouldn't have half the market presence if it weren't for the sponsorship with the Wanderers, commonly known as the Wolves. He said the English Premier League is very popular in Asia, and about 30% of CoinDeal's users are in Korea and 10% are in China.
"A big part of that is because we partnered with the Wolves," he said.
Strześniewski said CoinDeal has a number of exciting developments on the horizon for 2019.
In addition to refreshing the platform and website, CoinDeal is in the early stages of acquiring all the necessary licenses to open the platform to users in the U.S. Strześniewski said CoinDeal is excited about the prospect of bringing its service to the U.S. market and the current timeline should make CoinDeal available to U.S. users by late 2019 or early 2020.