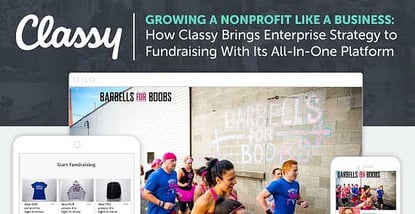 credit card news
Our experts and industry insiders blog the latest news, studies and current events from inside the credit card industry. Our articles follow strict editorial guidelines.
In a Nutshell: Classy traces its roots to a fundraising pub crawl in 2006, but has since blossomed into a powerful platform for nonprofits around the world. The founders wanted to help charitable organizations capitalize on online donations from a new, mobile generation, so they came up with responsive, adaptable tools to maximize the efforts of social enterprises. Connecting with those who have a shared passion is easy with Classy, and the platform helps a nonprofit run with the efficiency of a business — from suggesting email marketing strategies to tips for creating multiple revenue streams. In fact, Classy has been recognized by business publication Forbes as a rising star in the cloud platform community.
In 2006, a group of friends in San Diego wanted to make a difference by raising money for a good cause, the American Cancer Society. Scot Chisholm knew the effects of cancer all too well, as his mother had battled the disease twice while he was growing up. So, he and two friends, Pat Walsh and Marshall Peden, decided to put together a pub crawl, invite more friends, and raise some cash for charity.
But what would they call it?
"As we were coming up with the idea, the movie 'Anchorman' with Will Ferrell happened to be playing in our apartment, and we quickly jumped at the chance to name our first fundraiser after Ron Burgundy's catchphrase in the movie," Scot says in a post about how it all started.
The catchphrase was "You stay classy, San Diego," and the StayClassy pub crawl was born. It raised a little bit of money at first, but after a few StayClassy events, Scot, Pat, and Marshall began to see a much larger need across the philanthropic community: engaging young donors who wanted to help.
The friends started a company to help nonprofits mobilize the next generation of philanthropists. What they produced was a platform, now simply called Classy, which brings business tools and strategies, like marketing and reporting, to nonprofits to boost their overall impact.
"We want to help nonprofits not just as a platform, but by being part of their strategy development," Classy Marketing Director Erin Hall told us. "One of our primary goals, as a partner, is to provide resources that help them approach fundraising differently."
The intuitive, all-in-one nature of Classy makes it accessible even to organizations with limited knowledge of online fundraising by giving nonprofits access to powerful business tools — like email marketing, analytics, and blogs. That access is important to the founders, who wanted fundraisers to evolve to reach a new, connected generation.
A Businesslike Approach Has Grown Classy Into a Powerhouse for Philanthropy
Classy models itself after many successful companies in Silicon Valley and wanted to bring that same vision for growth to its giving platform. Classy is a disruptor in the charitable world where many have not begun to take advantage of innovative strategies to boost donations.
The platform allows a nonprofit or cause to quickly set up a website and start a campaign in minutes, but its power goes well beyond just posting. Classy has built in a host of features that generate impact and keep people connected to a cause. A nonprofit can easily crowdfund, sell tickets and registrations, or create a community of active donors.
And after the donations have rolled in, or an event has ended, Classy's platform offers marketing tools to keep the conversation going. Staying connected to those with shared passions not only creates a community but activates it. That connection can help any cause move beyond just friends and family to actively source donations and create recurring revenue.
Classy also offers robust reporting tools to provide a nonprofit with a clear picture of where donations are coming from and which campaigns are most effective. For-profit businesses use similar tools, and they reap the benefits in increased revenue. Classy has brought this power to nonprofits with passion projects being the beneficiaries.
"As an organization, we believe in multiple streams of revenue for nonprofits," Erin told us. "A robust portfolio of campaigns, including recurring giving, matching, corporate sponsorship, crowdfunding or peer-to-peer, is the aspiration."
Classy's hard work has earned it a spot on Forbes' Cloud 100 Rising Stars list which is composed of a plethora of fast-growing, for-profit cloud companies. That kind of accolade isn't common among businesses in general, and much less for one that serves charitable organizations. That businesslike approach has thus far earned Classy over $50 million in funding, allowing the company to focus on expanding its global reach.
Still, one of Classy's goals remains to expand the effectiveness of partnerships between nonprofits and companies.
Empowering Nonprofits to Capitalize on Corporate Donations
Many for-profit businesses have a long history of philanthropy, with some larger entities dedicating an entire arm to charitable giving. Classy helps nonprofits capitalize on corporate giving and is constantly helping users come up with new strategies through tips from its platform tools and blog posts.
Partnering with a business is a strategy even the smallest nonprofits can use, as companies in every community are looking for opportunities to collaborate with charitable organizations. These sponsorships are so game-changing that Classy has written an entire guide on pitching to corporate sponsors.
"The idea of a corporate sponsorship can seem overwhelming, but it doesn't have to be a huge corporation," Erin said. "We help causes see the opportunities that are in their own backyards."
As with partnerships between companies, nonprofit-business relationships must sometimes be nurtured. According to one study, it can take 6-9 months to arrange a $100,000 sponsorship. For nonprofits, that means a lot of communication, and a pitch similar to securing a business-to-business contract. It can pay off in the long run, though, because a partnership with a company can give a nonprofit a secure revenue stream and provide a boost in brand awareness for both parties.
With Classy, a cause can find information on other effective ways to get into corporate giving. Many companies offer matching gifts, meaning if an employee donates a certain amount to charity, the company will match it. The match can be partial, full, or even exponential. Classy covers this practice in-depth on its blog, providing plenty of tips to increase those donations.
Classy wants to help all charitable organizations reach their goals and even holds a conference each year to get the brightest minds in the nonprofit sector together to talk about the future.
The Collaborative: Innovative Leaders in Charity Working Together for the Greater Good
Bringing Silicon Valley innovation to nonprofits is what drives Classy forward. With that mission in mind, the company started The Collaborative, a yearly conference where leaders in the space get together and share ideas to move forward with one goal in mind: helping others.
"What the Collaborative brings to life is the ability to build connections that nonprofits can use to grow a bigger community," Erin said.
The Collaborative brings together people representing causes that vary from the Ubuntu Education Fund to Barbells for Boobs and gives them the opportunity to learn from each other's experiences and share their success stories and insights. The conference culminates with The Classy Awards, which recognize the people who have helped transform the nonprofit world.
The shared experiences at The Collaborative can inspire innovation for all social enterprises, leading to better approaches and more impact. As disruption has impacted other industries, Classy has changed the way many nonprofits go about their work with a focus on how giving is done today.
A Complete Fundraising Platform Designed for the New Giving Generation
It's hard to imagine that a pub crawl was the genesis to helping over 1,800 nonprofits raise more than $130 million, but that is what Classy accomplished in its first year. From its humble roots supporting the American Cancer Society, it has become a platform that has continued to modernize philanthropy.
A new generation of giving is upon us, and Classy has harnessed its power by delivering enterprise-level tools nonprofits need to keep up with today's digital era. With donations now only a mobile device tap away, causes can use Classy to make charity a part of daily life. The platform helps social enterprises raise awareness through community connection and inspiration, which leads directly to impact.
"Nonprofits want to use Classy because of all the other successful organizations on our platform," said Erin. "They know they will be in good company, and that their view of the future is aligned with our aspirations for the nonprofit sector."
As businesses continue to look for ways to improve their bottom lines and nonprofits seek to help more people, the fundraising impact of Classy's mission to provide nonprofits with bottom-line-boosting business tools is being felt worldwide