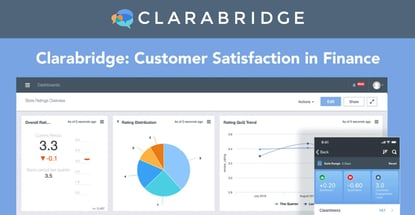 credit card news
Our experts and industry insiders blog the latest news, studies and current events from inside the credit card industry. Our articles follow strict editorial guidelines.
In a Nutshell: Traditionally, many businesses have gauged customer satisfaction based on data from random customer surveys. But Clarabridge provides an AI-powered platform that takes customer satisfaction assessment into the modern age and beyond a narrow range of solicited feedback. The company is able to monitor and gauge sentiment across multiple channels so companies can gain a 360-degree view of their customers' wants, needs, and priorities. And each client receives a custom-made data collection and implementation plan based on business goals and customer segments. Clarabridge is particularly well-suited to the quickly evolving financial services ecosystem, where technology has begun to play a greater role than it has in the past. And each client receives a custom-made data collection and implementation plan based on business goals and customer segments.
Countless studies have revealed that customer satisfaction is important for businesses. That's not exactly a groundbreaking conclusion. It makes sense that a business with unsatisfied customers could eventually end up with no customers.
But, more recent studies show that high customer satisfaction indicates that financial performance expectations will be exceeded. So customer satisfaction isn't just a box to check off on a business's to-do list, studies show. Businesses with higher customer satisfaction have better earnings than most people — including their own management — expect.
That means the random sample company surveys of the past won't cut it anymore.

The businesses conducting these customer satisfaction surveys are getting a very narrow selection of information known as solicited feedback, said Fabrice Martin, the Chief Product Officer at
Clarabridge
, a company that specializes in understanding customer satisfaction.
"You just think of a few questions you want to ask your customers, design a survey, and send the questions to your customers," he said. "But it's not necessarily reflective of what the customers really want to talk about. It's reflective of what some statistician or customer experience professional wanted to ask."
So, as a company specializing in customer satisfaction, how is Clarabridge different from one of these survey companies?
For starters, Clarabridge isn't a company that pumps out generic surveys that reveal a small slice of the customer satisfaction equation. Clarabridge's mission is to win the hearts of customers. The company accomplishes this by applying best-in-class technology, award-winning leadership, and experience with a multitude of top brands.
"Hundreds of brands rely on our technology to listen to their customers and make informed decisions," according to the company website. "We're passionate about delivering superior customer service and support and helping them improve their customer experience."
Listening to Customers in a Variety of Ways to Improve Their Experience with Brands
Founded in 2006, Clarabridge is a spinoff of the founders' earlier consulting company. Clarabridge was intended to bring more clarity to how companies analyze unstructured data to gain a better understanding of customer sentiment.
"We started ingesting surveys and providing analytics to our customers based on the surveys," Martin said. "But, very quickly, we saw the need to expand to other sources that are not so limited — more unsolicited sources."
That meant leveraging technology to gain a much more in-depth and accurate picture of what a company's customer looks like in terms of wants, needs, satisfaction, and general sentiment.
"We've always been focused on customer experience and very specifically on using technology, such as text analytics and natural language processing, and applying it at very large scales to customer feedback," Martin said.
Clarabridge provides these insights to its customers in real time or in aggregate, so they can then take actions to improve the customer experience, reduce customer efforts, increase customer loyalty, and boost a customer's lifetime value, Martin said.
Clarabridge uses leading AI technology to listen to customer interactions across numerous sources, including call center phone calls, chats, social media engagements, online comments, and emails.
"All of those are super, super important sources of customer feedback," Martin said. "And they are the ones that the customer really cares about if the customer is taking the time to call or email or write a review."
Clarabridge also helps clients analyze its AI-fueled insights to see what's driving feedback volume, sentiment, and satisfaction, then helps them act on the data.
"Use the data to empower teams, drive operational improvements, solve for points of friction, and improve overall customer experience," according to the website.
How Clarabridge is Perfectly Suited to the Changing Finance Industry
Clarabridge's progressive technology has proven to be valuable to a wide-ranging number of industries in recent years, but the financial services industry is a particularly good fit for the company's services.
"In the early days, we had a few financial services customers but we were heavily focused on hospitality and big retail brands," Martin said. "That has changed dramatically in the last four to five years."
Martin attributes this shift to a number of factors, including the fact that the quickly evolving finance industry has become a much more competitive space over the past few years.
"There's also a higher level of scrutiny of the industry, both from a government perspective and from a customer awareness perspective," he said. "Some high profile hacking and identity theft cases have made consumers in general much more aware and much more careful about what's going on with their bank, or their mortgage, or their insurance company."
Another big factor is digital transformation, Martin said. Many customers are interacting with financial institutions much differently than they have in years past, which means the customers' priorities are changing.
"The Clarabridge Banking Solution applies industry expertise, relevant KPIs and industry models, and pre-packaged dashboards to help banks and financial institutions discover insights that are relevant to numerous functions throughout their organizations," according to the company website.
Clarabridge focuses its banking solution into four main areas: complaints and compliance, mobile app and web experience, branch and ATM experience, and contact center experience.
"Monitor ease of use and resolve issues with digital transaction experiences. Sentiment, satisfaction, and effort analysis identify opportunities for self-service improvements," according to the website. "Conduct a deep dive into ATM experience and evaluate satisfaction based on location, branch appearance, transaction ease, facility experience, maintenance needs and much more."
Martin explained how digital experiences entail not just a bank's website, but its mobile app, gamification initiatives, ease of transactions, and much more.
"It's a whole new arena of competition for financial institutions where, frankly, they need technologies like ours to keep a pulse on what's going on in the market — not only for their own customers but with the competition," Martin said.
Customizing a Plan for Each Client
Clarabridge analyzes each client's needs and goals before building and implementing a plan custom-made for the company.
"From upstart consumer insights teams to large-scale multinational enterprise customer experience programs, Clarabridge partners with you to put the voice of the customer at the center of your business in order to drive results within each CEM-based improvement initiative," according to the website.
The implementation approach consists of distinct phases that go toward optimized business and product experiences for customers.
"We begin by assessing your program's current state and future objectives, and then partner with you to develop a side-by-side roadmap to achieve incremental milestones for your key initiatives," according to the company.
Clarabridge gathers pertinent information, including identifying key customer segments and their journeys to measure customer relationships and interactions.
"We align with you on a joint implementation plan and show you how structured and unstructured customer feedback data can be visualized by customizing industry-specific categorization models and sentiment packs," according to the website.
The company then creates the technical components of each solution by automating feedback sources into the Clarabridge platform. Then, the company designs and implements the components while focusing on how end-users will act on the data insights.
"To enable your business partners to understand how they can view insights on a regular basis and analyze key drivers of customer sentiment, reporting frameworks are designed and automatically deployed throughout your organization from executives to frontline teams," according to the website.
Finally, stakeholders will be exposed to the platform capabilities and they will learn how to support their specific needs so they can act on customer insights and integrate them into existing operations.
Applying Data to Help Companies Maintain Happy Employees, which Leads to Happy Customers
Martin said one of Clarabridge's latest endeavors involves applying its customer satisfaction technology to learn more about employee satisfaction — with the ultimate goal of making customers happy.
"(Technology analysts) Forrester and Gartner have done studies on this, but happy employees were highly correlated with happy customers," Martin said. " And productive, happy employees also relate to a better customer experience."
He said one component of implementing this approach begins in call centers, where quality control has historically been done by monitoring a random selection of interactions. Instead, Clarabridge's AI-based technology can essentially gauge employee behavior and sentiment on every single call, chat, or email.
"It generates happier customers in the sense that they're getting the best possible service, and agents and employees are being measured fairly and consistently for their performance," Martin said.