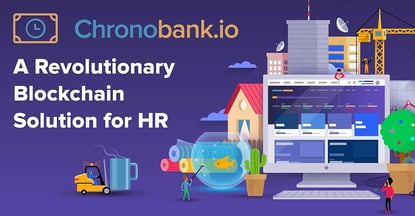 credit card news
Our experts and industry insiders blog the latest news, studies and current events from inside the credit card industry. Our articles follow strict editorial guidelines.
In a Nutshell: As companies and the labor force become increasingly globalized and digitized, managing projects and employees can grow more complex. ChronoBank uses a blockchain-based suite of products to help resolve some of today's biggest HR challenges. Its flagship product, LaborX, integrates seamlessly with its other products — TimeX, DMT, and the ChronoWallet — to form a labor ecosystem for today's world. The company is aiming its HR solution at the Australian market for its initial launch phase, with plans to spread to Europe and possibly the U.S. or Asia.
In an increasingly global and digitized labor force, companies are having to keep up with freelancers and independent contractors, while managing full-time employees that may be scattered across the world. Among the greatest challenges in these scenarios are hiring, timekeeping, and distributing payments.

And freelancers or contractors may require payment in a different currency than the currency used in a company's home country.
ChronoBank is taking advantage of blockchain technology to help solve challenges that many human resources departments face.
The Australian-based company set up shop in 2016 and has been working steadily to develop a suite of HR products that come together to form a complete ecosystem that includes a hiring marketplace, decentralized exchange, multicurrency wallet, and time-based coin.
Using Blockchain to Achieve a More Equitable and Simplified Labor System
ChronoBank provides companies with a decentralized platform that seeks to provide an automated solution for hiring individuals and managing work contracts, said Florenz Brunner, ChronoBank's Community and Support Coordinator.
Rather than an HR solution based on traditional models, ChronoBank uses the digital ledger approach that makes the process of hiring more cost-efficient and saves time.
Brunner said the model works well in the freelance industry, although the approach can be used for anybody who is seeking a job as well as by companies in any industry looking to hire new talent.
"Everything that has to do with job matching and invoicing can be done with ChronoBank," he said. "Traditional leading platforms are charging high fees of 20% and because we are using blockchain technology, we can make it so we only charge a flat fee of 1% for every job connection that is made through our platform."
He said another advantage ChronoBank offers over traditional hiring platforms is that the process cuts out the gatekeepers and job-seekers and employers can connect directly.
The company's goal is to apply blockchain technology to the "high-stakes world of hiring, to help HR managers and candidates transact faster, smarter, and with far less risk."
While most people associate blockchain technology most closely with cryptocurrency, such as Bitcoin or Ethereum, the technology itself can be applied to a wide variety of practical uses.
ChronoBank is committed to making the technology accessible to everybody, Brunner said. The company's products are designed to be consumer friendly and ready for mass adoption.
A Complete Ecosystem with Tokenized Labor Hours, Smart Contract Management, and Reputation Scoring
ChronoBank currently specializes in four main products that work together to form a complete ecosystem, Brunner said. He walked us through an overview of each of the products and the ways in which they interact to improve the HR experience.
LaborX is ChronoBank's flagship product
LaborX is the decentralized marketplace in wherein clients can list job openings, available assignments, and other vacancies. Likewise, freelancers and other job seekers can use LaborX to connect to open positions. Workers who contract jobs or positions through LaborX will be paid in ChronoBank's Labor Hour tokens.
Brunner said Labor Hour tokens function on a fork of the Ethereum blockchain. They are stable coins that are backed by the workforce on the LaborX platform. He said the Labor Hour stable coins give workers confidence in knowing their payment won't be susceptible to fluctuating values like those of Bitcoin, Ethereum, and other cryptocurrencies.
TimeX is a Decentralized Exchange
TimeX is ChronoBank's decentralized exchange that functions on the same Ethereum sidechain the company uses in its LaborX product.
"We provide you with access to tens of tokens all over the world. Trade everywhere and use all available cross-currency opportunities of the unified interface," according to the company's website.
Brunner said that if a client is paid in Labor Hour tokens but they prefer Bitcoin, Ethereum, or even fiat currencies, they can take them to TimeX to exchange them for the desired form.
DMT Simplifies Blockchain Management
DMT stands for Distributed Blockchain Middleware Tracker, and ChronoBank asserts that it's a company's bridge to the blockchain.
"Make all platforms act as your own service with DMT," according to ChronoBank. "DMT is a micro-services based platform, which aims to unite the different blockchain implementations into a single ecosystem, with a unified interface and excellent scalability."
Brunner said DMT is positioned as a B2B product that allows a company to search for various events on the blockchain and sort various transactions based on time or other considerations.
Manage Cryptocurrencies with the ChronoWallet
ChronoWallet is a powerful cryptocurrency wallet that allows users to manage TIME and Labor Hour tokens, according to the company, and it also functions as a stand-alone wallet.
The wallet supports all major cryptocurrencies, including Bitcoin, Ethereum, and Litecoin. Again, ChronoWallet uses ChronoBank's Ethereum sidechain, which Brunner said is "deployed from our team and has its own consensus mechanism which is comparable to other staking coins or tokens."
Developing Proof of Concept in the Australian Market with a Goal of Widespread Multi-Industry Adoption
Brunner explained that ChronoBank is nearing the finish line in its product development stage and is poised to launch in the near future.
"We expect the first products to be fully operational within the next one or two months," he said.
He said a large part of the adoption effort comes from word of mouth, but, as the startup is based in Sydney, it will focus some of its initial direct marketing efforts there.
"ChronoBank has a lot of media contacts and connections in that area since that's our home base," Brunner said. "Once we have a stable user base in Australia, then we will plan to move on to Europe next. After that, depending on where we have greater influence, we will move into the U.S. or Asian market."
Brunner said he expects that, in the initial stages, the labor side will mostly be freelancers and IT professionals using ChronoBank. But he said the ecosystem is designed for and is scalable to any company working in contract management or any workers getting paid on a regular basis.
"The LaborX platform can be utilized for essentially every type of industry," he said. "There are no limitations to the type of business that can take advantage of ChronoBank's products."
The company is working to educate industry players about its blockchain-based products several ways, Brunner said.
"We're attending a number of events throughout the year to educate people in HR who are responsible for matching jobs for high numbers of people," he said. "We're also spreading the word through marketing and peer-to-peer education via our management and their connections to the industry in Australia."
ChronoBank is also working on developing an "immutable reputation system" that will be based on specific algorithms through close partnerships with other companies. Brunner said the reputation systems will allow employees to rate employers and vice versa.
"It won't be unfair for one side — it's very balanced," he said. "And if a worker is not good in one shop, it's not like it will haunt him for the rest of his career because newer reviews will outweigh older ones."
Brunner said ChronoBank has a lot of developments in the works. For him, the most exciting component is LaborX.
"As the main part of the ChronoBank ecosystem, all the products revolve around that platform," he said. "And because of its decentralized nature, its functionality and features are very unique in the industry."