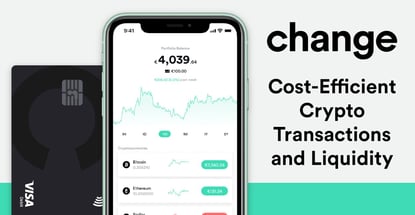 credit card news
Our experts and industry insiders blog the latest news, studies and current events from inside the credit card industry. Our articles follow strict editorial guidelines.
In a Nutshell: As the cryptocurrency ecosystem continues to evolve, Change has stepped up in the European marketplace to combine crypto investing with traditional banking features. The company's wallet app allows users to buy, sell, and trade cryptocurrencies in a simple, straightforward, and commission-free interface. And the Change crypto-friendly debit card lets users convert and spend cryptocurrency around the world. All the while, security remains a top priority with Change implementing the latest and most secure safeguards to protect its users and their sensitive data.
When Kristjan Kangro was immersed in the world of venture capital funds in 2015, he noticed how the same wealthy investors were provided with opportunities to invest in successful projects for big returns, over and over again.
The system was clearly built to favor the wealthy few who could tap into some of the world's best investing opportunities.
That's when Kangro decided to create Change, based on a simple question: "What if anyone in the world could have access to high-performing investments?"

Additionally, Kangro had been privy to pitches from some of the most innovative and hopeful startups in the world. But he noticed some things were lacking within the marketplace.
"Even during all the pitches Kristjan heard, he still felt that there was a gap there — that there was an opportunity for a crypto-style banking services provider," said Daniel Faubion, Customer Support Specialist at Change. "The idea was to put all these different sorts of crypto projects together with traditional institutions in a marketplace style business model."
And that's just what Change does for the European Union market.
"Why don't people invest? The answer is always the same — too complicated, too expensive, and who has the money for it anyway?" according to the Change website. "Change enables users to invest just €10 into cryptocurrencies. No minimum balances, no commission, and no unfair barriers. All possible by secure blockchain technology and the smartphone in your pocket."
Faubion, along with Chief Risk Officer Marek Pajussaar and Chief Technology Officer Alec Erasmus, recently provided us with an overview of Change and how it's making Kangro's vision a reality.
Buy, Sell, and Trade Cryptocurrencies Without Paying Commission Fees
Change's primary function allows users to buy, sell, and trade cryptocurrency in a simple yet secure interface, without added fees.
"Change offers commission-free trades to all customers at the best rates possible," according to the company. "Commission-free means that no fee is added by Change when making a trade. The displayed price when performing a trade is the exact price received following a quick confirmation of the purchase by the consumer."
Erasmus explained that Change can deliver its buying, selling, and trading services to customers with no commission because the company employs batch transactions, which means it does not supply individual hashes for every single buy and sell that happens on Change.
"Thousands of people from 28 countries trust Change with saving them time, stress, and fees every day they trade," according to the Change website. And Change accounts are available to legal residents in the European Economic Area over the age of 18.
For those who are new to Change or the world of trading in general, getting started is easy, according to the company.
Account-holders' funds are held in their Change euro portfolio.
Change makes it easy for users to buy, sell, or trade in the app and provides detailed instructions for new users.
"Choose between multiple cryptos and use your owned assets to purchase or trade," according to the website. "Select the asset you wish to buy and the asset you wish to sell. Once you've verified that you're happy with the entry please choose the confirmation option below."
Since rates update frequently, lingering on the final screen could result in slightly different prices due to market changes, the website points out.
"Our goal — to offer the highest limits possible without sacrificing our security or the security of our clients," according to Change. This means users can deposit up to €4,000 per deposit with no monthly limit. And there is no limit on bitcoin deposits, but the monthly withdrawal limit is €15,000.
Change's Investor Card Connects Crypto Assets to the Modern World with Real-Time Payments
Change's other main offering is its premium black debit card. Faubion explained how the card allows users to convert and spend their cryptocurrencies as if it were fiat money.
"It's actually not a direct crypto spend, but the app makes it so seamless for you to be able to just convert your cryptocurrency directly into euro," he said.
The card is a prepaid Visa debit card, he said, which is issued by Change's partner.
"Because you have to do these conversions to spend, it gets treated as a separate account in your account with us," Faubion said. "But it is a Visa debit card, which means that it works all around the world. It's a 40-million-plus payment locations card, and it works in ATMs."
The current ATM withdrawal limit is €250 but Faubion said Change is working with its partner to increase this limit in the future.
With its seamless conversion and ATM capability, Change debit card users are able to tap into the value of their digital assets and spend them with the ease of using any other debit card.
There are no monthly fees and no fees for euro payments. Non-euro payments come with a €0.5 fee. And ATM withdrawal rates vary by region.
The card aligns perfectly with Kangro's original vision to combine the emerging world of cryptocurrency with traditional financial institutions, to provide users with a convenient and efficient experience.
Security Comes First on Change
"Security first — your data, your money, our promise," according to the Change website. "Change holds your funds secure."
Change users' funds are protected in multi-signature wallets, and funds are stored in a reputable EU bank, according to the company. The company is a fully regulated crypto asset service provided and fully compliant with the EU directive.
Erasmus said ensuring user trust is extremely important for Change.
"In the crypto community, some people are more concerned about how we maintain their privacy or how we maintain a certain level of anonymity," Faubion said.
He said the company employs general KYC standards to abide by legal requirements but understands that its users prize anonymity.
"We have to let our customers know that we do value their privacy and that we find these innovative ways to make every transaction as private as possible," Faubion said. "But at the same time, from a regulatory perspective, when it comes to reporting something such as suspicious activity we'll still be able to disclose the necessary information."
The company has made a point to employ strict regulatory standards since its inception, even when they went above and beyond the standards that existed at the time, said Pajussaar.
"So whatever happens with the world of crypto — as it matures and becomes mainstream, we have already built a system that checks all the boxes that are necessary to play in the industry," he said.
Change's proactive approach demonstrates that the company is in the crypto industry for the long term, and not just to capitalize on the recent attention the industry has received in the financial world.
Expanding Services and Aiming to Become the Best Investment Firm in the EU
Pajussaar said Change aspires to become the best investment app, first in the EU, and then globally. That's why the company is continuing to expand its offerings in the near future.
"What we have learned is that you cannot be an investment app without having stocks, for example, or other traditional financial instruments available," he said. "Right now, we are in the legal process of being able to offer these traditional financial instruments."