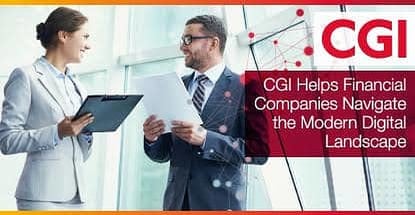 credit card news
Our experts and industry insiders blog the latest news, studies and current events from inside the credit card industry. Our articles follow strict editorial guidelines.
In a Nutshell: In the banking and financial worlds, evolving with customer trends and new technology is essential. But without an agile IT infrastructure, keeping up with the competition can be difficult at best, impossible at worst. CGI specializes in helping financial companies explore new opportunities in the digital age by building custom solutions that are both agile and scalable — meaning they work regardless of a company's size. From implementing virtual desktop environments across bank branches to its Collections360 portfolio, which helps clients automate and streamline the collections process, CGI's technology solutions adapt to suit every company and every need.
In 2012, Laurentian Bank of Canada faced a major problem that many banking and financial market institutions know too well: its dated infrastructure was getting in the way of the company's evolution. Laurentian knew it needed a massive change to compete in the digital age and it needed it ASAP, so it turned to CGI.
Laurentian was dealing with the mounting costs of maintaining servers for its 160 branches, funding software and hardware upgrades, and a massive amount of Windows-related licensing fees. But the problem went deeper: these expenses were preventing the company from engaging with its customers and working with the speed and agility it needed to gain a competitive edge.
CGI took on the challenge by implementing a virtual desktop environment (VDI) using VMWare Horizon View. With a VDI in place, Laurentian's bank branches didn't need to have dedicated hardware or servers, as all of the information could be stored and run from a central location. The VDI also eliminated the need for Windows licenses.

Through the use of high-performance, solid-state drives (SSDs), CGI increased input/output per second, and the powerful desktop virtualization design ensured that the system was prepared for downtime — both planned and unplanned. Best of all, CGI's design allowed for full storage flexibility, exactly what Laurentian needed to cut down on data storage costs and free up resources.
CGI's plan for Laurentian was a new kind of infrastructure — one that supports a virtual desktop environment that's simultaneously secure and cost-effective, flexible, and agile. Customized to suit Laurentian's exact needs, the system they'd launch would set the bank apart from its competitors and allow it to reach new digital audiences.
Laurentian now saves on energy and licensing costs, spends less time dealing with technology glitches and confusion, and — most importantly — its employees enjoy more face time with the people who matter most: the bank's customers.
Built on a Foundation of Cost Reduction, Security, and Regulatory Compliance
It's not a coincidence that Laurentian has loyally worked with CGI since the 1980s (CGI has been helping banks and financial institutions prepare their IT infrastructures for the future since 1976). It's a partnership that's evolved over decades — one that ensures that CGI understands Laurentian's every need.
CGI's business strategy places emphasis on long-term solutions. The company offers the support, security, and reliability that financial institutions need to evolve with new trends in technology and banking practices. It's not about simply building new IT solutions — it's about building them together.
CGI seeks to reduce costs long-term, ensure that the new technology adapts to risk and regulation, set its clients apart from the competition, and, of course, get a return on equity. Its three-pillar strategy ensures each project demonstrates success with benchmarks set for days, months, and years. Because, ultimately, technology is only successful if it's scalable.
First, CGI designs a transformational IT program to reduce costs — and risk — to its client by implementing regulatory compliance. Next comes the execution stage, where CGI focuses on building distinctive architecture with masterful data management. The third pillar revolves around governance. Att the culmination of each project, CGI establishes operational and production management plans as well as technical release management to ensure that the infrastructure runs smoothly in the years to come.
Throughout the process, CGI's team of 1,600-plus professionals specifically dedicated to banking and finance takes a hands-on approach and is readily available, helping every financial institution understand the implementation process and how to use its technology.
Proprietary Solutions Enhance Processes from Investments to Collections
Different companies require different solutions, and CGI's process supports that diversity through a variety of proprietary applications.
It has a flexible payments hub that supports a full spectrum of payment services called All Payments. With CGI Insight, part of its Collections360 portfolio, default managers can uncover hidden information in their collection data. By using FlexProperty, it's all-in-one property management solution, CGI makes sure that every one of its services from investments to collections is streamlined and straightforward to use.
The solutions go well beyond payments and paperwork, as CGI also provides better communication services. FASTWIRE Open is one of the most powerful financial messaging platforms on the market and can be tailored to banks of all sizes. Meanwhile, it's RFS Retail Banking solution helps institutions manage teller, online and call banking activities.
And these are just a few of the many solutions that CGI has built, and the company continues to innovate more ways for businesses to work more efficiently, whether it be a broad or a custom solution.
A Leader in Banking Industry Modernization Since 1976
Of course, it helps that CGI has been focused on modernizing the banking industry for more than 40 years. What began in Quebec City in 1976 as "Conseillers en Gestion et Informatique" (or "Consultants in Management and Information Technology"), is now an international company with 68,000 employees working around the globe.
In its first decade, CGI developed a seamless and scalable process that it would use to expand to other industries. Next, it acquired various outsourcing companies to offer clients end-to-end IT services — including technology and management consulting.
Throughout the years, CGI focused on one overarching goal: adapting to an ever-changing digital world and helping the financial industry modernize along the way. Today, CGI is one of the largest independent IT and business process services companies in the world, which is a testament to constantly looking to the future.
Partnering with 2,500+ Future-Focused Financial Institutions
Today, Laurentian meets its customer needs with more agility than ever. But the virtual desktop environment CGI created does something more: it adapts to the unexpected. Built into the infrastructure are flexible solutions to meet new needs as they arise. The project, like all of CGI's work, is future-focused. In a fast-paced world of digital finance, success is built on evolution. CGI not only recognizes that, it help companies evolve more efficiently.
In a sense, CGI functions as a catalyst, because its team works behind the scenes to help the banking industry move forward. The projects are results-driven, and the goal of every CGI consultation or IT integration project is to produce better relationships with clients, reduce costs, and streamline security practices.
Given that CGI has worked with more than 2,500 financial institutions, those results aren't much of a surprise. The company has the evidence, experience, and expertise to build quality IT solutions in a rapidly advancing landscape.