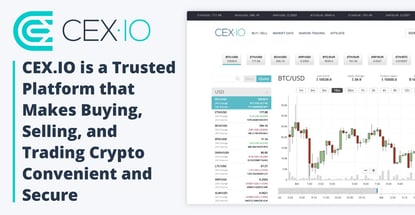 credit card news
Our experts and industry insiders blog the latest news, studies and current events from inside the credit card industry. Our articles follow strict editorial guidelines.
In a Nutshell: Cryptocurrency investors and traders have an array of platforms available to them in today's evolving marketplace. CEX.IO stands out among crypto exchanges because of its long-running and innovative track record. The company began as a crypto mining platform in 2013 but quickly evolved into a multi-functional platform that helps anyone gain access to the world of crypto. CEX.IO includes convenient features such as the ability to purchase crypto with a credit or debit card, quick liquidity, and hassle-free staking. The company's overarching goal is to create on-ramps to the crypto ecosystem while bridging the gap between the worlds of fiat and digital currencies.
Within just a few short years, words like Bitcoin, blockchain, and cryptocurrency went from being terms that were, well, cryptic to most people, to becoming a part of our everyday lexicon.
As more people learned about the world of cryptocurrency, the ways in which the average consumer could access this new decentralized world of finance expanded.

Today, crypto beginners and seasoned pros have numerous options to choose from when it comes to how they purchase or trade digital currencies. But in this relatively new ecosystem, it's not always easy to know which companies or platforms are the most secure or trustworthy.
For those looking for a safe, well-established, and convenient crypto trading platform, CEX.IO fits the bill.
The platform was launched in 2013 as the first cloud mining provider and now operates as a cryptocurrency exchange with a wide range of features that would appeal to any crypto enthusiast.
"The end of 2019 marked the sixth anniversary of CEX.IO," said Founder and CEO Oleksandr Lutskevych. "We are now over 3 million global users strong. From a bunch of former classmates in 2013, we grew into a team of 200 professionals that power the CEX.IO Group."
The company now has offices around the globe, Lutskevych said, and serves the needs of crypto markets at every level, from beginner to professional, and from individuals to businesses.
We recently spoke to Lutskevych about how CEX.IO went from its place as a leading mining platform to the multi-functional exchange that it is today. He said that, in 2012, he and a couple of his former classmates began developing some of the first algorithms for optimized Bitcoin mining.
"All of us in the inception team already had experience with building businesses in gaming, software development, and internet traffic," Lutskevych said. "So, seeing the promises of blockchain technology, we decided to build a business around it, too. A triad of businesses, to be precise: a bitcoin mining pool, cloud mining services, and a platform to trade mining power. Our motto was 'Buy, Mine, Trade!'"
Although CEX.IO provided one of the first successful Bitcoin mining services, the market quickly became flooded with competition, he said.
"At the same time, we had a trading platform, which already supported not only trading of the mining power but also trading of the resulting Bitcoin," Lutskevych explained. "It was clearly showing a path to scalability. And here we were with CEX.IO Exchange."
CEX.IO Helps Anyone Become Full Participants in the Crypto Economy
"Across all we did and continue doing, there is one need we find ourselves serving: We help everyone become full participants of the crypto economy," Lutskevych said. "Technology-driven, the emerging open finance system was initially reserved for technically inclined people. But for this system to work, it needs to be available to all."
To accomplish this, the company has focused on developing and providing tools already familiar to most people to serve as on-ramps into the ecosystem.
"If we remove the details, this is all we do over the last six years: we make various forms of participation in the crypto economy available and accessible with familiar tools," Lutskevych said. "Be that Bitcoin mining, purchasing, trading, or storing cryptocurrency — at every stage, we've focused on enabling our users to engage with the new economy in an easy, efficient, and transparent way."
CEX.IO entered the crypto business not to marginally improve the user experience but to radically transform it, Lutskevych said.
"We like to think of ourselves as a guide — someone you can trust and rely on and someone who takes you to unfamiliar places," he said. "So, as the market evolves and cryptocurrencies blend more with traditional finance, our mission of being this 'guide' remains."
This philosophy is evident in CEX.IO's range of services across multiple platforms.
Users can easily buy, sell, and trade numerous cryptocurrencies with CEX.IO, whether it's through the company's website or its convenient mobile app.
"CEX.IO is the Bitcoin trading platform that combines the crucial features: enhanced security, variety of payment options and high market liquidity," according to the company. "The team applies every effort to make your trading on the platform as convenient and safe as possible. With CEX.IO, you can always be sure that you will find what you are looking for."
Popular Features Include Debit and Credit Card Purchases, Instant Sell, and Hassle-Free Staking
Among CEX.IO's early features that drew users to the platform was its Instant Buy option, which allowed investors to purchase cryptocurrency easier than ever before.
"If you wanted to buy a digital currency and had a debit or a credit card, you could do it in a few clicks," Lutskevych said. "Back in 2015, it was revolutionary. In fact, many people bought their very first Bitcoin at CEX.IO because of how easy we made it for them."
He said this feature remains popular among CEX.IO users today. And it is enhanced by the more recent addition of the Instant Exchange and the Instant Sell features, the latter of which allows users to sell crypto and withdraw it immediately to the bank card.
"All three of these functions reflect the reality of our modern society: we want results and we want them ASAP," Lutskevych said. "Because people are used to getting what they want quickly, they do not always like to spend time figuring out how a complex system works. So this trio is for them."
He said that, because the world is still very much driven by fiat currency, it was important for the company to provide a way for its users to quickly turn crypto back into fiat. Prior to Instant Sell, CEX.IO offered, and continues to offer, bank transfer and card withdrawal options, but the new feature adds even more convenience.
"So what exactly did Instant Sell change?" Lutskevych asked. "No need to deal with placing orders on the exchange and, if you have a verified card on file, you can choose the proceeds from selling crypto to go directly and immediately to this card."
He added that Instant Sell is not intended as a way for users to pay regular bills via cryptocurrency, but it can be a lifesaver for unexpected or urgent situations.
Another feature that Lutskevych said CEX.IO users are excited about is its hassle-free staking functionality.
"For simplicity, staking refers to literally placing coins at stake in order to obtain the right to validate blocks on a network," the CEO explained. "Participating in consensus, validators are entitled to compensation in the form of coins emitted by the blockchain. So it is the analogy of mining but for the networks with a different type of consensus."
But CEX.IO identified two problems that many faced when it came to staking.
"Firstly, you need to know your way around technical stuff to delegate your coins," he said. "Secondly, your coins are locked for as long as they participate in staking."
CEX.IO fixed those issues by making staking automatic, Lutskevych said, requiring no extra steps from users.
"For as long as the stake-able coins are on the user's balance — they participate in staking. And we leave users the complete control of their coins, meaning they can be moved, traded, and withdrawn at any time," he said.
Bridging the Gap Between Traditional Finance and Digital Currencies
Lutskevych said the philosophy of bridging the gap between traditional finance and digital currencies is close to the heart at CEX.IO. He said that, by building and maintaining a solid on-ramp and off-ramp for cryptos with its crypto-to-fiat functionality, the company knows how crucial and how difficult it is.
"Let's look at the simple idea — an epitome of merging the crypto and fiat worlds — buying a morning coffee with the crypto," Lutskevych said. "On the surface, it seems simple. In practice, it is quite hard to bring to life."
He said that anyone familiar with payment systems and the payment card value stack knows how complex the system is. To issue a card, you need to be a Visa Principal or analogous role within another card network, he said, or partner with a principal. He said this is a daunting task for a crypto business.
"To become a Visa Principal is costly — it is not an endeavor for a dreamy startup founder. You need to have a solid infrastructure and a big budget," Lutskevych said. "Partnering with a Principal is also a serious undertaking. You have to meet their requirements and maintain high standards."

The point is that bridging the fiat and crypto worlds requires serious work, he said, with a lot of puzzle pieces that all need to fit together.
"Innovators in the industry connect these puzzles in various ways," Lutskevych said. "Our way is one of them."
Aside from complexity, there is another important aspect of connecting traditional finance and digital currencies, he said — the responsibility that this role entails.
"Though we, at CEX.IO, claim to be the first in some places, we've always maintained a sense of responsibility to develop the industry and grow up with it. Hence, we've opted for a regulated path in our evolution," Lutskevych explained.
Blockchain technology is very powerful, he said, and like many powerful things it can be used in both positive and destructive ways. He compared it to atomic fission — a reaction that can destroy people or solve energy supply issues.
"Blockchain too can be a key to solving big problems and also be a threat. It's a matter of the way it is applied," Lutskevych said. "Regulation exists to frame the rules of how the technology should and should not be used by the participants."
Businesses at the intersection of traditional finance and crypto economy, such as CEX.IO, carry that responsibility to a great extent, he said.
"We enable a user to travel from one state (fiat) to another (crypto) and back," Lutskevych said. "Who we allow crossing over that bridge is who will populate those two worlds."
Expanding Instant Sell Functionality and Making Services Available in More Regions
Lutskevych said CEX.IO is always working to refine and improve its platform and offerings, and will continue to do so for the foreseeable future.
"Our Instant Sell and Instant Exchange functions are available on mobile — we are anticipating bringing them to the browser too," he said. "And, of course, to expand geographies these functions are available in."
CEX.IO is looking to broaden its reach with other services as well.
"So far, we can operate in 42 states, and we are very much looking forward to getting the remaining licenses in other key states such as New York," Lutskevych said. "We look to bring our automated staking to the U.S. as well. The market evolves and we evolve with the market, both by having our existing services meet the changing demands and by adding new services addressing completely new market needs."