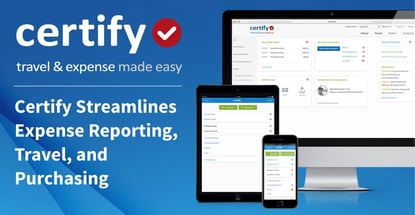 credit card news
Our experts and industry insiders blog the latest news, studies and current events from inside the credit card industry. Our articles follow strict editorial guidelines.
In a Nutshell: Since 2008, Certify has grown from a single-use receipt-capture app built for iPhone 3G into the largest independent travel and expense management company in the world. Companies in over 100 countries use tailored Certify solutions to streamline business processes, deepen insight, and manage spend more intentionally.
For on-the-road employees as well as managers and admins back in the office, the old-school way of doing expense reporting is a huge chore. Among a hundred other things, traveling employees must remember to save their paper receipts, compile their purchases in something like a spreadsheet, and wait to get their money back if they're using their own card.
Back in the accounting department, everything must be looked over piece by piece, with data entry and reimbursement requiring cumbersome manual processes. And if there's anything beneficial to be learned about how employees are spending the company's money, there's no way to tell that doesn't require a lot of extra work.
That's the reality Certify stepped into in 2008 when it built the first-ever mobile receipt capture app. As CEO Bob Neveu puts it, the company focused on solving one big problem in the most straightforward way possible.
"The App Store had just started, and we were early, early pioneers," Neveu said. "You took a picture of a receipt and you could add notes around the expense and save it. The user could log onto the web, put the expenses into a report, and send it to their managers for approval and payment."
"It was a really simple app," Neveu said. "People were like, 'Wow, this is way better than a spreadsheet.'"
From there, Certify listened to its customers' feedback and built functionality for feeding expense data directly into office accounting platforms and connecting employee credit cards to the system.
"We just kept building the product, making it better, automating the process and making it simple and easy," Neveu said. "And the business really took off, more than doubling every year in terms of revenue and employees and customers."
Core Service Automates Expensing and Deepens Spending Insight for Management Teams
Today, Certify is a fully featured core expense management platform that makes life on the road easier for employees and lets teams back home understand, report, and bring efficiencies to travel spending.
And it works all over the world. Taking on an international client in 2010, Certify began to build in global functionality. The platform supports 64 languages and over 140 currencies.
"That includes character-based languages like Japanese, Cantonese, and Mandarin, and even languages like Hebrew that read right to left," Neveu said.
Certify serves the full gamut of clients, from startups and other small businesses to established mid-sized firms and the largest global enterprises.

For businesses with fewer than 25 employees, Certify Now! includes ReceiptParse® for mobile receipt scan and autofill, ReportExecutive™ for auto-generation of expense reports, and even a location-based mileage calculator.
For firms with between 25 and 200 employees, Certify Professional includes all the features of Certify Now! plus integration for personal and corporate credit cards and accounts payable feeds for posting expenses.
Certify Enterprise additionally integrates leading HR-management and enterprise resource-planning platforms.
"Smaller businesses tend to be solving around a very distinct problem," Neveu said. "They say, 'Well, I've got 10 sales reps, three managers, and two people in accounting — that's 15 people dealing with expense reports in Excel and on paper, and it's just a mess.' We make it more efficient and help the company do that properly."
Moving up the chain, Certify compliance and reporting features help transform expense accounting into expense management. When employees are using company credit on the road, companies want the ability to discern their spending patterns, ensure compliance, identify preferred vendors, and more. A global view of what traveling employees are expensing reveals opportunities to make spend serve overall business goals, not the other way around.
Expand Integration Scope with Travel, Invoicing, and Purchasing Modules
As customers drove Certify's buildout of its core platform, the company tacked on additional services such as modules for ACH payments, travel booking, invoice management, and purchasing.

Certify Payments reimburses employees and vendors across multiple banks and borders. Certify Travel finds the best travel rates or can even function as an integration engine for a firm's preferred travel management partner.
Neveu said there's often a progression in adopting the Certify portfolio.
"As you go upmarket from 100 employees to 1,000 employees and beyond, you start to see companies saying, 'Well, I'm solving the expense problem, but I would also like to reimburse my employees through your ACH engine.' And then they say, 'If I have 1,000 employees, maybe I have 100 who use the product, and maybe 50 of those are traveling. I need air, hotel, and rental car accommodations — how do I help them be effective in travel spend?' Now they're into our travel module."
Moving deeper into the suite, Certify Invoice uses ReceiptParse to capture invoice information, check invoices for compliance, and pay them. "Our Invoice product has become really, really popular in the 100-employee-and-up range," Neveu said.

The just-launched Certify Purchasing module handles transactions going in the other direction.
"With Certify Purchasing, you can have the full online shopping experience, which means you can go to Amazon or any preset or preferred vendor and create a shopping cart," Neveu said. "The module imports the cart data and sends it to your manager for approval. They ship it in, everything links up, it gets paid."
"So we can go from a very simple expense report solution all the way into accounts payable, purchase orders, and global payments," Neveu said. And with all that data captured, everything is actionable.
Solutions Tailored with Customer Success in Mind
Meanwhile, Certify has also diversified through acquisition. In 2017, it joined the private equity firm K1, which had already acquired a few of Certify's competitors.
"Part of the deal was that they would also turn over management of those platforms to Certify — so we became a multi-brand company," Neveu said.
The combined firm has continued to acquire, purchasing Abacus to add real-time expense reporting to its portfolio and Captio to increase its European footprint. This past March, Certify joined with enterprise expense management provider Chrome River Technologies in a transaction valued at over $1 billion.
"We're now the largest independent travel and expense management company in the world," Neveu said. The combined Certify entities serve more than 10,000 customers, including some of the world's largest enterprises.
As the company has grown, the brand has remained customer-focused. It generally counsels new clients to start slowly onboarding its solutions.
"We tell them, don't upset everything overnight. Just change a small part, get everybody adopted on that, then add more functionality as needed," Neveu said.
"We're now the largest independent travel and expense management company in the world." — Bob Neveu, Certify CEO
Regardless of what a customer chooses, companies can be sure they'll receive a rollout and service experience tailored with their success in mind. With every customer doing things a little bit differently, Certify delivers not just an "on switch" but a unique consultation in accordance with the company's long-standing dedication to customer happiness and success.
And the company will have even more to offer soon because Certify remains on an aggressive growth trajectory.
"We're going to continue to grow our business both organically and inorganically and bring on new features and functionality our customers are asking for," Neveu said.
That means companies everywhere will have even more reason to join the thousands that have already chosen Certify to transform how they manage corporate travel, payments, and purchasing.
"It's been a heckuva run — 12 years of hard work and dedication," Neveu said. "And we're not done — we've got plenty more to grow."