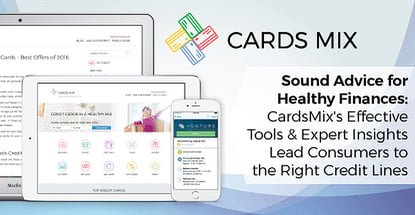 In a nutshell: CardsMix blends expertise, unbiased and accurate data, powerful search tools, and customer reviews to bring consumers a comprehensive picture of the best credit card matches for them. The experts at CardsMix use their extensive experience in consumer finance, banking, software, and design to develop an intuitive, accessible site that seamlessly works to educate and provide  users the answers to their credit card queries. No matter your credit level, if you're looking for credit cards that offer perks, cash back, or rewards, CardsMix effectively pairs consumers with the perfect cards for their given situations. //
A recent article in the New York Times noted that the number of credit card holders in the United States under age 35 is at the lowest level since 1989. Millennials, it seems, are hesitant to take out credit. This may partly be due to this generation growing up in a recession, and seeing their parents in debt after the collapse of the housing market. Millennials may be hurting themselves in the long run, however, as neglecting to establish a credit history early may result in difficulties later on when trying to, say, take out a home mortgage.
Christopher Low, a leading economist recently interviewed by CNBC, said that a healthy level of debt is not something Americans should worry about. Though the credit trend may be lowering for millennials, the $1 trillion that Americans currently hold in credit card debt, he said, "is a sign that consumers are feeling a little bit better. They're more comfortable spending money."
Whatever the cause of millennials' hesitation concerning credit cards, their reluctance may be unwarranted. Today there is so much information available to help consumers make the best financial decisions for their given situations. Holding credit cards that are correctly suited to your needs and are used responsibly shouldn't be a source of worry. CardsMix, a must-visit destination for consumers of any generation, helps people find the card that best matches with their circumstance. Its combination of search functionalities, pointed data, and expert advice provide consumers with the tools they need to find the lines of credit right for them.
Built on a Foundation of Experience in Banking, Finance, Software, and Design
CardsMix was launched in U.S. markets in early 2015 to connect consumers with credit cards compatible with their basic financial needs. "When we decided to do this kind of website, this type of platform, we did so by understanding our customers," said Alex Gerard, Founder and CEO of CardsMix. "We saw that there may be a number of people out there with not-so-perfect credit, and we knew that we could help them gain access to the right credit lines."
Alex's long history working in IT coupled with his vast experience in the banking and consumer finance world make him an excellent source for financial advice. After working with such big players in the banking industry including central banks in Russia, the IMF, the World Bank, and various commercial banking entities, Alex decided to apply his skills directly to the consumers in need of reliable information.
The site was built with millennials in mind, as its functionalities are intuitive and easily accessible on mobile platforms. "We focused a lot on the design and usability," Alex said.
"We think that's very important right now because millennials are a big market. They are always on the go, always on mobile, and they need answers fast. They need good design, and that's what we had in mind when we started this project."
Customizable Search Features Bring the Right Cards to the Right People
No matter what consumers are looking for when arriving at CardsMix, the site's search functionalities lead them in the right direction. The site allows users to combine and customize their searches by credit level, air miles, cash back, rewards points, and annual fee. Credit cards can also be sorted by categories, such as Business, Student, Travel, Gas Cards, among others.
Alex notes that CardsMix's goal is to help not just those with less-than-prime credit scores; his site also serves people looking for credit cards that offer perks. "We can help our users find the best combination of credit cards to gain the maximum rewards," he said. "Some people are looking to get cash back, some look to earn miles, and our site can help them."
The goal of the site is to help its users, Alex said. "Right now, we're using our major strengths to do that. We're working with data using complicated software, but we've simplified the process for our users, making searching and finding beneficial information on credit cards very easy."
CardsMix launched an app in mid-2015 that has many of the same search capabilities as the website. "We'll be expanding the functionality of the app, and it will eventually catch up with the website," Alex says, "but we designed it differently because it's a different media, so people use it a bit differently."
Blogging for a Better Financial Future: CardsMix Experts Are Here to Help
Perhaps one of the most useful features on CardsMix is the access users are given to Alex and his team of experts. The site's blog offers a wealth of information on an array of topics that speak to the general and specific concerns of modern consumers.
"We try to focus on the questions that are of most interest to users," Alex said. "They usually address very practical questions concerning the best courses of action in a given situation, what the best deals are, and, say, what happens when a 0% APR runs out, for example."
Just like the search tool, the blog is meant to benefit a wide range of consumers. Those who are looking to rebuild their credit can find articles on topics that include credit card solutions following a bankruptcy or which cards might be available with subprime credit ratings. Consumers looking for rewards can get up to speed on topics covering air miles, cash back, gifts, and other perks. There are even informative stories discussing the best cards for students, international travel, security, and more.
Alex would like to see the "Ask Our Expert" section of the site take off in popularity. "We would definitely like to see more people participate on the site," he said. "We have the functionality, and people have begun to ask questions." The most recent questions are featured on the site so that other consumers can see what the most talked about items in the credit market are and read Alex's expert advice.
Customers are also able to participate on the site by adding comments to the blog and by reviewing cards that they've used themselves. "It's very useful when you can read the reviews of real credit card users," Alex said, "customers like you and me."
Coming Soon to CardsMix: New Data Sources, Plugins, and Monitoring
Going forward, Alex sees big things on the horizon for CardsMix. The site will keep the same focus on delivering the best market information to consumers with the addition of more data sources. They plan on incorporating data from the Consumer Financial Protection Bureau and other data sources into their tools.
"We're also focused on creating more tools for the site," Alex said. "We have several plugins coming on the horizon, such as rewards calculators and credit card payoff calculators." Alex's long-term goal, however, is to be able to offer a free credit score monitoring service.
"That's my real goal because I think it will be very useful for our customers," Alex said. "This will give us the ability to estimate credit ranges and better serve our customers by presenting offers that are exactly right for them."
We're living in a financial and informational environment very different from, say, 10 to 15 years ago. The United States has crawled out of its recession, and the internet is now the primary driver in how we receive information. Because of sites like CardsMix, consumers no longer have to blindly accept, reject, or ignore the credit card offers they receive. The tools and insights that CardsMix provides its users are invaluable in molding a more informed, savvy consumer. Modern consumers can use CardsMix's search functionalities to find the cards that suit them in accordance with their needs. No need to hesitate. CardsMix helps users across any generation make the perfect credit matches.
Advertiser Disclosure
CardRates.com is a free online resource that offers valuable content and comparison services to users. To keep this resource 100% free, we receive compensation for referrals for many of the offers listed on the site. Along with key review factors, this compensation may impact how and where products appear across CardRates.com (including, for example, the order in which they appear). CardRates.com does not include the entire universe of available offers. Editorial opinions expressed on the site are strictly our own and are not provided, endorsed, or approved by advertisers.