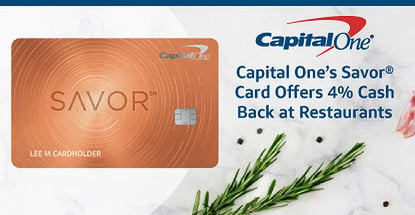 In a Nutshell: Restaurant spending has increased by more than $100 billion over the last three years as US consumers shift their spending focus from merchandise to food experiences. Dining out has become one of the country's top ways of creating memories, celebrating occasions, or just taking a night off from the kitchen. Capital One has responded to that consumer trend with its new Capital One® Savor® Rewards Credit Card, which offers 4% cash back on all restaurant spending. For foodies who prefer to do their own cooking, the card also offers a year-round 2% cash back on grocery store charges and 1% cash back on all other purchases. With no initial annual fee, this card has a lot of perks for anyone who likes to eat. //
I'm what you'd call a foodie. There's little I enjoy more than new restaurant experiences — the flavors, the atmosphere, the company. It's a way to celebrate a special occasion, escape a bad mood, or just cap off a long day at the office.
Consumers regard the experience of dining out as more than just grabbing a bite before a movie. And it shows. According to a recent Mastercard SpendingPulse report, restaurant spending in America has increased by $100 billion over the last three years, well ahead of other spending categories that typically dominate consumer budgets. The restaurant has become the hub for celebrations, dates, or just a night on the town. Food is comforting. Good company is uplifting.
Capital One studied its customer spending trends and talked to cardholders before releasing its newest credit offering to the world. Based on this feedback, Capital One's new Capital One® Savor® Rewards Credit Card is poised to become the go-to offering for people who like to eat out.
A $0 annual fee for the first year, no foreign exchange fees, and a $500 bonus if you spend $3,000 within the first three months are the cherries on top of the proverbial credit cake.

"We're really excited about Capital One® Savor® Rewards Credit Card," said Mark Mattern, VP of US Cards at Capital One. "It allows our customers to earn unlimited cash back, with 4% on dining and select entertainment, 2% on grocery store purchases, and 1% on everything else, plus there's no annual fee for the first year."
With a large stable of cards already on the market, Capital One needed to find a unique offering for its next product. With food spending on the rise and consumers leaning more toward experiences over possessions, Mark said the Capital One® Savor® Rewards Credit Card card became a no-brainer.
"This product was borne out of customer research," he said. "We listened to our customers and what they're passionate about. The passion for food as a vehicle for shared experiences came up repeatedly. Our data really backed that up. For example, the Mastercard SpendingPulse™ Report showed 20% growth in consumer spending on dining over the last three years. As a category, it's growing much faster than overall spending."
The subscription-only SpendingPulse report also showed grocery spending has increased by $30 billion in three years.
In light of those statistics, Capital One added a 2% cash back reward for grocery store expenses. Dining and food-related cards have been issued in the past, but the Capital One® Savor® Rewards Credit Card sets itself apart by replacing points and merchandise rewards with cash back, which Mark said customers have demanded over time. The fact that the Capital One Savor card offers unlimited cash back on dining really solidifies the company's commitment to making this card stand out from the pack.
In all, American consumers have spoken with their wallets, and it's clear that cash back is the preferred reward for credit card spending. Since many of those spenders are also dining out more often, Capital One expects the Capital One® Savor® Rewards Credit Card to be a big hit with consumers.
4-2-1 Cash Rewards on Dining, Grocery Stores & Everything Else
Capital One is already one of the leading issuers of rewards credit cards, with its ever-popular Capital One Quicksilver Cash Rewards Credit Card occupying wallets all across America. To expand upon that success, the Capital One® Savor® Rewards Credit Card is targeting a broad demographic of borrowers with excellent credit.
"Our target customer for this card is anyone for whom food plays a large role in their lives, especially dining out," Mark said. "There's no particular age demographic for that, though we've found that the younger millennial generation tends to value experiences very heavily. We think the Capital One® Savor® Rewards Credit Card taps into that, but this card is really attractive to a much wider demographic, based on how you interact with food and dining."
The unlimited, year-round 4% cash back on restaurants is already one of the best dining perks on the market. But offering a 2% return on grocery store spending makes the card even more valuable as a money earner that works for your most common purchases. Even if you only occasionally eat out, you likely make enough visits to the grocery store to make this card attractive.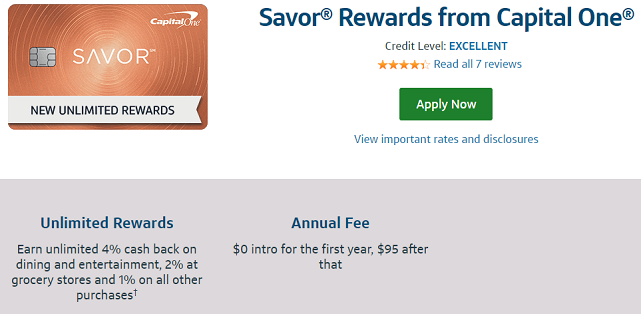 "Food is a category that customers interact with every day," Mark said. "It's where customers are spending a lot of their money. Food also tends to be the basis for a lot of our shared experiences where we create memories and emotional ties."
The card's 1% cash back return on all non-food purchases is another draw when you consider there are no caps on cash back earnings. The money you accrue can sit in your Capital One account for as long as you'd like without expiring. It can be redeemed as a statement credit or as a check mailed whenever you choose to redeem your balance.
A New Evolution of the Premier Dining Rewards Card
The Capital One® Savor® Rewards Credit Card incorporates options from the now-defunct Premier Dining Rewards Card, Mark said. And Premier Dining clients became Capital One® Savor® Rewards Credit Card holders when it was released in October 2017. "We gathered customer information on the Premier Dining Rewards card, and it was really positive," he said. "That brought on the Capital One® Savor® Rewards Credit Card, which is really the next evolution of that card. It comes with several enhanced benefits."
Those benefits include many of the technological innovations that Capital One works on regularly to add to the draw of its already popular card offerings.
"We're making a big push to bring more innovative technology to our product offerings so we can make our customers' lives easier," Mark said. "This includes things like Card Lock, where you can easily lock and unlock your card if you think you've lost it or have a potential fraud experience."
Earn Rewards for Creating Memories & Experiences
Dining out isn't a new phenomenon, but more consumers than ever are taking their entertainment budgets and spending on memorable experiences rather than purchasing items that sit on a shelf and collect dust. Eating out, and experiencing new food and atmospheres, plays into that idea more than any other social possibility.
Food is something we all need and love. It creates emotional ties and brings us closer. As spending on food and dining increases, so does the appeal for a card like Capital One® Savor® Rewards Credit Card. With a generous 4% cash back option for restaurant spending and select entertainment purchases, as well as 2% cash back on grocery store purchases and 1% on all other charges, the card can work for you as rainy-day savings or a fund you put aside for a large purchase. Either way, it's money you're earning for purchases you're already making.
At its core, Capital One® Savor® Rewards Credit Card is a social card. It takes the experiences that its customers want and rewards cardholders for treating themselves. Although the card isn't the only dining rewards card available to consumers, it does stand out for its versatility and cash back offerings, making it one of the top choices for foodies and savings-conscious eaters.
Advertiser Disclosure
CardRates.com is a free online resource that offers valuable content and comparison services to users. To keep this resource 100% free, we receive compensation for referrals for many of the offers listed on the site. Along with key review factors, this compensation may impact how and where products appear across CardRates.com (including, for example, the order in which they appear). CardRates.com does not include the entire universe of available offers. Editorial opinions expressed on the site are strictly our own and are not provided, endorsed, or approved by advertisers.