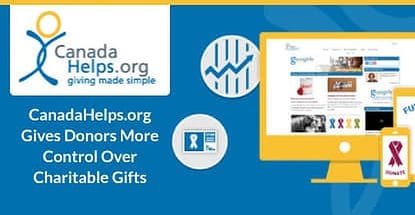 credit card news
Our experts and industry insiders blog the latest news, studies and current events from inside the credit card industry. Our articles follow strict editorial guidelines.
In a Nutshell: As a nation, Canada has one of the most generous populations on Earth. Canadian citizens consistently rank in the top 10 (of 140) countries in charitable giving, as measured by the World Giving Index. For more than 17 years, the nonprofit CanadaHelps.org has offered Canadians a single resource for discovering and donating to any of the more than 86,000 charities in its database. Anyone wishing to donate can search the CanadaHelps website and find charities by category, by immediate need, or based on personal beliefs and values. At tax time, donors who give to registered charities through CanadaHelps receive another benefit — the ability to easily access a single itemized tax receipt for all of their charitable contributions throughout the year.
Early in my professional career, I found myself working for a company that offered to match dollar-for-dollar the charitable contributions made by its employees. As a socially responsible and idealistic young lad, I, of course, wanted to take full advantage of this opportunity. However, I wanted to be sure my donations would make a difference.
I had heard of exorbitant salaries and high administrative fees at some of the best-known national charities, so I wanted to find smaller groups that would be more impacted by my giving. I quickly discovered there was no single source for researching the various charity groups out there, let alone one for identifying how efficient they were in distributing contributions. Now, this was before widespread internet access allowed for the transparency we have today. Boy, how things have changed.

CanadaHelps.org is a charitable organization that accomplishes what I spent many hours of fruitless research trying to do. This Canadian nonprofit, founded by three university friends in 2000, enables donors to give to charitable causes ranging from local community groups to worldwide organizations.
Using search tools and filters through CanadaHelps, more than 1.6 million Canadians have found and donated over $800 million to tens of thousands of charities across Canada.
We recently spoke with Paul Nazareth, Vice President of Community Engagement at CanadaHelps, who had this to say about how the organization is making an impact.
"Last year we received more than $145 million in contributions, and transparency was key to this," he said. "We're really blessed in Canada because we have a government that actually makes the data for charitable giving publicly available in our tax reporting. At CanadaHelps, we've specifically put this government-provided information right onto our site for every charity in the entire country. We're providing donors the ability to not just give, but to understand the charities they're giving to."
Making it Easy to Donate to Any of Canada's 86,000 Charities, CanadaHelps Expands Donors' Choices
There's little doubt Canadians are a generous and charitable people. In the most recent government figures, more than four out of five Canadians  aged 15 and over made financial donations to a charity or nonprofit organization in the prior year. Canada is consistently ranked in the top 10 of the most generous countries in the world as measured by the World Giving Index.
Providing Canadians the opportunity to choose from different groups that target specific needs is what CanadaHelps is all about. Donors can research worthy causes and choose from those that resonate with their personal values and beliefs. Creating a CanadaHelps donor account is the first step toward finding the charity — or charities — that fit your criteria.
Once an account has been created, donors can choose to support any charity registered with the Canada Revenue Agency. The charities are simple to sort through using the search field to find charities by name, or by using keywords that describe the organization or the work it does.
For even more flexibility and choice in charitable giving, CanadaHelps has mobile-optimized giving pages so donations can be made from anywhere. Imagine attending a fundraising event and being able to instantly donate to the cause directly from your phone.
Canadians are Leaving Money on the Table When Giving
Besides the giving propensity of its citizens, Canada also has one of the most progressive charitable donation tax credit systems in the western world. It is superior to the United States and the United Kingdom in terms of the total number of ways Canadians can give to charities and receive tax benefits. However, a wide gap exists between the number of Canadians who give to charity and those who claim it on their taxes. Paul explained the situation to us.
"The tragedy is that, while more than 80% of Canadians give to charities, only a little more than 20% actually use the tax receipt when filing their taxes," he said. "So, there are a lot of credits being given, but money is being lost by those credits not being claimed. I call it a tragedy because if these folks used the receipts and got money back in the form of tax credits, they could give again."
This is another area where CanadaHelps provides a valuable service to donors. At any time, users of the site can access tax receipts for the year, along with a record of charitable donations and transactions. CanadaHelps even makes it easy to print out a PDF version of charitable contributions made so you're prepared when it comes time to file taxes.
Canada has very generous rules surrounding the donation of securities to charities. Paul explained, "Whenever someone donates securities in Canada, the capital gain is eliminated. Donors can give more, not by changing how much they give, but by changing how they give."
Rather than cashing out a security in order to donate cash and paying capital gains on it, users can donate the security itself and pay no gains. CanadaHelps is the largest processor of online security and mutual fund donations in the country. And, of course, donors still have complete control over how much is given at any time, and to which charities.
"Just recently, we had someone donate securities in the six-figure range, and had it shared among more than a hundred charities, Paul said. "The amounts were all directed by the donor — one transaction, one tax receipt, super-efficient."
CanadaHelps Helps Level the Playing Field Among Causes
More than 18,000 charities in Canada rely on the CanadaHelps tools for charities to promote and raise funds online for their causes. For these organizations, CanadaHelps provides open access to an affordable and secure online fundraising platform so they can better connect with donors and supporters.
"There's a perception out there, and when you ask most people on the street how to make a difference, they think of the Red Cross," Paul explained. "Well, there are actually a lot of community-based organizations that can be a lot more targeted in their use of resources and money.
"After a disaster, it takes years to get a community back up and running. It takes food banks, community organizations, even local safety organizations, and local charities. If you want to have an impact on communities where you live, we make it easy."
Providing this access to the full spectrum of charities in Canada is what makes CanadaHelps such an important resource for prospective donors. Having the ability to search for specific causes and charities allows donors more choice in where they send their contributions.
As Paul puts it, "People can find organizations that are connecting not just to their desire to give back, but maybe their faith values, their community values, or even people who want to support science and scientific study."
CanadaHelps — and other similar organizations — are ensuring everyone has the ability to make a difference in their own important way. As someone who struggled to find reputable charities in the past, I can certainly appreciate the efforts of these platforms.