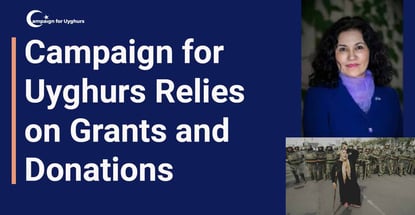 Our experts and industry insiders blog the latest news, studies and current events from inside the credit card industry. Our articles follow strict editorial guidelines.
In a Nutshell: Uyghurs have been under occupation for around 250 years and are fighting for freedom and to live with human dignity. Still persecuted by the Chinese government, this Muslim group requires assistance and awareness from supporters around the world. Campaign for Uyghurs, an awareness-building and advocacy group based in Washington, D.C., is one of the most impactful in sharing the Uyghurs' plight. The nonprofit's leadership is composed of Uyghurs living in the United States who understand the political and cultural nuances of this ethnic group's bid for independence.
An ethnic group in a northwest Chinese province has been under siege for nearly 300 years. In 1759, Chinese Manchu rulers took over the Uyghur Kingdom. After the Uyghurs expelled the invaders in 1864, the Manchus invaded again a little over a decade later.
After eight years of war, the Manchu Empire formally annexed East Turkistan and renamed it the Xinjiang Province (or "New Territory") in 1884. In 1955, under the Chinese Community Party and Mao Zedong, the territory was renamed Xinjiang Uyghur Autonomous Region (XUAR).
Today, the Chinese government reports about 12 million mostly Muslim Uyghurs living in the XUAR, though the figure is closer to 20 million, according to Uyghur sources. Uyghurs do not view themselves as Chinese, but rather, as the BBC notes, they "see themselves as culturally and ethnically close to Central Asian nations." They speak a language related to Turkish.
According to the advocacy group Campaign for Uyghurs and other sources, the Chinese government has taken a genocidal approach to this ethnic group.

"Over 3 million people are in detention without being charged, or with false and illegal charges. Counties, districts, and neighborhoods are filling quotas. China has characterized all political resistance as 'Islamic terrorism,' 'extremism,' and 'separatism,' and on that pretext developed a surveillance state built on DNA collection, ubiquitous cameras, facial-recognition software & GPS tracking devices on vehicles," the nonprofit writes.
The central Chinese government remains in control and has been moving into Xinjiang in recent decades, a migration which is "allegedly orchestrated by the state to dilute the population there," as the BBC suggests in its reporting.
China has also been accused of banning Muslim religious practices and demolishing Islamic places of worship.
"Human rights groups believe China has detained more than one million Uyghurs against their will over the past few years in a large network of what the state calls 're-education camps,' and sentenced hundreds of thousands to prison terms," the news organization reports.
A Personal Mission for Founder Rushan Abbas
Rushan Abbas was working as an International Business Development Director in the United States in 2017 when she founded Campaign for Uyghurs. Her goal was to solicit international support for her own ethnic group.
"We established Campaign for Uyghurs to raise awareness when we already had information that more than 1 million people were detained [in concentration camps] by summer of 2017. But there was not any attention from the government or media at that time," said Rushan, who is the nonprofit's executive director.
After Rushan's first public speech, her sister Dr. Gulshan Abbas, a retired MD, was detained at her home in Urumqi in the XUAR in retaliation.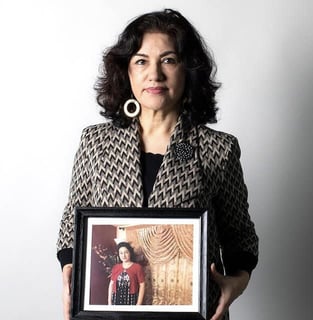 Rather than being silenced, Rushan doubled down on her awareness-raising efforts, initiating the One Voice One Step movement, a demonstration that took place in 14 countries on the same day. She also developed the Free Gulshan Abbas campaign to free her sister, who received a 20-year sentence on terrorism-related charges.
The goal of Campaign for Uyghurs is threefold. First, the organization aims to advocate for millions of voices that would otherwise not be heard on the world stage.
The second is to bring Uyghur women into the activism space.
"Since I am a woman myself and a Uyghur, I know that we are not actually involved in organizations or activism too much. So I thought of training Uyghur women to become impactful and effective advocates. Basically, they can make the entire family activists because if women start to do something in every home, the husbands and children will follow as well," Rushan said.
And lastly, the organization advocates in Washington, D.C., and around the world to mobilize governments to pass legislation in response to China's human rights abuses.
How To Support Campaign for Uyghurs with Donations
Rushan and her team are so passionate about the Uyghurs' situation that they have dedicated their careers to this organization.
While the Campaign for Uyghurs has a high profile in international advocacy, the nonprofit only has only several full time and part-time employees.
"In order to have a successful team, we need to offer competitive salaries, which we are unable to do. We cannot pay more than we are right now," she said.
Rushan and her team receive grants and donations to maintain operations, build capacity, and reach their vision. Those interested in supporting Campaign for Uyghurs can donate directly to the organization. They may also be able to donate their card rewards, miles, or cash back to the nonprofit.
To find out if a loyalty program allows for charitable donations, users should log into their card or program's charity page. Then, they can see if the company allows for donations to smaller nonprofits like Campaign for Uyghurs. Cash back cardholders can also cash out for a statement balance for greater flexibility in terms of donations.
If concerned citizens don't have the resources to donate, they can also support the organization in many other ways.
"I do a lot of video work, and we've seen quite the increase in views and shares. We've also seen our tweets also being shared on articles. From my observations, that's how we will see more of an impact on a societal level," said Arslan Hidayat, the organization's Program Director.
Advocating for Uyghurs Around the World
In only six years, Campaign for Uyghurs has broadened the world's understanding of this ethnic group's plight in China.
"There are many ways to measure impacts. Already, we have more people reaching out to us, because they either saw a panel we were on, or they saw an interview. Rushan is almost a household name when it comes to advocacy!" Arslan told us.
In February 2022, Campaign for Uyghurs was nominated for a Nobel Peace Prize for activism and advocacy done to promote the Uyghur cause for freedom.
Still, the nonprofit has considerable work to do to make the world aware of what's happening to the Uyghurs. For instance, US and international news sources report that an estimated 800,000 to two million Uyghurs and other Muslims who hadn't committed crimes were detained in camps that government authorities described as vocational training centers.
Uyghurs were often sent to these camps for participating in religious events or praying in mosques. Many of these individuals have since gone missing.
"I was just talking to my older brother this morning. His brother-in-law was sentenced to 15 years for just attending a religious celebration after the Ramadan prayer with a group of his friends. They called that an illegal gathering of a group of people for religious events," Rushan told us.
Rushan said the nonprofit's next step will be ensuring the 2021 Uyghur Forced Labor Prevention Act (UFLPA) is enforced in the United States.
Many of the so-called reeducation camps are forced labor camps that are profitable to the Chinese government. The UFLPA ensures none of the goods manufactured in these camps are sold in the United States.
Rushan said she hopes the United States and other countries will do their part to support the Uyghurs.
"It's extremely important to raise awareness and educate people so people can stand up and defend humanity. Basically, this is China's war on humanity, China's war on freedom and democracy," she said.