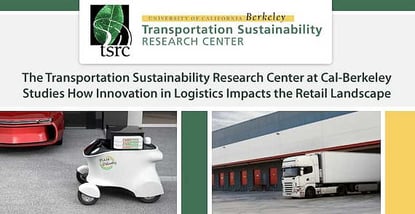 credit card news
Our experts and industry insiders blog the latest news, studies and current events from inside the credit card industry. Our articles follow strict editorial guidelines.
In a Nutshell: With the rise of e-commerce and the development of self-driving vehicles, both retail and transportation are fundamentally changing. The University of California Berkeley Transportation Sustainability Research Center (TSRC) is continuously monitoring those changes with a focus on how the retail industry relies on transportation. The TSRC team researches solutions to help industries, policymakers, investors, and innovators address inefficiencies in their operations and promote sustainability. By researching emerging technologies, the research center is able to offer insights into how transportation affects consumer shopping behavior and merchandise delivery.
Even when Adam Cohen buys socks, he's studying how the retail and transportation industries affect one another. He's also looking for improvements that promote efficiency and sustainability.
Adam is a research associate with the University of California Berkeley Transportation Sustainability Research Center, and he talked to us about his recent experience buying six pairs of socks online. In the old days, buying six pairs of socks meant one trip to the mall.
Today, online ordering means convenience, but not necessarily efficiency. Adam was able to buy six pairs of socks in one online order, but each pair shipped from a different warehouse and was delivered in a separate UPS package.
Adam said his sock situation is one example of inefficiency in the retail industry's' supply chains and transportation. To address it, he proposes that retailers, particularly those that carry the same inventory, share warehouse space to cut their real estate investment as well as the cost of fulfilling orders.
Goods movement is just one area TSRC researchers are exploring to promote sustainable transportation for retailers and consumers alike. The center formed in 2006 and brought together the expertise of six research groups at UC Berkeley: the University of California Transportation Center, the University of California Energy Institute, the Institute of Transportation Studies, the Energy and Resources Group, the Center for Global Metropolitan Studies, and the Berkeley Institute of the Environment. Its mission is guided by Co-Directors Susan Shaheen, Timothy Lipman, and Arpad Horvath.
Looking to the future, Adam said a significant research topic for TSRC — as well as for the transportation, real estate, and retail industries — will be how to respond to technological innovations such as self-driving vehicles and robotic deliveries. That will require significant policy decisions by government officials and updated best practices in zoning and planning that could transform the layout of future retail hubs and urban areas.
"How are we going to retrofit existing retail and design new retail space in a rapidly changing transportation landscape?" Adam said. "We don't know if people are going to be using private vehicles in the same percentages in five years or if they're going to be using ride-hailing for retail trips."
Identifying those issues and working to come to real-world solutions — for both industry and the environment — is at the core of the TSRC's research.
Finding Solutions to Solve Legacy Supply Chain Inefficiencies
TSRC is a valuable resource for retailers looking to innovate last mile deliveries. Adam said he has observed significant inefficiencies, particularly with the warehouses that store inventory for online sales.
"I think inefficiencies are inherent in the supply chain. A growing number of retailers — large and small — are all popping up setting up their own warehousing capacities to fulfill online orders," he said "It's almost like it's surplus merchandise; it's surplus warehouse space. It isn't necessary."
Offering a real-world scenario, Adam said a customer could easily purchase a computer, battery pack, and carrying case from Amazon. But the computer could be delivered from Amazon's warehouse, the battery pack shipped from a third-party fulfillment center, and the seller could send the carrying case directly.
That means three delivery trips which contribute to traffic and pollution.
"Even though I'm buying it all from Amazon, it's coming from three different sources," Adam said. "So one thing that needs to happen in the retail space is evolution — like airlines with alliances. Retailers might share warehouse space with each other."
With that solution, he said retailers could cut real estate costs that eat into profits. Retailers that sell the same items could also enter deals to share inventory with the understanding that "whoever sells it first ships it."
Studying the Future Relationship Between the Retail Industry & Transportation
Adam is also part of the Innovative Mobility Research unit within TSRC, a group that researches mobility technologies that could improve transportation options while reducing their negative impacts — both environmental and societal.
Looking to the future, he expects technological advances currently being tested may significantly alter the relationship between transportation and retail.
"The next wave of innovation is really going to be responding to automation," Adam said. "It will be important for cities to adapt to robotic delivery. Whether it be adjusting infrastructure, making bike lanes wider, curbs wider, or developing public policies to allow the robotic delivery, this is going to be an increasingly important issue as we move forward."
Self -driving vehicles will not only change how goods are delivered but also how consumers travel to get to retail hubs. That, in turn, will affect the layout of shopping centers. For example, instead of a large parking lot with a sea of spaces needed to accommodate Christmas shopping and the busiest month of the year, retail areas of the future may need less parking but more loading areas to drop off and pick up shoppers traveling in automated transportation.
Some of those regulatory conversations are underway. The National Highway Traffic-Safety Administration, the federal agency overseeing auto safety regulations, he said it wants to "identify and remove any unnecessary regulatory barriers" to self-driving vehicles
In California, 43 companies, including Uber, General Motors, Apple, and Google subsidiary Waymo, have received approval to test self-driving cars. Eventually, local government offices will address the pertinent local zoning codes and comprehensive plan regulations.
A Comprehensive Viewpoint of Industries, Policies, Investors, & Tech
Adam thinks about transportation and supply chain inefficiencies even when purchasing socks. Meanwhile, the TSRC continues to research ways to solve those problems, but the solutions won't come from just one area. Stakeholders in the public and private sectors will have a role in determining the future of transportation in retail.
And it will take more than the available technology to address the changes that loom ahead. Developers, real estate investors, and elected officials who set public policy are among those who will have significant input on the transformation.
"How are we going to design our cities to adapt to these changes and how are we going to change existing cities?" — Adam Cohen, Research Associate at the Transportation Sustainability Research Center
Businesses will decide how much to invest in retrofitting existing retail spaces and designing new retail spaces to accommodate changes such as self-driving vehicles. Public officials will develop regulations for robotic deliveries, and determine new fee structures developers will pay for permits, zoning codes, and other procedural expenses.
"How are we going to design our cities to adapt to these changes and how are we going to change existing cities?" Adam asked.
Those are the kinds of questions being researched and answered at the Transportation Sustainability Research Center every day.