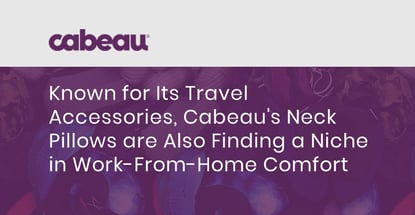 credit card news
Our experts and industry insiders blog the latest news, studies and current events from inside the credit card industry. Our articles follow strict editorial guidelines.
In a Nutshell: As a 6-foot, 8-inch professional basketball player who frequently traveled, David Sternlight could never get comfortable on planes. The u-shaped neck pillows just weren't cutting it. So Sternlight designed his own pillow, the Evolution, and Cabeau was born. Cabeau's pillows are designed with maximum comfort in mind with 360-degree neck support, raised edges, and even chin support. Today, the company also offers compression socks, sleep masks, and blankets. Cabeau's products have transitioned from strictly travel items to accessories people can use every day, whether they are working from home or gaming. The company also recently began producing non-medical face masks to help consumers stay healthy during the COVID-19 pandemic.
Imagine flying on a plane bound for Paris or Hawaii. You relax into your seat, excited about your upcoming adventure, and look around at your fellow travelers.
Several of them are wearing those u-shaped neck pillows meant to be a convenient way to find a comfortable napping position while traveling. But, the thing is, none of the people using them actually look comfortable.

That's because those pillows were designed more for convenience than comfort, according to Lynn Pham, the Marketing Manager at Cabeau, a company that knows all about comfort when it comes to traveling.
They say necessity is the mother of invention, and that certainly holds true with the story of Cabeau.
"Cabeau was started just over 10 years ago by David Sternlight, who was a professional basketball player for Maccabi Tel Aviv," Pham said. "And he was on the road a lot. He's also 6 feet, 8 inches. And so when he was traveling, especially in economy, he found it incredibly difficult to find comfort."
Those old neck pillows just weren't cutting it, so Sternlight set out to create a better travel experience for himself and others.
"In 2009, after months of development, the revolutionary Cabeau Evolution Pillow® was born," according to the Cabeau website.
Since then, the company has expanded its product offerings to include several different pillows, all with the same level of thought and care as the Evolution. Cabeau now also provides several other accessories designed for maximum comfort during travel, including sleep masks and blankets.
Pham said consumers have realized Cabeau's products are not only great for travel but are fantastic for home use as well, whether it's working or gaming, or simply trying to get a good night's rest.
Travel isn't an option as we strive to navigate through the COVID-19 pandemic as safely as possible. But some areas are beginning to see some light at the end of the tunnel.
That hope has us here at CardRates daydreaming about the next time we can cash in some credit card rewards and hop on our next flight, ideally with a Cabeau pillow in hand — or around our necks.
Neck Pillows Engineered with Ergonomics in Mind
Sternlight's main gripe with the travel pillows sold at airport gift shops was that there was no intention behind the design, Pham said. So he decided to fix it.
"The Evolution pillow has these patented raised sides, and they offer 360-degree support around the neck," Pham said. "And it also provides more chin support, which is a major issue when you're sleeping on a plane — your chin is dipping down when your head is facing forward."
The pillow — now branded as the Evolution Classic — also includes a soft velour, machine-washable cover.
"Anyone can fall asleep, but the Evolution Classic improves the ability to stay asleep," according to the website. "We put an end to stiff necks, bobble heads, and waking up on someone else's shoulder. We're the solution for everyone who thinks neck pillows don't work."
The Evolution was named as such because Sternlight wanted to be able to continue to refine his pillows or offer different features on different models. That's why today Cabeau offers six different types of pillows, including the Evolution Classic.
The Air Evolution Inflatable Pillow offers all the comfort of the original but in a version that collapses down to about the size of a soda can.
"Compact enough to fit in almost any backpack, briefcase, duffel, and more, the ultra-light inflatable core can blow up to the amount of support you want," according to the website. "The size, comfort, and convenience are also great for backpackers looking to move fast and lightly, or for quick comfort at home."
Other options include the Evo Microbead Neck Pillow and the Evolution Cool Neck Pillow.
Pham said the company's latest pillow — the Evolution S3 — offers some major updates to the original model.
"Our innovative Seat Strap System eliminates head drop, neck strain and the instinctive 'whiplash' response to reopen obstructed airways," according to Cabeau's description of the pillow. "Wrap the straps around the headrest area of your plane seat, gaming chair or theater seat to secure your head in place."
Pham said the S3 has been endorsed by Dr. Neil Ghododra, an orthopedic surgeon who works with professional athletes.
Cabeau's Other Products Also Make Comfort a Priority
Neck pillows were just the beginning for Sternlight and Cabeau. The founder decided to move beyond pillows and improve on other common travel accessories as well, with the philosophy that the journey is just as important as the destination.
"At Cabeau, our mission is to facilitate amazing experiences with products that help you get the most out of the journey of life," according to the company. "We're the industry leader in innovative travel products that make your in and out of home experience better through 'why didn't I think of that' ideas, whether it's your vacation, your business trip, or just your daily commute."
Frequent flyers and others who sit all day for work know how important it is to keep the blood flowing in their legs. Cabeau addresses this challenge with its eco-friendly Bamboo Compression Socks.
"Bamboo Compression Socks are great for everyday use for anyone stuck in a sedentary position, as part of preventative health reducing the risk of blood flow related issues in the legs, and for performance athletes looking for an edge even from their socks," according to Cabeau.
The company also offers a plush sleep mask and earplugs set, designed to block out light and fit comfortably at the same time.
"The Midnight Magic Sleep Mask is one of our bigger sellers. Goop actually featured it in its Christmas gift guide this past year," Pham said.
She said that, because of Sternlight's attention to detail, the mask can truly block out 100% of light thanks to an adjustable nose bridge that forms to the wearer's face.
"On the inside of the mask, it is molded and filled with a material not unlike that of a bra so it doesn't press up against your eyes or eyelashes like a lot of masks tend to do," she said. "Obviously, this is also great when you're traveling and you have makeup on, or when you have eyelash extensions on you don't really want a mask to interfere."
Cabeau's other main travel accessory is the Fold 'n Go blanket made of soft microfiber to provide ultimate warmth and comfort, according to the company.
"Packed in its carrying case, the versatile Fold 'n Go™ Blanket can also be used as a pillow, a seat cushion, or as lumbar support," according to the website. "Be cozy for your next movie night, at the stadium, in the car, at the beach, or on your flight."
Adding Comfort at Home or at 35,000 Feet
Sternlight's intention was to make travel more comfortable for himself and his fellow travelers. But Cabeau noticed that people also began to see the value of using the company's products at home.
"We're definitely happy to see that customers are using these products at home — especially because with the current situation so many people are working from home," Pham said.
She said Cabeau's pillows are designed for people who are seated for long periods of time in an upright position.
"So, when you're working from home for eight hours a day on a laptop these are great for adding support for your neck and your spine during that time," Pham said.

The comfortable neck pillows also found fans in the gaming community.
"Game on stronger with the Evolution Cool to prevent gamer neck, stay cool during heated tournaments and comfy all day (and night) long at home!" according to the website.
Pham said that Sternlight is a big proponent of listening to customer feedback and has also been closely following developments in the COVID-19 pandemic. He began to hear from customers who said they would love to be able to buy a face mask from Cabeau because they were becoming difficult to find.
Sternlight himself also wanted Cabeau employees to have access to face masks as well.
That's why Cabeau is now producing non-medical, civilian grade face masks and selling them on the company's website.
"These soft, protective face masks have >= 95% for Bacterial and >=90% Submicron Particle Filtration Efficiency and help limit exposure to infectious pathogens when needing to go outside," according to the website.
Pham said the face masks may not be a permanent addition to Cabeau's products, but it makes sense to produce them during this crisis to help more people stay safe. They are priced lower than many other online options as well, Pham said.
Over the past 10 years, Cabeau's pillows and other accessories have traveled from airplane accoutrements to products used in people's homes every day. Come to think of it, as I'm sitting in my house typing this, it may be time to add some additional comforts to my home office.