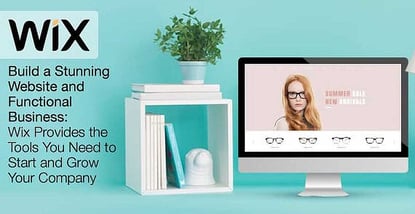 credit card news
Our experts and industry insiders blog the latest news, studies and current events from inside the credit card industry. Our articles follow strict editorial guidelines.
In a Nutshell: Specializing in creating aesthetically pleasing e-commerce websites for SMB clients, the Wix site-building platform provides users a drag-and-drop interface and hundreds of professionally designed templates that will turn customers' heads. Wix goes beyond beauty with management tools that simplify order tracking, payments, social media promotion, shipping, and other resources merchants need to be successful online, including zero transaction fees. Customer feedback and data are vital in Wix's product development strategy, and one way it stays connected to users is through the Wix Lounge in New York City. The cutting edge Wix Lounge enables the company to gain hands-on customer feedback, and users receive a free workspace for up to four months. Innovation is constant at Wix with new workspace areas under review and the creation of the Wix App, which allows entrepreneurs to conduct business on the go.
Customer feedback is important to Wix, and every product decision is made with its users in mind.
David Schwartz, Vice President for E-Commerce, Bookings, and Boost for Wix, constantly stays in touch with users and recently relayed a story about a customer who came to Wix with a conundrum. After nearly 20 years as a flight attendant, she was ready for a career change.
The job she was leaving behind had enabled free travel, inspiring her career change of producing and selling a line of travel comfort items. Think pillows and eye masks — anything to make long flights more bearable.
Once she had the merchandise, she had to decide the proper avenue of distribution. She could sell the products alongside other brands in a larger e-commerce marketplace and risk getting lost in the shuffle or she could start her own web-based business.
While she opted for the latter, David explained she had limited resources and needed a simple, affordable method of creating a striking e-commerce site with professional functionality. Wix became an easy choice for her with its more than 500 designer-made templates and a business model that fosters, not inhibits, growth.
He told us the Wix strategy revolves around allowing its 90 million users in 190 countries achieve the "easy, stunning effect."
"We're taking a complex thing and saying, 'How can we make it easier for someone who's starting a business to make a stunning website that looks like it was made by the best designers in the world?'" David said.
Beyond that, Wix also has management tools for merchants that provide everything they need to do business, including solutions for payments, shipping, and social media promotion. Plus, Wix offers affordable options for businesses starting out, especially since the company doesn't charge transaction fees.
Wix Taps into Customer Feedback to Steer Decision-Making
Customer feedback is truly a big part of the decision-making process at Wix, and nowhere is this more evident than the Wix Lounge, where users can sign up for a free workspace for up to four months in its New York City offices.
"A lot of these users that work out of our space are evangelists," said Adam Wozney, Community and Partnership Manager for Wix. "They love Wix because it's provided an amazing service that they never thought was possible, and they're very willing and able to give product feedback."
In essence, the Wix Lounge fosters a symbiotic relationship. Customers get free office space and complimentary coffee and tea, and Wix gets an up-close view of what their customers need to succeed. Adam works in the Wix Lounge, where he says product teams regularly visit to talk to users.
"You can get a lot of information from big data, and that's where everyone is focused, but we really love to interview our users," Adam said. "We have product teams that come in from Tel Aviv almost monthly to interview our users, ask for suggestions, and collect feedback. All of this feedback directly from users who work out of our space makes the product better for not only the users they talk to here but also globally."
Up to eight free one-on-one, 45-minute support sessions are also available to Wix users at the Wix Lounge. Experts help users navigate the ins and outs of site design, SEO, e-commerce, social media, and email marketing at free two-hour weekly workshops that are open to the public every Monday.
And since not all of its users reside in the Big Apple, the Wix Lounge also hosts meetups in other cities across the U.S. to connect with more small businesses.
"We have become almost fanatical about having intimate knowledge of our users," David said.
Based on user desire for mobile functionality, Wix App for iOS and Android was released to help users manage their businesses and stay connected to customers. This is just one example of innovation driven by customer feedback at Wix.
Data-Driven Guides Help Customers Increase Conversions
Customer feedback is a priority, but data is also a key part of the equation at Wix.
"When we launch a new feature, we constantly monitor the business intelligence," David said. "We know what is used and what is not used, and what is effective and what is not effective. This allows us to perfect our own product."
One of the challenges many small businesses face when entering the marketplace is that, unlike the online e-commerce powerhouses, potential customers have to decide whether they trust a website they've never visited, especially one on which they would be providing personal information such as a credit card number.
"When you are a buyer and you are arriving at a merchant website, there is a trust crisis," David said. "When you go to Amazon, there is a basic trust between you and Amazon. When you go to a small website, you need to build this trust."
Wix helps small businesses defeat skepticism in two key ways. The first is by having the tools to tell their story. Wix provides blogging functionality to help them drive engagement on their sites. When customers care about the business or the people behind the business, they are more likely to trust them and make purchases. Another way of winning over customers is through the site's appearance. Wix specializes in helping business owners create beautiful, professional websites without any coding knowledge.
"What I really like is the combination of a blog on an e-commerce website," David said. "I think it works very well for Wix users. It shows customers a personal angle which is important for a small business, otherwise you risk drowning in the crowds."
Larger businesses benefit from A/B testing as even minor iterations in websites, such as changing the background or adjusting a photo, can result in higher conversion rates. Wix creates tutorials that help smaller businesses benefit by passing on the information that works for the big guys.
"It makes a huge difference," David said. "We made a video tutorial to explain to a person who is not a professional photographer how to create a product image that looks as if a professional photographer did this for you. Now we have technology that can do this to some extent, but we found out that the tutorial — actually teaching them — was boosting their conversions."
Merchants Can Grow with a Full Suite of Operational Tools and Features
Some site-building companies in the e-commerce space tend to focus much of their attention on larger clients because they take percentages of businesses' sales. So the more a company makes, the more the web host earns.
The Wix business model allows anyone to create fully functional websites for free with the option of upgrading to premium features, such as e-commerce capabilities. Since Wix doesn't charge transaction fees, they have remained attentive to the needs of smaller businesses.
"I think the fact that we chose not to take a share of revenue actually gave us an edge in that we never neglected the people who were just starting their businesses," David said. "We've always placed a lot of focus on that."
Wix began with a focus on web design, but, with a user base dominated by small businesses, Wix adjusted its strategy to better accommodate its users with all-encompassing features such as mobile optimization, seamless checkout, and inventory management that help customers get started and grow alongside them. Many customers come to Wix with little to no knowledge of site design or e-commerce functionality and still come away with head-turning sites with built-in features for payments, shipping, and promotion.
"We're looking all the time at the coolest designed websites around the world, including e-commerce, and we're basically building a platform and technology that allows any user to create a website that looks and functions like that," David said.
Solopreneurs can especially benefit because Wix develops technology that does the work of an entire team.
"We provide automated tools that are very easy to use — that require no technical knowledge, no design knowledge, no marketing knowledge — that will basically imitate what those professionals would do for you if they were sitting in the room with you and working on your business," David said.
David told us the primary customer base for Wix are businesses that thrive on highly visual sites such as artists, fashion designers, and photographers. He said the company's biggest growth has been in the bookings feature, which has been the company's must successful launch to date. This involves any business that deals with scheduling appointments such as hair stylists or personal trainers.
A Company Focused on Client Growth via Innovation
Conquering the trust crisis is essential to small business success in e-commerce. By using Wix tools for blogging and creating a loyalty program, the former flight attendant-turned-entrepreneur built a community around her e-commerce site. The dynamic content she produces has helped to tell her story, and a loyalty program has led to customer retention. And now with the Wix App, she has greater mobile capabilities.
Wix stays tuned to user feedback and business intelligence to continue innovating in a way that best serves e-commerce businesses, and the app is a great example of this.
"It's an all-in-one app," David said. "So if you have a blog, e-commerce, and booking on your site, you can actually manage all of those things through one application."
David, who has been with Wix for six years, said Wix is looking to add extra functionality to the app and develop new user-driven features across all of the Wix products.
"We're truly a technology company, and we're always innovating," David said.