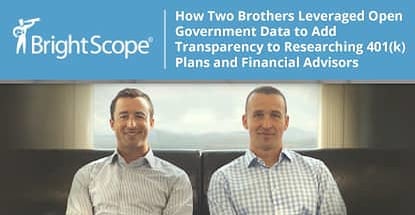 credit card news
Our experts and industry insiders blog the latest news, studies and current events from inside the credit card industry. Our articles follow strict editorial guidelines.
In a Nutshell: Designed to bring a massive database of public information to light, BrightScope ranks and rates 401(k) plans and financial advisors to help guide employer and consumer decisions. The rankings are intended to add transparency to the retirement planning process, arming investors with vital information in choosing trustworthy partners to grow their savings. More than 200 factors go into the rankings, making BrightScope one of the most comprehensive resources for researching financial services and service providers on the web.
Brothers Mike and Ryan Alfred didn't plan to revolutionize the way people plan and save for retirement, but it seems to be happening that way.
Dan Weeks didn't plan on having a key role in it, either. As an engineering manager at Hewlett-Packard, he had a 401(k) plan and a less-than-organized idea for how he'd get to the finish line and retire. Using his computer know-how to get on track, he built a Flash application to compare his fund choices. He presented it to his real estate lawyer, who suggested it be shown to his entrepreneurial-minded sons, Mike and Ryan.
The trio spent the next year poring over ideas (and shots of Maker's Mark bourbon) until they'd settled on an ambitious plan — one that involved a massive Freedom of Information Act request for public records on retirement plans and financial advisors. The group shopped their comparison tool to San Diego investors and eventually landed enough capital to bring it to life on a grander scale.

Today,
BrightScope
ranks and rates 401(k) and 403(b) plans, as well as mutual funds and investment managers. The company's straightforward online interface allows users to input their employer, advisor, or current plan, and see instant, free reviews and ratings of the services and providers associated with their search.
BrightScope uses more than 200 pieces of quantitative data to finalize each rating. These include company contributions, fees, vesting schedules, and eligibility periods. An algorithm creates thousands of simulations for each 401(k) plan to determine how quickly a given plan will get the average participant to retirement.
Each plan is then given a BrightScope rating score from 1 to 100. Ratings are also assigned based on six component (fees, average account balance, etc.) that range from "great" to "poor." This allows consumers a chance to see how each plan stacks up against its competitors.
With a wide range of potential scores, it's not surprising that the difference between two plans can be just as vast. This research is essential because a gap of just a few points could mean the difference between retiring at 65 or working into your 70s.
BrightScope Aims to Help Americans Retire a Little Earlier
Americans are growing increasingly reliant on 401(k) plans for retirement. Picking the right plan can be tricky, with so many unfamiliar terms and hidden fees. Finding the right advisor or group of investors to manage your funds can mean retiring early or working an extra five to 10 years to make up for potential lost capital.
While BrightScope's rankings highlight the scores and pertinent information for each 401(k) plan, the site also helps put the data in perspective by estimating how much longer you'd have to work to recoup lost savings if you stuck with your current plan instead of rolling over into a higher-rated one.
For example, a plan with a 61 rating (the highest current rating in the example's peer group is 83) will result in an employee having to work an extra 11 years to match the money that could have been gained by choosing the most favorable plan.
For job seekers looking for companies with the best benefits packages, BrightScope also annually ranks the best 401(k) plans with more than $1 billion in assets. This year marked the eighth year of rankings — and the fourth straight year that the average ranking improved. Those jumps likely illustrate the growing recognition of the importance of quality 401(k) plans by both employees and employers.
Ranking and Evaluating the Most Effective Advisors
Smart investors know that, when it comes to growing savings, it's about making wise decisions and letting your money work for you. Many people hire professionals to manage these funds in the hopes that investments will increase faster than they would without professional help.
For them, the hardest part is deciding who to trust with your hard-earned money. While some turn to word of mouth to pick a financial advisor, that's not always a great idea. For example, there are dozens of episodes of CNBC's "American Greed" filled with people who trusted friends or family with their investments and ended up penniless.
BrightScope's goal is to make hiring an advisor as transparent as possible. All of the information used in its rankings comes from public information requests, filed with the Securities and Exchange Commission (SEC) or Financial Industry Regulatory Authority (FINRA). Data includes any disciplinary actions taken, termination of employment, client separations, and length of experience (in years since licenses were applied for).
All of this information is put through an algorithm that creates a ratings bar to illustrate the overall value of each advisor. The longer the bar, the better your chances of getting what you're looking for with that advisor.
More than 7,000 advisors are ranked through BrightScope, making the list one of the most complete online groupings of registered financial planners. Plus, the database is searchable by name, firm, or city, with filters for assets under management, average account balance, and client types.
Expert Insights and Answers to Financial Questions
Simply searching for the highest-rated 401(k) plan or money manager in your area and jumping in blindly isn't always the best course of action.
That's why the BrightScope site goes beyond rankings with a regularly updated knowledge base of frequently asked questions. You can search through thousands of queries that have been answered by veteran advisors, or ask your own and wait for a reply. The point of the service is to create more informed investors, who can take control of their savings, as well as make more educated decisions on investment strategies and who to trust with their money.
Additionally, by researching terms and trends to learn the financial lingo, consumers are better equipped to interview potential advisors and make more informed hiring decisions. A little knowledge can go a long way when it comes time to choose who to give your trust — and your investment fees.
The company site also hosts an Insights section with more than 1,000 articles on relevant topics, including retirement plans, 401(k) plans, and portfolio management. All of the resources are free to anyone interested in furthering their financial know-how.
Data-Rich Research Separates Quality from Quantity
Spend some time browsing through the 401(k) and advisor rankings on BrightScope, and it should quickly be apparent that well-known firms and brand names don't necessarily mean better results.
Quite often, the larger the assets under management, the harder it is for an advisor to provide personalized service and regular, above-average returns. It's important to do substantial homework before turning your retirement dreams over to someone you may have only known for a short time.
BrightScope has spent the past six years compiling lists and rankings of retirement plans and planners. In that time, the stock market has ebbed and flowed and continued on its current record-long bull run. However, that run can't realistically be expected to last forever.
If you're still a ways from retiring, it's important that you find someone who can work with you and for you at the same time, while showing the same commitment to your funds that you had while earning them.