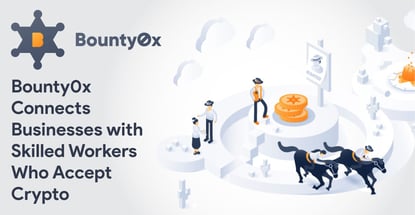 credit card news
Our experts and industry insiders blog the latest news, studies and current events from inside the credit card industry. Our articles follow strict editorial guidelines.
In a Nutshell: Bounty0x connects companies to a network of tens of thousands of freelancers to facilitate cryptocurrency payments for completed work. These tasks, known in the crypto space as bounties, can be as simple as posting about a company on a personal social media page or as complex as completing coding or graphic design work. All bounties are open to the entire Bounty0x community with payouts in Stellar, EOS, Ethereum, Waves, Tron, or NEO crypto tokens disbursed at the end of the bounty's timer.
Back in the early 1800s, many Americans made their living as bounty hunters — living a life of adventure while tracking down hardened criminals or animals that were used to feed small villages.
While a few of these traditional bounty hunters still exist today — with their lives followed, and often over-dramatized, by TV cameras — the profession has mostly been replaced by full-time law enforcement agencies and well-stocked grocery stores.
But bounty hunting isn't a completely lost art. In fact, a new generation of bounty hunters exists all around the globe. Only these specialized workers don't have to leave their homes to claim a reward.
Bounty0x is a cryptocurrency bounty hunting platform. Users earn tokens by completing simple marketing, software development, and creative tasks. These jobs can be as simple as posting about a company to a personal Facebook page or as complex as finding holes in security software that hackers could potentially exploit.
Companies post a job on the platform and any number of people can complete the task and get paid in Stellar, EOS, Ethereum, Waves, Tron, or NEO utility tokens.
"We found that there was a need in the cryptocurrency ecosystem, and even in the larger non-cryptocurrency ecosystem, for a platform where companies can hire freelancers on a unilateral type of engagement," said Angelo Adam, CEO & Co-Founder of Bounty0x. "Essentially, the company posts a job and any freelancer can submit work which meets the job description requirements and receive compensation for completing that work."
While there are several online platforms where freelancers can find and complete work, Adam said the Bounty0x platform remains unique in that it gives users a choice in the work they do instead of putting them at the mercy of others who may or may not look at their profile or résumé.
"It's a little bit different than most platforms like Fiverr," Adam said. "Those platforms are formatted where the freelancer posts their services and is approached by a company that seeks to hire them on an individual basis. Our platform offers a form of work engagement where the company posts the job, and it's open for as many people to complete the work and whoever finishes the work receives the compensation."
In some ways, Bounty0x has been a work in progress for several years. Freelancers have worked for crypto bounties for quite some time, but there's never been an organized place for workers and companies to connect. Instead, most opted for online forums that hosted spreadsheets that attempted to keep track of completed tasks.
"I found that there were makeshift forums where these types of employment engagements were happening," Adam said. "But they weren't optimized to make the user experience optimal for both the freelancers and the companies."
Bounty Sheriffs Help Companies Ensure Completed Work Meets Their Requirements
In the Wild West, bounty hunters still had to co-exist with sheriffs to do their job and collect their pay.
Bounty0x implements the same process by assigning the sheriff user role to certain community members. These users have the responsibility of cross-checking to make sure anyone who puts in a bounty claim completed the task to the company's satisfaction. This can be trickier than you may think.
"Some companies have thousands of people who are completing jobs for them," Adam said. "With that issue, there's a need for a system to review all of the submissions to make sure they're legitimate and the work was actually done."
But sheriffs aren't the only innovation added to the Bounty0x platform since it launched in 2018. The instant popularity of the site brought about many third-party integrations that aim to optimize the user experience for both freelancers and companies that post jobs.
"We have some integrations that allow us to save companies the time in having to manually go through and check all of the submissions," Adam said. "That way, they can be sure that any work submitted will meet their requirements."
And companies aren't relegated to only advertising job offers on Bounty0x — the platform makes it easy to promote jobs across several networks without drafting dozens of posts and reformatting the content for each site.
"We make sure our service runs with other applications," Adam said. "So, if a company wants to post about their bounty on their Facebook page, they can easily do it by synching up their accounts on other platforms."
Freelancers are Rewarded with Stellar, EOS, Ethereum, Waves, Tron, or NEO Tokens at the End of the Bounty
The amount of time it takes for a freelancer to receive compensation for completed work depends on when they completed the work.
Bounty0x continually adds new jobs to the platform for freelancers to choose from. Each job has a set timeframe and number of freelancers allowed to complete the task. The bounty runs until either the time expires or the maximum number of workers file for compensation.
"We receive all of the submissions, and, once the end-date of the bounty passes or it reaches its maximum contributions, we finalize it and do a distribution to all of the participants," Adam said. "It usually takes a few days for us to review and send out the payments."
Therefore, a freelancer who completes the work at the beginning of a bounty will have to wait until the job completes to receive payment. Whereas anyone who puts in a claim for payment at the end of the bounty will receive payment soon after Bounty0x confirms and approves their work.
Each bounty clearly states payment amounts and terms. Jobs can have varying payment tiers, depending on the quality of the completed work, but all compensation is a set amount of Stellar, EOS, Ethereum, Waves, Tron, or NEO crypto tokens.
Since companies set the dollar value of the compensation, freelancers don't have to worry about receiving fewer tokens if the value of the currency fluctuates during the bounty. Adam said that Bounty0x specifically set the what-you-see-is-what-you-get payment system to eliminate confusion and make it easier for companies to transact with skilled freelancers.
New Plans Aim to Help Companies Reward Freelancers with Free Trials, Memberships, Discounts & Other Benefits
One look at the Bounty0x platform and you'll quickly see a cryptocentric website where many blockchain-based companies call upon a dedicated community of bounty hunters for assistance.
But Adam sees much more in the product he's helped develop.
"We're getting ready to launch a second product similar to Bounty0x, but geared toward non-cryptocurrency companies, so that they can offer users rewards in the form of free trials, memberships, discounts, or other benefits in exchange for doing work for them," Adam said.
Adam hopes to see his vision launch by the end of 2019. As the development team continues to work on the buildout, it also remains focused on adding to its current network of freelancers, whose numbers the company claims is in the tens of thousands.
And as its user base grows, Adam said he can foresee a time in the near future where Bounty0x adds more blockchains to increase the number of tokens offered for freelance compensation. In fact, to grow the platform further, Bounty0x is currently holding a $1,070,000 fundraiser on Republic at a valuation of $5,000,000.
That diversification should only improve the quality of work completed on the site and make it easier for freelancers to get paid for their skills.