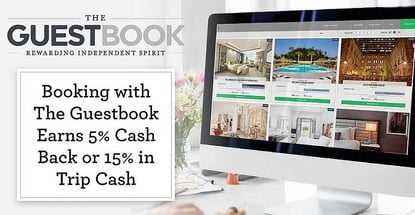 credit card news
Our experts and industry insiders blog the latest news, studies and current events from inside the credit card industry. Our articles follow strict editorial guidelines.
In a Nutshell: Earning cash back and other travel rewards are widely considered to be some of the great perks of credit cards. Now travelers can boost their rewards by booking a stay at one of 650 boutique hotels in The Guestbook hotel rewards network. Users simply book their hotel directly through the hotel website or through The Guestbook website and earn either 5% cash back, 5% toward charity, or 15% in Trip Cash. Trip Cash rewards are applied to a future stay at one of The Guestbook partner hotels. The company maintains the largest network (and growing) of independent hotels in the world and adds more value than ever to its partners.
As a child, I remember family road trips where we would drive for what seemed like an eternity ("Are we there yet?") before reaching our destination.
And, whether we were going to be spending our vacation on a sunny, sandy beach or visiting some distant aunt who smelled like a perfume factory accident, chances were, once we arrived, we would be greeted by a big, bland chain hotel.
Those big chain hotels were the norm for a long time in the U.S. Over the years, online booking agencies, chain hotels, and credit card companies got hip to Americans' increasing penchant for travel and built up some pretty nice travel rewards programs.
In more recent years, boutique hotels — a trend I'm happy to see — have gained prominence as travelers have come to appreciate the character of not only the place they are visiting but of the place where they will be sleeping as well.
But these hotels often don't have the budget to promote big loyalty or rewards programs.
That's where The Guestbook comes in.
The company was founded in 2013 after The Guestbook Founder and CEO James Gancos left his 10-year career at Starwood Hotels.
"I spent time working at the corporate office and running hotels in the U.S. and in Europe," Gancos said. "After observing various parts of the business for a number of years and talking with my peers, it became clear that Starwood's loyalty program was a major key to its repeat business."
That realization led to Gancos' idea to build rewards programs for independent hotels based on a cash back model. He resigned from Starwood and dove head first into The Guestbook.
Book Directly with a Hotel in The Guestbook's 650-Member Network and Start Earning Rewards
For travelers interested in taking advantage of The Guestbook's benefits, getting signed up is a fast and easy process.
Gancos said users can visit The Guestbook's website to zero in on the hotels — out of its 650-member network — where they might be interested in staying.
"We have an interactive map so you can actually see exactly where our hotels are and compare prices and options," he said. "Our partner hotels are primarily in key travel markets in North America and Europe, but our network is always growing."
The Guestbook also partners with a significant number of independent hotels throughout Africa and in Southeast Asia.
"We really made it deceptively easy to sign up for The Guestbook and start getting rewards," Gancos said. "All you need is an email address. And it's free. Users can either sign up on our homepage or sign up directly through the hotel by checking a box during the booking process."
Some users have asked if they signed up correctly because it is so simple, he said. "We don't even need a physical address unless you redeem a gift card that we need to mail to you at some point down the line," he said.
Gancos said most users don't typically find The Guestbook's services through its website but more often discover the company while they are booking their hotel. But, once they become a Guestbook member, they visit the site to find hotels and learn more about rewards.
"If you have shortlisted one of our member hotels, when you Google it and go to their site, The Guestbook has a pop-up message that appears on the site," Gancos said. "It asks if you would like to enroll in our rewards program while you're booking your reservation."
Gancos said one of the nice things about the program is that once a user enrolls, The Guestbook captures the reservation and automatically applies it toward your Guestbook rewards. Users don't have to worry about going to The Guestbook's page to log their reservations.
Redeem Cash Back Rewards via PayPal, Gift Cards, or Charitable Donations, or Triple Rewards with Trip Cash
Users of The Guestbook can redeem their rewards in a variety of ways, Gancos said.
First — and most popular — is 5% cash back.
"When we first started off, we knew that having a cash back mechanism would be relevant to people even if we only had one hotel because that one hotel could push it," Gancos said. "So we started off with 5% cash back via PayPal, Bitcoin or gift cards."

He said that, as The Guestbook has continued to add hotels to its network over the past five years, it has also enhanced the benefits.
Now, The Guestbook users have a charity option through partner organization GlobalGiving that allows them to apply their cash back amount to a charity of their choice.
He said as the network continued to grow, The Guestbook added a benefit called Trip Cash which is applied to future hotel stays. By the end of 2018, Trip Cash was worth the equivalent of 10% cash back, but starting this year the company upped the amount to the equivalent of triple cash back.
"Let's say you spend $1,000. You get $50 cash back any way you choose, or if you select Trip Cash, you get $150 towards another hotel in the future," Gancos said.
The company analyzed the reward offerings from many of the big-name hotels and discovered The Guestbook's rewards programs give travelers better value across the board. Gancos said users can use the comparison tool on the company's website to get a sense of how much more they are getting in rewards for each category.
Gancos said his favorite reward offering is Trip Cash because it goes a long way toward a customer's next hotel stay, but he's not surprised that the cash back option remains the most popular.
"People love that instant gratification of the cash back rewards," he said.
Gancos also pointed out that travelers still earn their own travel rewards on top of The Guestbook's rewards when they book with their rewards credit cards.
The Guestbook was Founded to Encourage Direct Booking and Loyalty for Boutique Hotels
Since online booking services that aggregate prices and availability have become so readily available in the digital age, many travelers' tend to look to those places first when booking hotels. Additionally, the big name hotels have robust websites with their own rewards programs and booking incentives to encourage loyalty among customers.
"We're basically in the business of creating another loyalty network," Gancos said. "These independent and small boutique hotel groups don't usually have a loyalty option. This really incentivizes guests to book directly on the hotel site and not on a third-party channel."
He said that, by having a loyalty program, boutique hotels can more easily compete with the big booking sites as well as the larger hotels with in-house loyalty programs.
"Our value proposition is that people will be more likely to book their stay directly through the hotel's site versus online booking agencies because with us they can actually offer more value," Gancos said.
The boutique hotels don't necessarily have to offer lower rates than the big name booking sites because they can still offer an overall better value due to The Guestbook's reward program.
Gancos said that, in the past five to seven years, people have begun to gravitate more toward the unique experiences that boutique hotels have to offer, which also helps inspire loyalty to independent hotels.
"There are definitely road warriors, like business people, who stick to the big chains," he said. "But people who fall into the category of traveling 10 times or less per year have really become open to these more singular experiences."
As Its Network Continues to Grow, The Guestbook Provides More Value Than Ever to Independents
Gancos said The Guestbook has primarily built its network by taking its value proposition directly to the hotels and explaining how the two companies can work together to build loyalty among customers.
But, as the network has grown — Gancos said in 2018 The Guestbook took the top spot for the largest network of independent hotels — the company is approached more and more by hotels looking to offer The Guestbook rewards.
"When we started we never promised that we would increase bookings because we had to get to scale, but in the past year the cross-network traffic has really blown up, and we can actually guarantee that, as a partner, we'll help bring in more business," he said.
Gancos said his company also recently launched Gopher, an internet browser extension that searches on the customer's behalf for better rates than online booking agencies offer.